Carolina Hurricanes GM Ron Francis Should Make a Move for a Quality Forward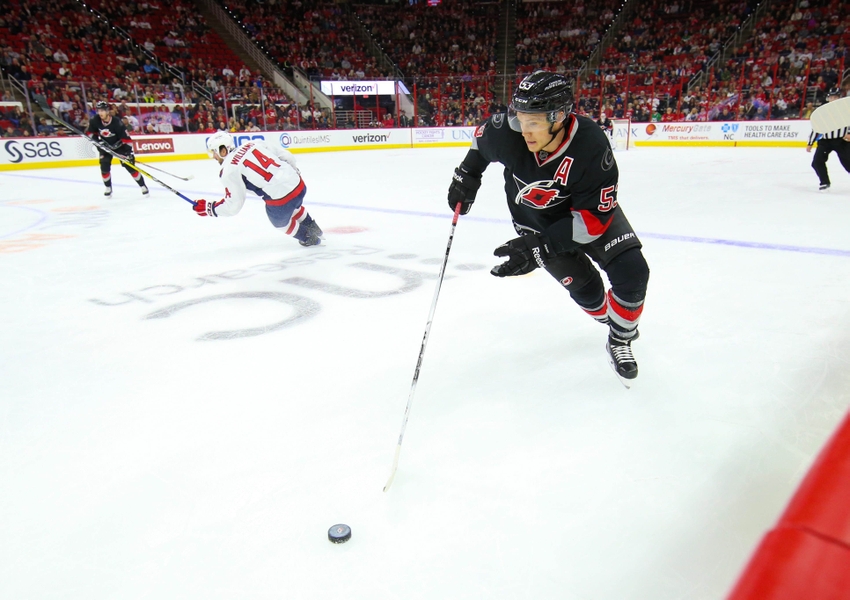 The Carolina Hurricanes have a hole to fill in their forward corps and now is the right time to fill it.
The glowing reception of the TSA line has really rejuvenated the Hurricanes. It has picked up the offensive load since the top line has cooled off from a sizzling October start. It is great that Staal, Aho, and Teravainen are playing so well together. It is overshadowing the fairly rapid decline of Lee Stempniak's offensive output these last three weeks.
The 33 year old's drop in production was always coming. Now that it is here, the Canes can no longer ride it. Stempniak has been slotted on the third line now, with Elias Lindholm moving up to Victor Rask's wing. The young Swede is still goalless on the year and is looking more and more like a third line center than a first line scoring winger.
In the short term, Elias Lindholm is filling a hole. The Carolina Hurricanes have been shorthanded at right wing for some years now and they still are. While Stempniak, or a Andrej Nestrasil are decent quick fixes, the larger problem remains. The Hurricanes need a top line winger to make a run at the playoffs.
Currently, this is the Hurricanes forward chart. If one was to consider the bottom 9 as a whole, the Canes has a solid crop of forwards. There are certainly teams with better, but there are definitely teams with worse. So all that remains is the top RW spot to fill.
Skinner – Rask – **Hole to Fill**
Aho – Staal – Teravainen
Nestrasil/McGinn – Lindholm – Stempniak
Nordstrom – McClement – Stalberg
Luckily, the Hurricanes most likely won't have to sacrifice any current difference makers to make any trades to fill that position. They do have a bountiful collection of prospects and upcoming picks. That includes 5 picks in the top 3 rounds in next year's draft. As a bonus, Carolina has the most cap space in hockey. So, there are assets a plenty for GM Ronnie Franchise. Here are a couple players he could move for in the near future.
Matt Duchene
One possible target is Colorado Avalanche forward Matt Duchene. The former 1st rounder has started well for Colorado. He has 6 goals and 11 points in 13 games for his team. That would make him the third highest scorer on Carolina currently.
Ever since the sudden departure of Patrick Roy this summer, Colorado and Duchene have been having a sort of identity crisis. Roy's first season with the team was great success and Duchene was a big part of it, scoring a career high 70 points in 2013-14. He has failed to replicate that form since, but remains an great offensive winger.
Live Feed

carolina hurricanes
The Avalanche are stuck in no man's land. They have good young pieces but aren't committed to a rebuild. Yet, they really don't stand a great chance in the brutal Central Division. If they want to commit to a re-imagining of the squad around Nathan MacKinnon and Gabriel Landeskog, moving Duchene does make some sense. The Avs are older on the back end. They could really use a blue chip young defenseman. The Canes got a few of those.
Brandon Saad
Maybe the more likely of these two options, the Canes should make a play for Brandon Saad. The Columbus Blue Jackets have been very surprising this year, scoring is bunches. What's been interesting is that Brandon Saad hasn't been as big a part of his team's success as on might think. Elliotte Friedman mentioned in his column this week that Saad is fifth in minutes and points on his team while also flirting with being a healthy extra a few times.
Despite Columbus playing well, they very well could be shopping Saad. The Jackets are pressed up against the cap and need some relief. Saad's 6 million dollar cap hit is maybe something Columbus wants to pay. It also isn't like Saad is a vital piece to Columbus' plans. The rise of Alexander Wennberg and future forward Pierre-Luc Dubois give the Blue Jackets tons of options down the road.
For Carolina, its a fantastic fit. Saad has already played with fellow former Blackhawks Teravainen and Joakim Nordstrom. Also, his style of play is very similar to Stempniak's, expect with better stick handling and speed. He would likely flourish with Skinner and Rask. Brandon Saad could very well be the piece the Canes are looking for.
This article originally appeared on