Carolina Hurricanes Forward Teuvo Teravainen Struggling to Fit In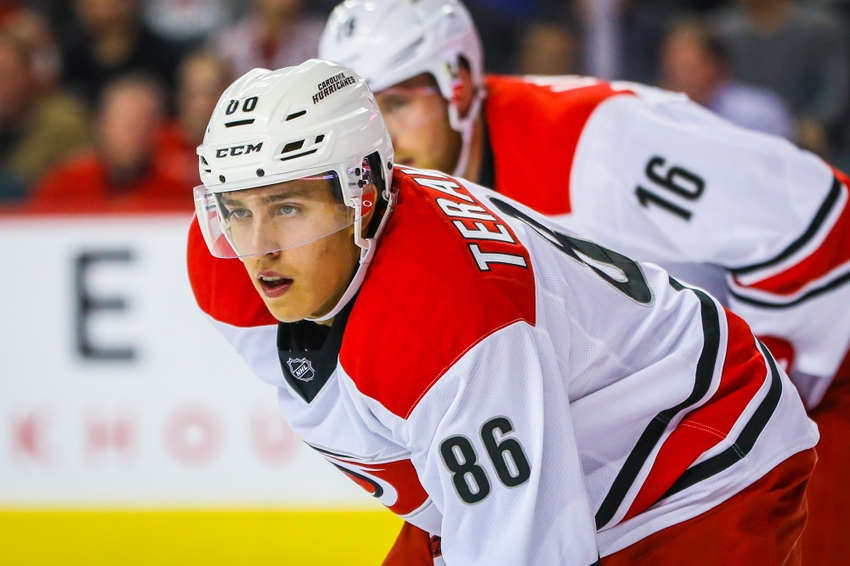 After being the Carolina Hurricanes marquee summer acquisition, forward Teuvo Teravainen is having trouble adapting to life in Carolina.
It goes without saying, the Hurricanes are struggling at the moment. Whether it be with goaltending one game or finishing off a game the next, the Canes are finding it difficult to play a complete game of hockey. Similarly, the players on the roster are either on fire or super cold. Unfortunately, new winger Teuvo Teravainen is one of those 'cold' players.
Teravainen arrived to Carolina to much fanfare. The shrewd business by Ron Francis to poach him off the Blackhawks was universally praised among both fans and pundits. The added privilege of representing Finland at the World Cup of Hockey capped off an eventful summary for the former 1st round pick. Nine games into the NHL season, that excitement has worn off and been replaced with disdain. Not solely focused on Teravainen, but upon most the team.
Right now, Teravainen is an enigma on the ice. At even strength, its hard to pick out both good and bad from the player since, well, he has just kind of existed out there. In many instances, you forget he is even playing. It goes to show that he is having trouble working with his new team.
Trading For Jaroslav Halak Is A Brilliant Move For Carolina Hurricanes
As the offensive player he is, Teravainen enjoys being in the best position for attacks down the ice. However, his eagerness to get on the offensive has left his linemates, in particular Elias Lindholm, a little helpless in getting pucks out. In many ways, its reminiscent of Jeff Skinner's defensive play before Bill Peters straightened him out. Teravainen's soft play in his own end has costed the team. He has a -5 rating, which is second worst on the team.
If he made up for it on offense, the bad defense might not be that noticeable. Yet, Teravainen is struggling to generate production. Through nine games, he has 2 goals and 1 assist. Granted, its better than Lindholm, but its 2 points less than the younger and more inexperienced Sebastian Aho.
Perhaps what is most troublesome is Teravainen's assist numbers. Both in Finland and with the Blackhawks, Teravainen could dish the puck using his superb offensive vision. Ideally, him and Aho would be feeding Lindholm for some quality secondary scoring. Instead, Lindholm and Aho are goalless and Teravainen has a lone assist.
It has to be said that Teravainen certainly found life a little easier in Chicago than he does with the Canes. The quality on the Blackhawks certainly lends itself to being more easy going in your own end knowing that Duncan Keith, Jonathan Toews, or Brent Seabrook are gathering pucks for you. Same goes for the offensive zone. Having the dynamic offensive players Chicago does, there is naturally going to be more space for a Teravainen to operate in.
To his credit, once he has some more space to work with, Teravainen looks solid playing the half wall on the powerplay. He has collected both a goal and an assist playing on the Canes top powerplay unit. His puck handling and vision is certainly helpful in this scenario.
For a player like him, more ice would hopefully result in more scoring. But, with the top line scoring often and Jordan Staal's line on shutdown duty, Teravainen may be stuck on the 3rd line for now. It wasn't issue skating on Chicago's third line (the Finn scored 35 points last year), but right now in Carolina it is.
For a young player, it is tough to change teams. In his case, it has got to be difficult coming from Chicago, a place where he wasn't expected to be a major offensive component, to a team like Carolina, where some people have pegged him a 60 point guy. A new coach, a new system, a new style of play; all those contribute to a slow start. That's not to say Teravainen doesn't need to be more assertive on defense, he does. All those facto have hurt his ability to be a difference maker. Along with Elias Lindholm's brutal start, the third line is in turmoil. Maybe it might be good to experiment with Teravainen on Staal's wing, its certainly a possibility that could help the new guy and the Canes.
This article originally appeared on