Carolina Hurricanes Forward Jeff Skinner Is Living Up to His Rookie Year Hype, Finally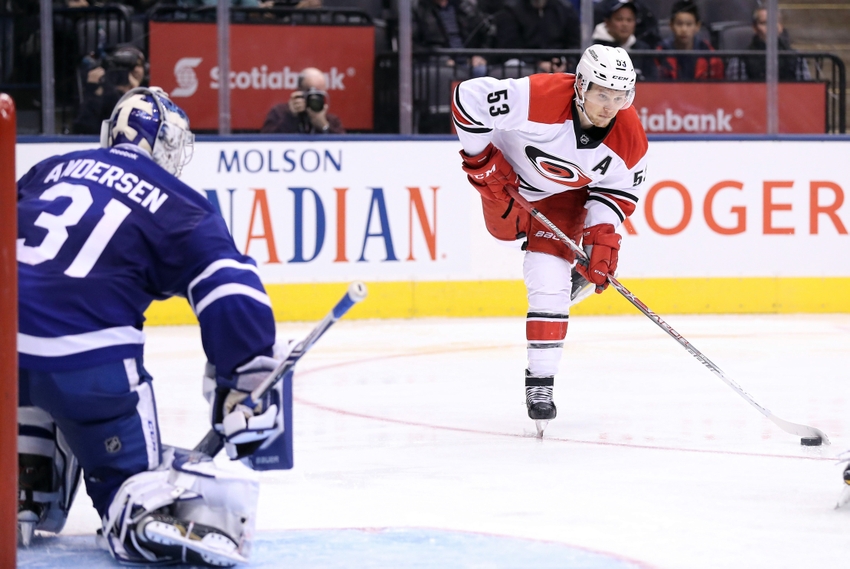 The 24 year old Jeff Skinner won the Calder Memorial Trophy in 2011, but is finally reaching his potential in 2016 for the Carolina Hurricanes.
It hasn't been an easy road. Concussions early in his career derailed his momentum and coaching changes stalled it even more. The talent has always been there though. Even during tough times, flashes of brilliance leaked through the cracks. Being an NHL star was always in the cards for Jeff Skinner.
In many ways he already is one. He was the youngest player in the NHL All-Star game since Steve Yzerman. He won the Calder at 18, beating out guys drafted higher than him. Despite his career highs and lows, he still has the 2nd most goals in his draft class behind Tyler Seguin. Maybe most importantly for the Canes, he is and instantly recognizable face in the world of hockey.
Being recognized is one thing, but being able to live up the hype surrounding you is another. In that regard, Skinner hasn't been as successful. He just was never able to recapture the magic from his rookie year. It resurfaced briefly in 2013-14, but failed to stick around afterwards. That changed in February this year.
The trade of Eric Staal signaled the end of an era for the Carolina Hurricanes. For Skinner, it lit a fire within him. His locker room neighbor, mentor, and friend was gone. You have to believe that  Skinner felt the responsibility of being the team's leader was now bestowed on him. He was the heir apparent. Instead of cracking under that pressure, he has taken the bull by the horns.
After Staal left, the crowned prince of Canes hockey scored 16 points in 19 games to close out last season. That was a significantly better scoring pace than he had when Staal was still around. Skinner also was a +3 over that stretch. Compared to his previous seasons, that was a drastic improvement. The last time he had a positive +/- rating over a longer run, he had won the Calder.
"I thought [Skinner] became more interested in the 200-foot game and leading by example."
-General Manager Ron Francis
In the current season, after 19 games, Skinner has managed to continue his momentum. With 17 points on the season, he leads his team in points, assists, and goals (he is tied with Victor Rask). He is also pacing the team in shots, where which he leads by 21. All in all, Skinner is on track for 35 goals and 71 points, both of which are career highs.
The offense is back, but his defensive play is something marvel as well. Skinner leads his team in takeaways. Using his crafty stick handling, he has been a serious pest in all areas of the ice. On multiple occasions, he has stripped the opposition of the puck in their own zone, setting up chances.
Before his resurgence, Skinner was in and out. He'd pop up at great times and be invisible in others. Not this year. Even when he doesn't score, he is a force on every shift. Against Montreal on Thursday, he didn't score, but he wrung the post and was a giving the Habs defense problems all night. Last night, Skinner wasn't as dominant, but still managed to find his way onto the score sheet. That's the sign of a great player.
This is what Caniac Nation was expecting after an incredible 2011. It just took a little while longer than they were expecting. With every new game, that million dollar smile of Skinner's looks more and more likely to return to the NHL All-Star game this coming January. Thankfully for the Hurricanes, Jeff Skinner is finally turning into the hero he was destined to be.
This article originally appeared on