Carolina Hurricanes Expansion Draft: Fear And Loathing In Las Vegas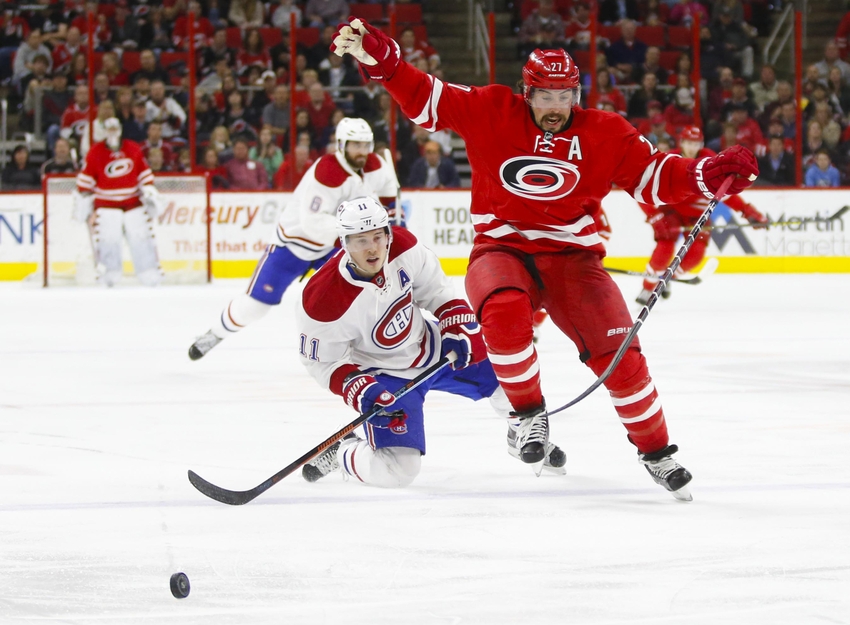 Carolina Hurricanes look towards the offseason and the looming expansion draft on the horizon.
People keep telling us that the expansion draft is going to be fun. Which may be true unless your team loses someone valuable.  In that case, it turns into a cruel plot by Gary Bettman to make sure your team never wins the Stanley Cup.  You know like when Capitals fans (and players) cried about playing the Penguins in the second round last year.  Usually, GMs never let anybody too valuable go free in these affairs.  But just to make sure, we'll take a look at who the Carolina Hurricanes have at risk.
First of all, one can read the entire rules behind the expansion draft here.  Sometimes that extra click is just too much so we'll break it down for you here.  Rule number one states a team must expose one defenseman under contract next year and played either forty games this season or 70 games combined in this season and last.  Rule number two says the same things for forwards but the team must expose two of them.  The third rule states that one goalie under contract for next year or an RFA that the team offered a qualifying offer.
The NHL allows each team to select a list of players it can protect in two different formats.  The first format permits the team to protect seven forwards, three defensemen, and one goaltender while the second plan allows eight total skaters (forwards or defense) plus one goalie.  In addition, if a player's contract contains a No Movement Clause and they decline to waive it the team must protect them.  The rules also protect players in their first or second professional year.  Position by position we'll see who's at risk for the Carolina Hurricanes.
Want your voice heard? Join the Cardiac Cane team!
Defense
Noah Hanifin, Jaccob Slavin, and Brett Pesce are all in their second pro year which makes them protected.  Ryan Murphy has the years but his games played is a problem.  He played only 35 games last year meaning he needs to play at least 35 this year to make him draft eligible.  With
the way the Hurricanes are winning it's hard to see him cracking the lineup anytime soon much less dressing for 35 games.  Ron Hainsey is a free agent this offseason so unless the Hurricanes resign him he's out.  Same goes for Klas Dahlbeck and Matt Tennyson.
Wait that means…oh no not that anything but that!  Yes, as of right Justin Faulk is the only defenseman that fits all the expansion draft criteria.  Don't worry too much.  It would take some next level ineptitude to let Faulk remain exposed.  The Carolina Hurricanes can avoid this by at least offering Klas Dahlbeck a qualifying offer which he pretty much has to accept if he wants to play in the NHL next year.  The only problem with this is that the Hurricanes are stuck with Klas Dahlbeck for another year but it beats losing Faulk right?
Forwards
The Hurricanes have seven forwards under contract for next season, and one of those includes Aho.  Like the young defensemen above, Aho's entry-level status protects him. Jeff Skinner, Jordan Staal, Victor Rask, Elias Lindholm, and Teuvo Teravainen(when he resigns) are all locks to be protected.  Andrej Nestrasil is an RFA and doesn't have enough games played.  That is unless he starts getting some major playing time and soon.  The same goes for Derek Ryan and Brock McGinn.  If they maintain their spots in the lineup going forward that answers the games played issue but does nothing about their contract situations.  Ryan is a UFA and McGinn an RFA and both would need contracts in order to expose them.  Right now the only two players with confirmed eligibility are Lee Stempniak and Joakim Nordstrom.
Goalies
Cam. Ward.  Do I really need to say more?  Yeah, I don't think so either so let's move on to the conclusion part of this article.
The Plan
Given the Carolina Hurricanes lack of draft eligible defensemen, they'll probably go with the eight skaters and one goalie plan.  Faulk will get protected somehow but that may mean a less than optimal contract taking up space next year.  Sure there is the risk of losing depth to the draft, but depth pieces aren't hard to find.  Overall things aren't as bad for the Carolina Hurricanes when it comes to protecting their team because the majority of the talent is locked up on entry level contracts leaving them free to protect the rest of the team as needed. It will be fun to see the chess master Ron Francis in action.  Especially interesting could be what assets he could pry from teams with multiple players vulnerable.
This article originally appeared on