Carolina Hurricanes Defense: Have They Fixed Third D Pair?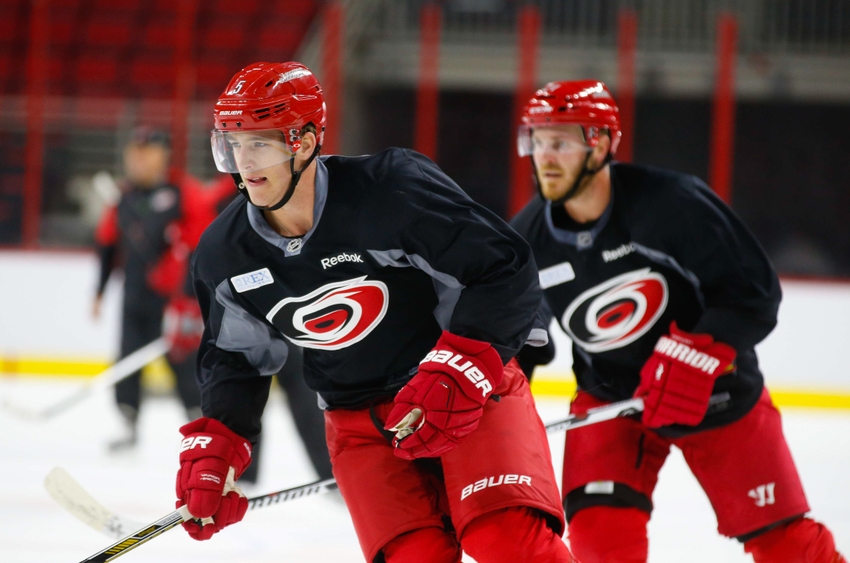 To start the season, the Carolina Hurricanes 3rd D pairing played miserably. But now with four wins in a row do things look better?
The Carolina Hurricanes third defense pairing comprised a variety of players so far this year.  Jakub Nakladal, Klas Dahlbeck, Noah Hanifin, and Ryan Murphy, all spent time on the third line on defense to start the season.  Recently Carolina called up Matt Tennyson from the Checkers to fill the sixth man role.  But just because the team is winning doesn't mean the problem is fixed.  An in-depth look will show whether the Hurricanes' third line is just another disaster in waiting.
Musical Chairs of Failure
Before the season started Hurricanes management tabbed Ryan Murphy as the sixth defenseman
for the new season.  His play last year after his return from the Checkers seemed improved.  Unfortunately, Murphy suffered an injury that would keep him out of the lineup.  In response to this news, Ron Francis brought in Jakub Nakladal and Klas Dahlbeck to help cover Murphy's duties.  The results underwhelmed and even Murphy's return did little to change things with the third pairing's performance.  Here's a look at their stats from the start of the season till 11/11.  All stats are from Corsica and are Score and Venue adjusted.
| Player | CF% | RelCF% | GF% | xGF% |
| --- | --- | --- | --- | --- |
| Nakladal | 39.74 | -11.76 | 0 | 35.53 |
| Dahlbeck | 50.52 | -4.04 | 44.77 | 43.10 |
| Hanifin | 50.82 | -3.9 | 40.82 | 48.41 |
| Murphy | 51.28 | -6.53 | 14.17 | 52.13 |
A quick look at that table shows a whole lot of bad on the third pairing.  Of course, the goaltenders gave the defense no favors with their goals allowed, but even still their play left a lot to be desired.  Play like that led to Nakladal to waivers.  It also is the reason Murphy and Dahlbeck dress in suits and not jerseys on game day.
Things Settle Down
With the call-up of Matt Tennyson, the Hurricanes' bottom 2 pairing is now solidified for the time being.  No doubt the four wins since Matt Tennyson's arrival solidifies his place on the team; especially with coach Bill Peter's insistence on "If you win, you're in," mantra.  But has the play of the third pair actually improved during these four wins or are they just being carried by the better
play of their teammates?  Let's take a look at the stats and see.  [Editors Note:  These stats are up to Winnipeg Game, but given that Tennyson was a +7 Corsi and Hanifin a +4 they most likely improved the stats below.]
| Player | CF% | RelCF% | GF% | xGF% |
| --- | --- | --- | --- | --- |
| Tennyson | 48.57 | -2.42 | 72.76 | 55.57 |
| Hanifin | 51.42 | 2.17 | 47.85 | 51.25 |
It is a small sample size, but the difference is pretty substantial especially in terms of GF% and xGF%.  Not only that but it seems that playing with Tennyson helps Hanifin play a better game as well.  If Tennyson can help Hanifin play in the defensive zone as well as he does in the offensive zone that could be worth as much as any individual contribution from Tennyson himself.
The fact that Tennyson's call up correlates with the Carolina Hurricanes' four-game win streak is no coincidence.  His play and his stats back that up as well.  The question now is if Tennyson can keep his play at this level for the rest of the season.   If not the Canes go back to the defensive musical chairs of earlier in the season.  The results of that fiasco are all well to known.
This article originally appeared on