Carolina Hurricanes Center Elias Lindholm is Becoming an All To Familiar Story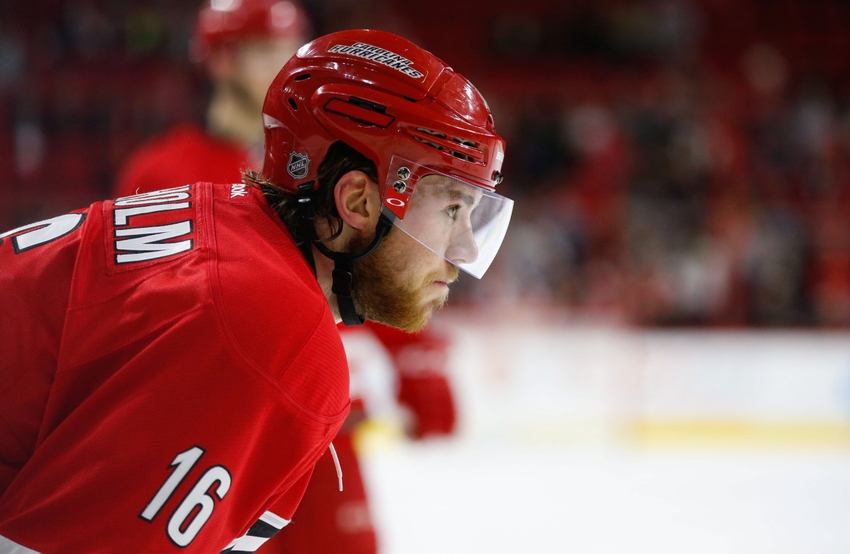 Elias Lindholm is off to a very poor start to the season having scored no goals. Could he be the next player to succumb to the Carolina Hurricanes' history of draft busts?
Back in 2008, the Carolina Hurricanes drafted a promising two center in the 1st round. In his draft year, that player scored 33 goals in the WHL, played for Canada at the World Juniors, and looked prime to be the 2nd center behind then captain Eric Staal. In 2009, Carolina drafted a forward who seized the opportunity in his draft year. In 2011, the Hurricanes made a move for a former teammate of rookie of the year Jeff Skinner. Their pick was a quick, smart, and talented offensive defenseman.
Those three players of course are Zach Boychuk (2008), Philippe Paradis (2009), and Ryan Murphy (2011). All three draftees were first round picks and all three have failed to live up to their respective hype levels. And now, 2013 1st round pick Elias Lindholm could be joining that group.
Expectations on the Swede were high from the get go. Picked at 5th overall in what's turned out to be a great draft, Lindholm has had to compete against his contemporaries like Seth Jones, Sean Monahan, and Max Domi. It certainly didn't help that some scouts were referring to his skills to be equal to the legendary Peter Forsberg.
In his 4th season, Lindholm has bountiful NHL experience for a 21 year old. He has registered over 100 points in his career and has played the 2nd most games out of anyone in his draft year. He certainly has established himself as an every game NHL player, which can't be said about Boychuk, Murphy, and especially Paradis.
The problem is that it Lindholm is stalling in his development. Each of the past two seasons, he has 39 points, which is respectable, but not exactly impressive. In those seasons, his goals scored dropped from 17 to 11. So far this season, that trend is continuing. He has no goals in 12 games. What's even worse is that he has the third most ice time of forwards and is second on the team in total shots. On the other end of the puck, no one can deny Lindholm's tenacity and physicality, but it hasn't translated into success. Each of the past two seasons, he is a -23. This season, he is already a -6.
The general play of the Hurricanes roster does indicate that Elias is just part of a larger problem, the team is struggling. However, Lindholm is supposed to be part of the solution for the Canes. The management has put their faith into him being a key piece of this franchise. It just hasn't worked out for either side.
Lindholm's saga might be emblematic of a larger issue with the team; the ability to make consistently good decisions with player development. To often do high end picks fall into the trap of obscurity. This was certianly the case under GM Jim Rutherford, but it may have carried over into GM Ron Francis' regime as well.
Nobody from the 2014 draft, Francis' first, has made their NHL debut yet, including highly coveted pick Haydn Fleury. While waiting on a player is good, some guys picked directly after Fleury, like William Nylander and Nikolaj Ehlers are having success in their NHL careers already. The 2015 draft might be an exception thanks to the drafting of Noah Hanifin and Sebastian Aho. Still, it could just as easily be an anomaly like GMJR's 2010 draft that had Skinner and Justin Faulk. Only time will tell how 2016 and 2017 pan out.
While we wait to see if this pattern continues, it has probably already claimed its latest victim in Elias Lindholm. This isn't to say Lindholm is a bad player, he isn't. Every player has rough patches and he is in one right now. What it is saying is that Carolina has a consistent track record of swinging and missing when it comes to drafting top players. Lindholm, while an adequate NHLer, has not turned out to be the great offensive player he was pegged to become.
Hopefully, young Lindholm can break the cycle. He does work extremely hard and he is noticable on the forecheck which should be commended. He also has history as a streaky scorer, so maybe he can rifle in some goals and get back on track this season. It would be much needed because Caniac Nation is tired of this some old song and dance.
This article originally appeared on