Carolina Hurricanes and the Metropolitan Division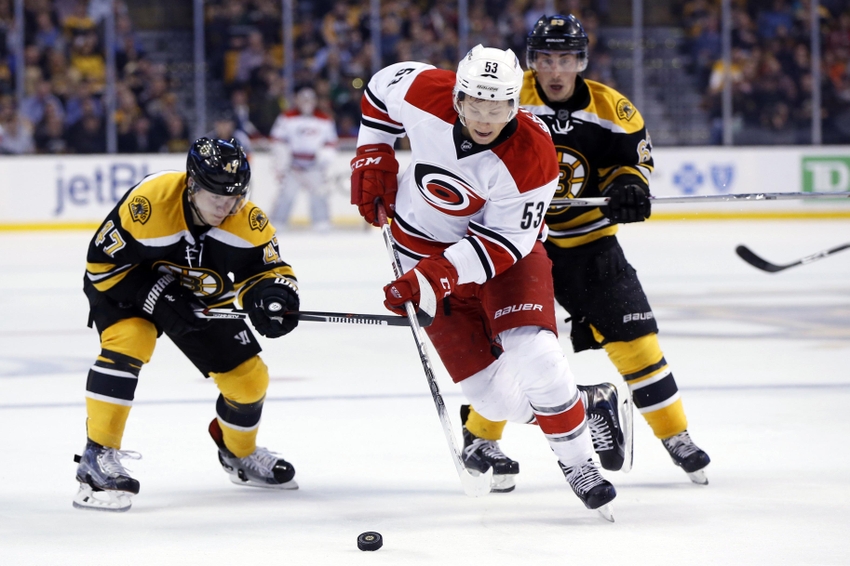 The Carolina Hurricanes are struggling to earn a playoff berth let's take a look at who they are fighting in their division.
Well let's not sugarcoat things; a little over a 1/4 of the way into the season and the situation is bad for the Carolina Hurricanes.  With twenty-three points, Carolina sits one point above the New York Islanders for last place.  But what about the rest of the division; if Carolina wants to make the playoffs maybe they can hope one of the other teams start dropping.  Yeah about that.  It just so happens that this is the year that the Metropolitan division transformed into the best division in the NHL.
After its creation many people considered it to be a top-heavy division with a bunch of also-rans, but not this year.  The division boasts three teams over thirty points (everyone else only has two), and all eight teams are predicted to finish the season above .500.  Not only does the Metropolitan have a lot of good teams, it has some of the best teams in the NHL standings.  The New York Rangers are tied with the Chicago Blackhawks for most points in NHL, and Pittsburgh and Columbus are only two and three points behind respectively.
New York Rangers (17-8-1 35 pts)
The Rangers have the best record in the NHL.  They lead the NHL and the Metropolitan division in points.  But I don't care about that.  You know why?  Because the Rangers are a bad team.  In almost every metric other than goals they are one of the worst teams in the league.  CF% 29th, xGF% 26th, CA60 22nd, and CF60 28th you name it they are bad at it.  So why are they winning so much?  Normally you could just point to Henrik Lundqvist, but this year he's playing a little closer to normal than usual.
The real answer is their very high and unsustainable shooting percentage.  At 5v5 the Rangers shoot an 11.75% almost three percent more than the next closest team.  It's not a matter of if, but when will they start shooting like a normal hockey team.  That doesn't even touch on their awful defensive corp that sees sieves like Dan Girardi and Marc Staal play consistent minutes every night.  The Rangers will make the playoffs but if they want to make a run at the cup they at least need to upgrade some pieces on defense.
Pittsburgh Penguins (15-7-3 33 pts)
The Penguins have picked up exactly where they left off last year and it's not surprising seeing as how they returned pretty much exactly the same team that helped them win a Stanley Cup last season.  Hearing all the talk about Connor McDavid being the best player in hockey, Sidney Crosby decided he wasn't quite ready to hand the crown over.  As of the writing of this article, he leads the league in goals.  Overall Crosby's play has been stellar, and while McDavid is the future (and leads the league in overall points) one could still argue that Crosby is the best player in the NHL and nobody would get too mad about (except haters and Edmonton fans).
And there's also Matt Murray to talk about.  The kid is putting up a .945 5v5 Sv% and .929 overall SV% good for 12th in the league.  The craziest thing about Murray's whole situation is that he is technically in his rookie year this season yet he already won the Conn Smythe trophy.  Marc Andre-Fleury, on the other hand, hasn't been quite as good.  It will be interesting to see what Jim Rutherford does with his goalie situation.  Still barring any disastrous injuries like another Crosby concussion, the Penguins are making the playoffs.
Columbus Blue Jackets (14-5-4 32pts)
I remember somebody saying these guys were for real this year, but I can't quite remember who it was.  Let me think, let me think…oh yeah it was us.
I'm going out on a limb here and gonna say I think CBJ is for real this season be sure to show me this when I'm wrong

— Cardiac Cane (@CardiacCane) November 6, 2016
Don't want to say we told you so…wait yes we do.  We told you so.  The Blue Jackets are for real this year and currently hold down third place in the Metropolitan division.  Earlier their success could be chalked up to high PDO, but now their PDO is normalizing and their CF% is increasing.  Wait does this mean Tortorella is actually a good coach?  I wouldn't go that far, but the Blue Jackets are clearly outplaying their preseason expectations.
A lot of it is to do with Sergei Bobrovsky deciding not to be a basket case like other certain Russian goalies, and remembering that he's a freaking Vezina winner!  However, he's not the only reason. On defense, Seth Jones, and potential Calder winner Zac Werenski, help solidify a blue line that has been a problem in the past.  Along with those two, the emergence of Alexander Wennberg up front has added additional youthful scoring to the team's veteran group.  There's still a possibility they could miss the plays (it is Columbus after all), but for now, they look good to make it given the teams that are chasing them.
Philadelphia Flyers (13-10-3 29 pts)
The Flyers currently sit outside the playoffs although they are tied in points with both teams ahead of them.  Philadelphia is an interesting team because nobody really knows what could happen with them.  They have some great talent on the team like Sean Couturier(although he was recently injured), Claude Giroux, Shayne Gostisbehere, Travis Konecny, and Ivan Provorov, but they are also icing players like Dale Weise and Andrew MacDonald.  Add in the subpar goaltending, and the coach mysteriously benching his best player, it all seems like a recipe for disaster.  Still, the Flyers are hanging around and given how close things are in the east that's about the best you can ask of this team with the situation it's in.
(Washington Capitals 13-7-3 29 pts)
The Capitals, like the Penguins, kept pretty much the same team from last year with a few minor additions (Brad Malone says hi!).  They currently hold one of the wild card spots but are tied in points with the Flyers and only a point ahead of New Jersey.  Nicklas Backstrom and Alex Ovechkin continue to be elite offensive talents in the NHL.  However, the significant drops in production by Justin Williams (4pts) , Evgeni Kuznetsov (9 pts), and Andre Burakovsky (10 pts)  is worrisome and could be a reason why the same team that won the Presidents Trophy last year now sits in the wildcard.  Especially Kuznetzov who disappeared during the playoffs last year.  Coupled with the fact he is on pace for a 30 point year compared to his 77 points last year, there could be trouble ahead if Ovechkin or Backstrom decide to go cold.
In goal, Braden Holtby continues the play that made him the Vezina winner last year.  And when he can't play, Phillip Grubauer has filled in more than adequately.  This is still a good team despite their weaknesses, and they should make the playoffs.  I still wouldn't pick them to go further than the first or second round.
New Jersey Devils (11-7-6 28 pts)
The Devils are one point out of a playoff spot.  Many people didn't predict them to be that good this year, but when you commit one of the biggest larcenies in NHL trade history it tends to help make the team better.  Taylor Hall missed some time with injuries and the Devils dropped a bit but they also won in Hall's first game back.  Considering the Devils also have Corey Schnieder, arguably the third best goalie in the NHL, ruling them out completely would be unwise.  The Devils top six is solid but ultimately they probably won't have enough talent to keep this up over 82 games.  Like last year they'll be close but won't make the playoffs.  One wonders if they should go ahead and just blow it up and start the rebuild instead of continuing the slow trudge through mediocrity.
New York Islanders (9-10-4 22 pts)
Oh man, we could spend all day talking about the disaster that is the New York Islanders season. They've taken a complete 180-degree turn from last season where the franchise made it out of the first round of the playoffs for the first time since the 1993 season.  But with the loss of several free agents, and few highly questionable contracts things have taken a drastic turn for the worse.  Apparently having the best fourth line in hockey isn't worth what it used to be.
Then there is the questionable move of carrying three goalies on the roster.  It makes one wonder how much longer GM Garth Snow will be employed with the team.  Obviously, coach Jack Capuano is going to get fired at some point this year, and it is surprising he has made it this far.  Overall it is a very shocking turn of events for a team that looked to be on the upswing.  I hate to pile on, but there is also the fact that Jon Tavares is a free agent after next season.  Can you imagine him sticking around to waste the prime of his career waiting for the Islanders to clean things up?  I sure can't.
This article originally appeared on