Canucks Game Day: Race for Playoffs Continues in Music City
Alex Hoegler/FanSided via The Canuck Way

Fansided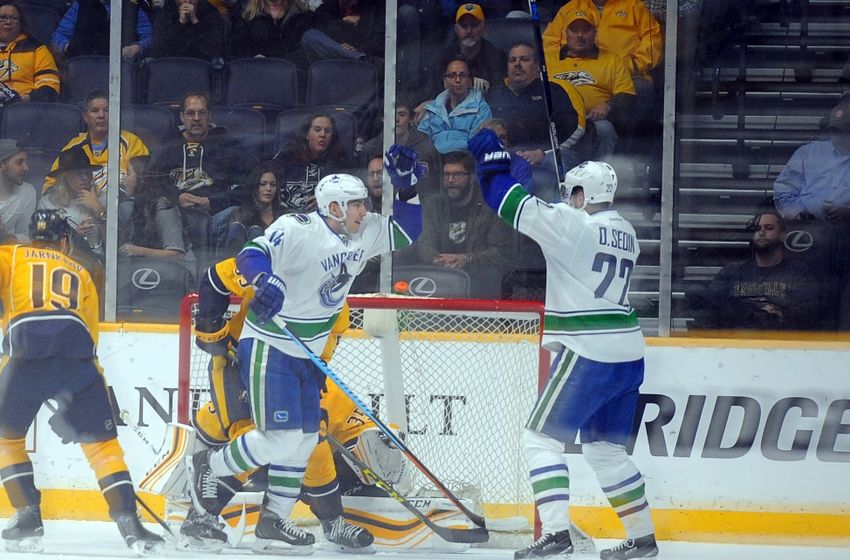 The Vancouver Canucks are quickly fading out of the playoff race, and this six-game road trip that begins in Nashville could make or break their season.
It wasn't too long ago when pundits were labeling the Vancouver Canucks as a surprise team. This team had an excellent run to begin January, putting them in a neck-and-neck race for the wild card spot.
But with three-straight losses and recent resurgences by the Los Angeles Kings and Calgary Flames, Vancouver sits five points out of the playoffs. With the trade deadline less than a month away, it's safe to assume this six-game road trip will determine whether general manager Jim Benning becomes a buyer or a seller.
This road trip couldn't have started in a much tougher place. The Nashville Predators are 6-3-1 in their last 10 games and have an impressive 14-6-6 record in their own barn. Their recent surge has taken them from the Western Conference basement to third in the Central Division
I called Saturday's home game against the Minnesota Wild a "must win", but you can pencil tonight's clash against Nashville as a must-win game as well.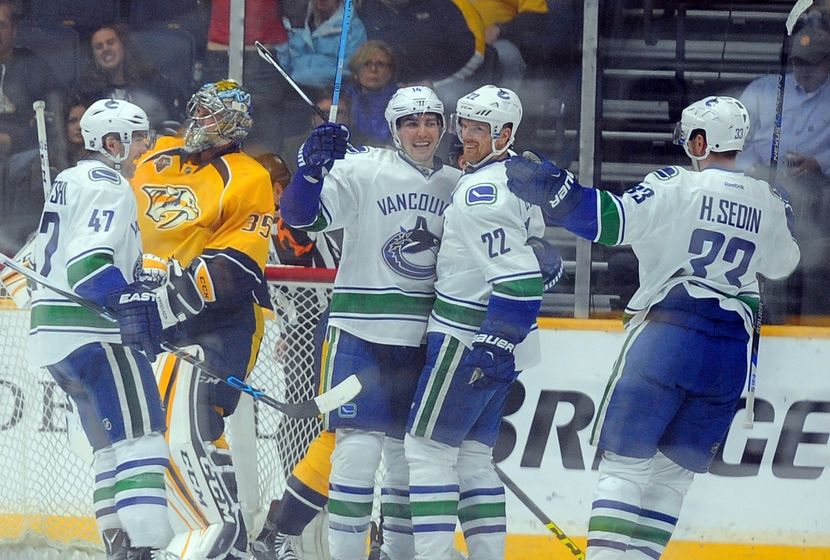 Vancouver Canucks
OVERVIEW:
2016-17 Record: 23-23-6
Away Record: 6-15-3
2015-16 Record vs. Predators: 1-1-1
Goals For: 123
Goals Against: 150
Power Play: 14.4% (28th)
Penalty Kill: 79.0% (23rd)
Leading Scorers: Bo Horvat (52 GP – 15 G -–18 A – 33 PTS), Henrik Sedin (52 GP – 11 G – 21 A – 32 PTS), Daniel Sedin (52 GP – 11– G – 17 A – 28 PTS)
Injuries: Ben Hutton (upper body, day-to-day), Anton Rodin (knee-day-to-day), Erik Gudbranson (wrist, indefinite), Derek Dorsett (neck, out for season),
WHO''S ON OFFENCE:
Bo Horvat: The Canucks leading scorer has struggled as of late, with just three points in his last eight games. Horvat was also held in check by the Preds in the last meeting with just two shots on goal.
Brandon Sutter: Sutter had arguably his best game of the season on Saturday, scoring two goals and playing 17:41. The Canucks need more of that if they're to gain ground in the playoff race.
WHO''S ON DEFENCE:
Troy Stecher: The slick rookie has struggled in his last four games, and needs a rebound quickly. Stecher has gone pointless with a minus-four rating over the past four games.
WHO''S IN NET:
Jacob Markstrom: With Ryan Miller in a massive slump, Markstrom gets another chance. He hasn't played since Jan. 25 — a 3-2 win over the Colorado Avalanche.
PROJECTED LINEUP:
Daniel Sedin — Henrik Sedin — Loui Eriksson
Markus Granlund— — Brandon Sutter — Jannik Hansen
Sven Baertschi— — Bo Horvat — Alexandre Burrows
Jayson Megna— — Michael Chaput —— Jack Skille
Alexander Edler — Troy Stecher
Luca Sbisa — Chris Tanev
Nikita Tryamkin — Philip Larsen
Jacob Markstrom
Ryan Miller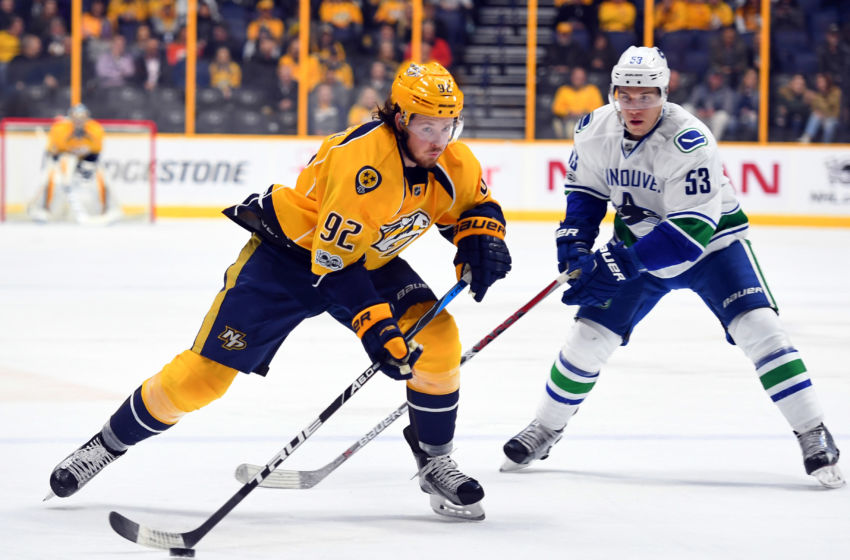 Nashville Predators
OVERVIEW:
2016-17 Record: 25-19-8
Home Record:14-6-6
2015-16 Record vs. Canucks: 2-1-0
Goals For: 142
Goals Against: 135
Power Play: 17.8% (19th)
Penalty Kill: 83.6% (9th)
Leading Scorers: Ryan Johansen (52 GP – 9 G – 29 A – 38 PTS), Filip Forsberg (52 GP – 15 G – 8– A – 33– PTS), Viktor Arvidsson (50 GP – 13 G – 19 A – 32 PTS)
Injuries: Harry Zolnierczyk (undisclosed, day-to-day), Miikka Salomaki (lower body, day-to-day)
WHO''S ON OFFENCE:
Ryan Johansen: The Vancouver native has been key to the Preds' hot run, with two goals and six assists over his last eight games.
Filip Forsberg: Forsberg hasn't scored in two meetings against the Canucks this season and has just one assist over his past four games. Does he finally break through tonight?
WHO''S ON DEFENCE:
Roman Josi: The Preds' top defenceman was a difference maker in their Jan. 10 meeting, scoring two assists. Nashville's defencemen aren't scoring in bunches much in 2016-17, but can Josi break that trend after missing three weeks of action?
WHO''S IN NET:
Pekka Rinne: There's no place like home for Rinne, where he's 12-5-4 with a 2.03 goals against average and .927 save percentage.
PROJECTED LINEUP:
James Neal — Ryan Johansen —— Filip Forsberg
Colton Sissons— — Mike Fisher —— Craig Smith
Colin Wilson — Calle Jarnkrok —— Viktor Arvidsson
Austin Watson — Vernon Fiddler— — Cody McLeod
Mattias Ekholm — P.K. Subban
Matt Irwin — Ryan Ellis
Roman Josi — Yannick Weber
Pekka Rinne
Juuse Saros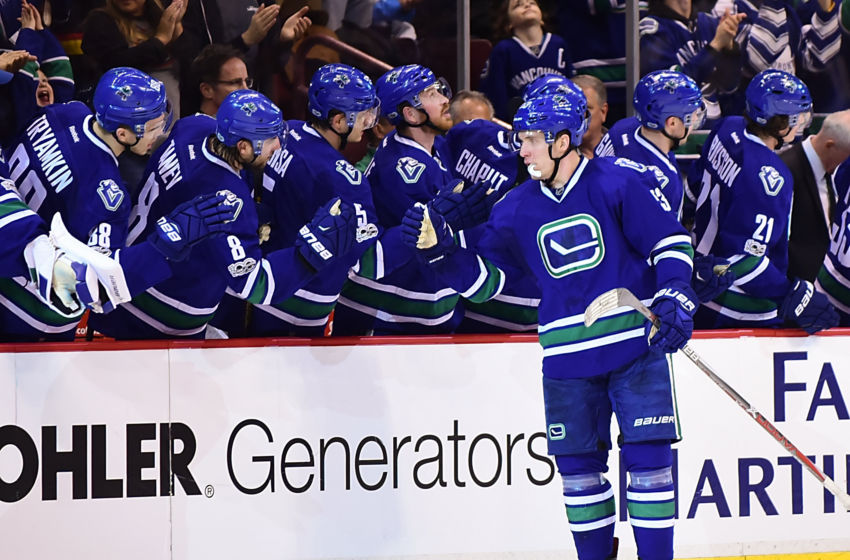 Now Or Never
The Canucks front office and ownership tried selling a competitive team with a goal of reaching the playoffs during the offseason. But sitting five points out of the playoffs with 30 games to go wasn't exactly in the team's best interest.
At this point, it's going to take a miracle for the Canucks to get into the playoffs. The Los Angeles Kings and St. Louis Blues hold both wild card spots, with 58 and 57 points, respectively. The Calgary Flames are also at 57, while the Winnipeg Jets (54), and Dallas Stars (52), also remain in the chase.
This Vancouver team hasn't given much optimism in playing spring hockey. The goaltending, defence and offence are all extremely mediocre at best. The Canucks won't be buyers at the trade deadline, so they'll have to find ways to win with this roster.
The six-game road trip is extremely grueling, and it's going to probably determine how the Canucks finish down the stretch. If this team still believes it can make the playoffs, the time to win is now. Otherwise, it's never.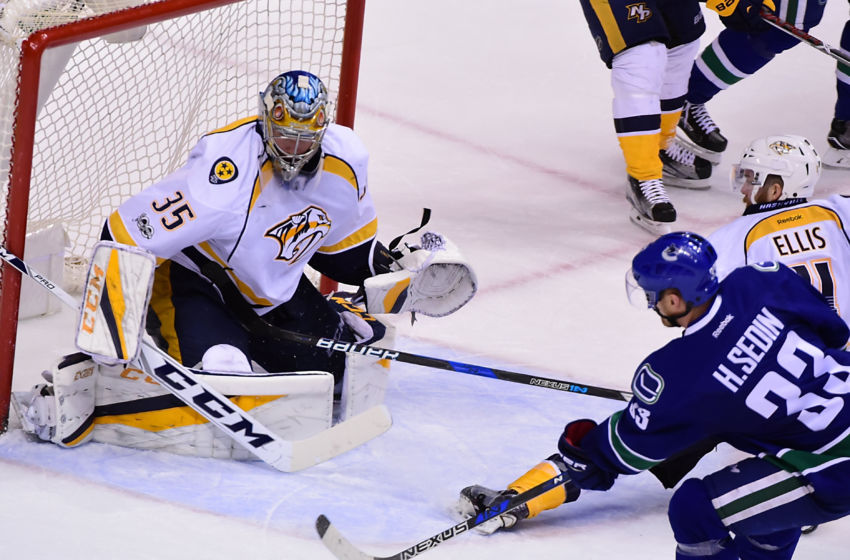 Where to watch
Vancouver Canucks @ Nashville Predators – 5 PM PT

Bridgestone Arena — Nashville, TN
TV: SN, FS-TN
Radio: TSN1040
Online Streaming: Rogers NHL GameCentre LIVE, NHL.TV
Predictions
Alex Hoegler:

3

4
4-3 Predators in overtime, as Mike Fisher scores a short-handed breakaway goal in the final seconds. Didn't something like that happen once?
Janik Beichler:

2

3
The Canucks are on another losing streak and the Preds don't mind extending it. It's a tight game, but the Canucks fall in OT.
Jeff Godley:

3

2
Jacob Markstrom starts and, just to fan the flames of another goalie controversy, steals a road game against the Preds.
This article originally appeared on