Canucks Game Day: Playoff Race Continues vs Predators
Alex Hoegler/FanSided via The Canuck Way

Fansided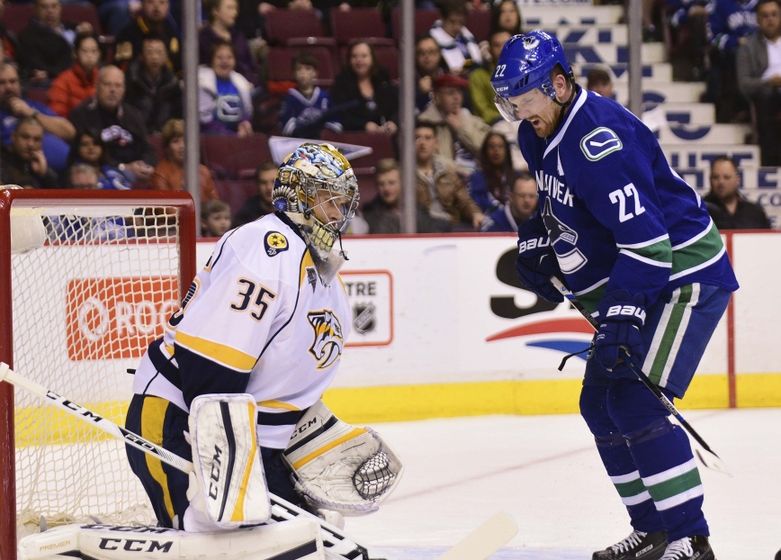 The Vancouver Canucks are slipping further out of playoff contention and desperately need a win against the surging Nashville Predators
After winning six-games in a row, the Vancouver Canucks have proceeded to lose their last four. In all honesty, these losses are coming from teams that aren't exactly "great." Their latest stinker was a 2-1 home loss to the New Jersey Devils on Sunday, one in which the Canucks should feel fortunate to have gotten a point.
During this losing skid, the Canucks have scored just one goal in three of the four games. Daniel and Henrik Sedin are losing to father time at the worst possible moment, and the banged-up defence sure isn't helping.
The Canucks are two points behind the Los Angeles Kings for the final playoff spot in the Western Conference, but the latter has two games in hand. Nashville is just one point behind the Kings, with two games in hand on the Canucks as well.
With so many injuries and the playoff race heating up, it's becoming now-or-never for the Canucks to get on a run. It may seem too early, but can we call this a "must-win" game for the Canucks? I think it's plausible.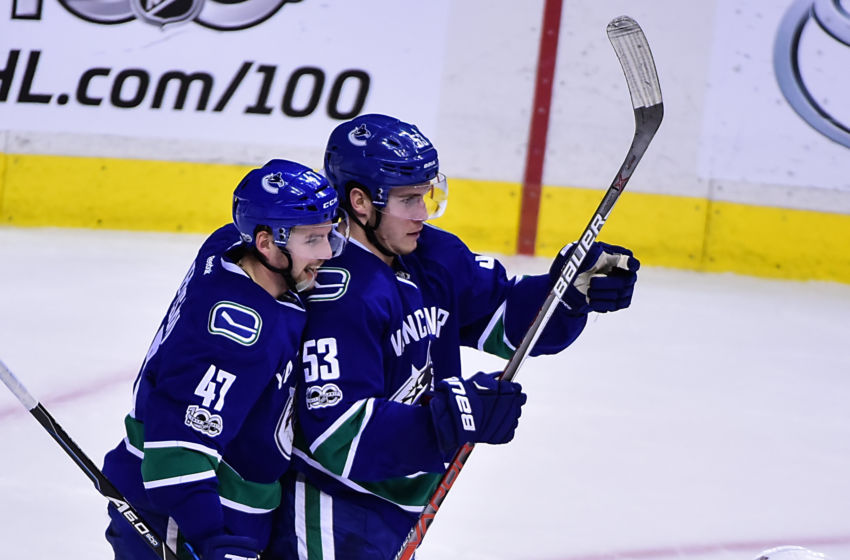 Vancouver Canucks
OVERVIEW:
2016-17 Record: 20-19-6
Home Record: 15-6-3
2015-16 Record vs. Predators: 1-1-1
Goals For: 111
Goals Against: 130
Power Play: 13.4% (27th)
Penalty Kill: 79.2% (21st)
Leading Scorers: Bo Horvat (45 GP – 13– G -–17 A – 30 PTS), Henrik Sedin (45 GP –- 9 G – 19– A – 28 PTS), Daniel Sedin (45 GP – 11– G -–14 A -– 25 PTS)
Injuries: Ben Hutton (upper body, day-to-day), Jannik Hansen (knee, day-to-day), Erik Gudbranson (wrist, indefinite), Derek Dorsett (neck, out for season), Philip Larsen (upper body, day-to-day)
WHO''S ON OFFENCE:
Bo Horvat: The Canucks leading scorer has just one assist over his last three games, with four shots on goal. The Canucks offence will only go as far as Horvat can take them – can he get back on track?
Brandon Sutter: While Horvat and Sven Baertschi's emergences have gotten the attention, Sutter is quietly on pace for a career year. He's been this team's best two-way forward and is on pace for 22 goals and 42 points.
WHO''S ON DEFENCE:
Troy Stecher: The rookie just keeps getting better and better every game. Stecher has three points in his last four games over 20 minutes of ice time per game in those contests.
WHO''S IN NET:
Ryan Miller: Jacob Markstrom's recent struggles have given the Canucks a tough decision – to trade or not to trade Miller? While the front office makes a call on that, Miller has single-handedly kept this team in the playoff race with a 3-0-2 record in January.
PROJECTED LINEUP:
Daniel Sedin —– Henrik Sedin — Loui Eriksson
Sven Baertschi —– Bo Horvat — Alexander Burrows
Markus Granlund —– Brandon Sutter — Jayson Megna
Brendan Gaunce —– Michael Chaput — — Jack Skille
Alexander Edler -–— Troy Stecher
Luca Sbisa -–— Chris Tanev
Nikita Tryamkin -–— Alex Biega
Ryan Miller
Jacob Markstrom

Nashville Predators
OVERVIEW:
2016-17 Record: 20-16-7
Away Record: 8-11-2
2015-16 Record vs. Canucks: 2-1-0
Goals For: 119
Goals Against: 114
Power Play: 18.2% (16th)
Penalty Kill: 82.7% (12th)
Leading Scorers: Ryan Johansen (43 GP – 7 G -–23 A – 30 PTS), Filip Forsberg (43 GP –- 11 G – 16– A – 27– PTS),Mike Fisher (39 GP – 12 G -–14 A -– 26 PTS)
Injuries: Colin Wilson (undisclosed, day-to-day), Roman Josi (upper body, day-to-day), P.K. Subban (upper body, day-to-day), Miikka Salomaki (lower body, day-to-day)
WHO''S ON OFFENCE:
Ryan Johansen: The Vancouver native has just three assists in seven games this month with a minus-three rating. One has to believe he's bound to turn it around at some point, though the Canucks held him off the score sheet last week.
Filip Forsberg: He's scored one goal in each of the past two games and is a plus-four this month. However, Forsberg was shut down by the Canucks last week, with no points and just two shots on goal.
WHO''S ON DEFENCE:
Mattias Ekholm: With Roman Josi and P.K. Subban injured, the pressure falls on Ekholm. He's posted a plus-five rating with a goal and assist over his seven games, so it seems like Ekholm's up for the task.
WHO''S IN NET:
Pekka Rinne: With a defence in front of him that's surprisingly not living up to its full potential, Rinne is saving the Predators season. He's 16-11-6 with a 2.40 goals against average with a .920 save percentage with one shutout.
PROJECTED LINEUP:
Filip Forsberg —– Ryan Johansen — — Craig Smith
Austin Watson —– Mike Fisher — — Colton Sissons
Viktor Arvidsson —– Calle Jarnkrok — — James Neal
Cody McLeod —– Derek Grant— — Harry Zolnierczyk
Matt Irwin –— Ryan Ellis
Mattias Ekholm –— Petter Granberg
Anthony Bitetto –— Yannick Weber
Pekka Rinne
Juuse Saros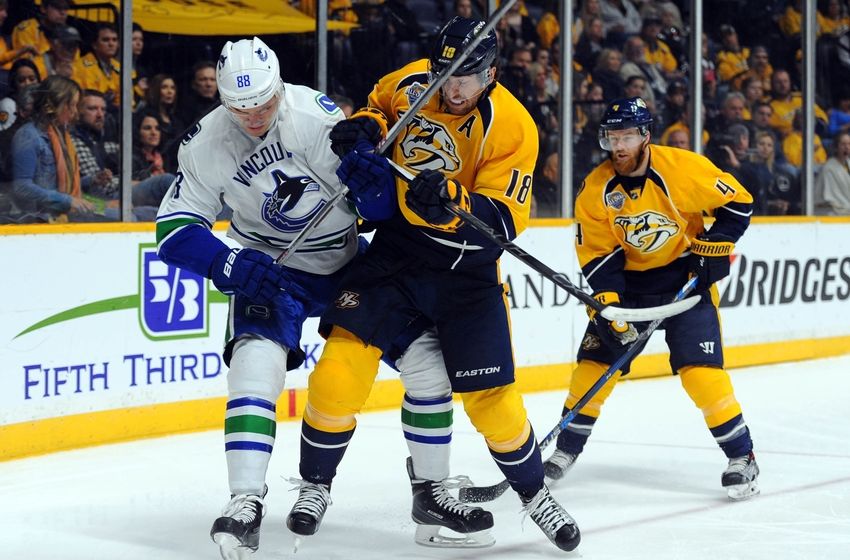 Both Teams Fighting for their Playoff Lives
The Canucks are 10th in the Western Conference. In order to catch the Los Angeles Kings, they'll first have to catch the ninth-place Nashville Predators. Even though both teams are playoff contenders, you have to remember they are in very different situations.
Nashville was a popular pick to compete for the Stanley Cup, with five analysts from Sportsnet picking them to win the Western Conference. With injuries to P.K. Subban, James Neal and Roman Josi, however, the Predators have struggled to compete in the ultra-competitive Central Division, let alone the Western Conference.
Vancouver's front office sold a "competitive team," with the goal of reaching the playoffs. In all honesty, you'd have a tough time finding many Canucks fans who thought this team would be in the playoffs.
But despite injuries to the blue line and the inevitable decline of Daniel and Henrik Sedin, the Canucks have found ways to stay alive in the playoff race. Their goaltending has been average and the scoring has been as porous as expected. Defence is keeping them alive, but how much longer can they hold on?
Even though games don't feel like must-wins in January, there's a strong chance both teams will be looking back on this one, regardless of whether or not either club makes the playoffs.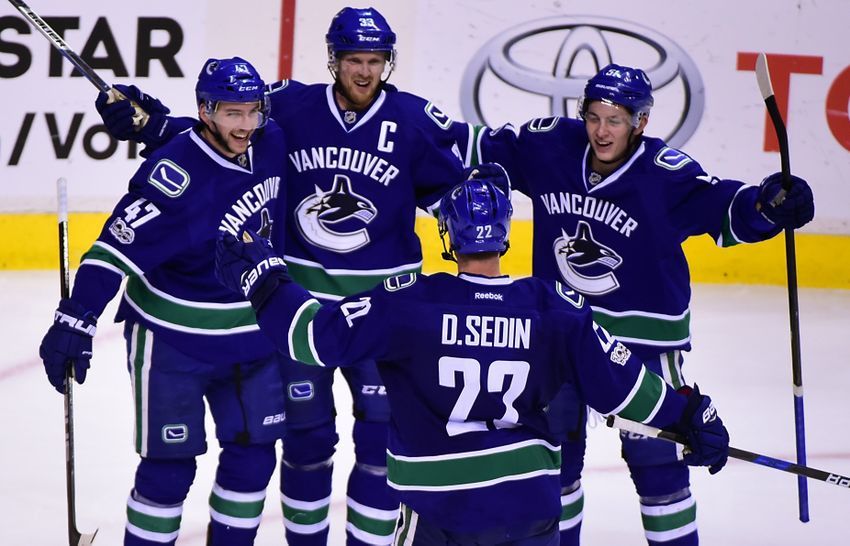 Where to watch
Nashville Predators @ Vancouver Canucks – 7 PM PT

Rogers Arena — Vancouver, BC
TV: SN, FS-TN
Radio: TSN1040
Online Streaming: Rogers NHL GameCentre LIVE, NHL.TV
Predictions
Alex:

3

2
We saw the Predators' speed tire out the Canucks on Tuesday. Similar result.
Janik:

4

2
Another game they should win if they want to make the playoffs. But, the Predators are probably the better team right now. Shaky defence and a lack of offensive firepower result in a 4-2 loss.
Gerald:

0

1
Ryan Miller has a throwback game and somehow gets his super skinny twig legs on everything thrown near the net. Anton Rodin plays and finally gets a point on the only goal of the game.
Jeff:

3

2
Vancouver will lose another to Nashville, but will get an extra point for getting to overtime for the fourth straight game.
This article originally appeared on