Canadiens Line Shuffling By Michel Therrien Senseless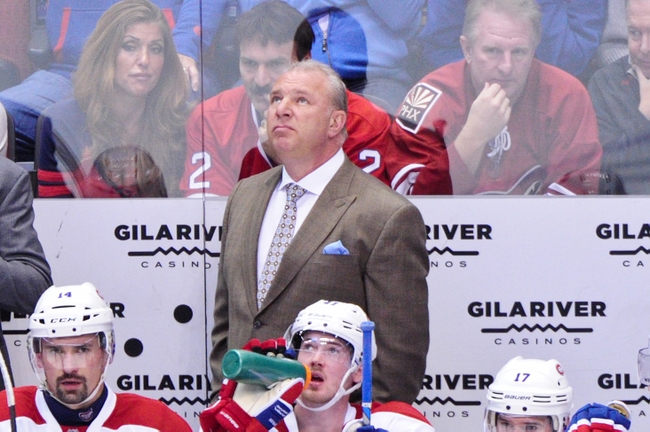 The Montreal Canadiens faced their first tough test of the season last night. Michel Therrien responded seemingly the only way he knows how, by putting a fourth liner in the top six, demoting young talent and hoping for the best.
The Montreal Canadiens fell 4-3 in a shootout to the Ottawa Senators last night. After starting the year with a 4-1 victory over the Buffalo Sabres on Thursday, it was the first tiny bit of adversity faced by the team this season.
The Canadiens found themselves down 2-0 after the first period. This was the perfect opportunity for Head Coach Michel Therrien to put his lines through the blender. Therrien is well known for mixing his lines up at a moment's notice. He showed last night that his panic threshold has not changed.
With the team trailing, Alex Radulov justifiably moved up to the top line. He joined Max Pacioretty and Alex Galchenyuk. This is a line I thought should be used from the start of training camp. It made sense to move up Radulov who, even though is pointless, has looked impressive.
I even got to thinking about a nickname for this line. Lucky Sevens? Since they wear 27,47 and 67 receptively on their backs. The GalRad Pac? That's also terrible, but you try coming up with something better.
Alas, the trio went through the blender after a few shifts and my dreams of coming up with awful names for them were dashed. Tomas Plekanec joined the pair of offensive wingers, and Galchenyuk moved back with Brendan Gallagher. The Gally's were joined on a line by none other than Paul Byron!
Byron Getting the Weise Treatment From Therrien
The same Byron was who placed on waivers by the Calgary Flames a year ago. You know, so they could keep Lance Bouma, Brandon Bollig and Josh Jooris on the roster. The same Byron who had 18 points last season. That was just three short of a career high.
I don't want to sound like I am bashing Paul Byron. He is one of the fastest skaters on the team, an excellent penalty killer and a versatile player for the bottom six. Ideally, that would be the bottom line.
However, Therrien sees the team down by a goal or two for the first time in the season and decides this is the player that needs to play with two of the best offensive players on the team.
Does this ring a bell? Has Paul Byron become the new Dale Weise for the Montreal Canadiens?
Let's hope not. But, unfortunately, Therrien has a history of rewarding hard-working penalty killers with an unreasonable amount of ice time. We have seen Travis Moen play with Plekanec, Weise with Pacioretty and now Byron with Galchenyuk.
Lehkonen Not Getting Benefit of Doubt From His Coach
Hopefully this was a short-term maneuver. However, given what we have seen from Therrien in the past, I would expect to continue bashing my forward against the wall while trying to figure out his lineup shuffling.
Byron being moved up to the top six, also means someone had to be moved out. Lo and behold, it was the forward with the least amount of NHL experience. Though he played well, and scored the Canadiens first goal last night, Artturi Lehkonen was demoted to the fourth line.
The 21-year-old left winger is an offensive player and displayed those skills so well in camp he earned a shot as a top six winger in game one. Therrien clearly has a short memory for young players and dropped him to a line with Torrey Mitchell and Philip Danault.
Funny how quickly Therrien forgets about Lehkonen's preseason, yet all he could recall about Dale Weise was that one overtime goal he scored in the playoffs against the Tampa Bay Lightning. I'm sure he only remembers Byron's three shorthanded goals from last year and will reward him all season for them.
Lines Didn't Need To Be Changed From Game One
The most frustrating part about seeing Byron in the top six, is the lines worked great in game one. Therefore, things didn't need to be changed from an ideal lineup that looked like this:
Pacioretty – Galchenyuk – Gallagher
Lehkonen – Plekanec – Radulov
Carr – Desharnais – Shaw
Danault – Mitchell – Byron
The first line found the back of the net twice. Gallagher tipped in a point shot and fired a wrister past Sabres goaltender Robin Lehner.
The third line came exactly as advertised and made an impact. Carr and Shaw crashed the net, drew penalties and made life miserable for anyone in a Sabres sweater. They even smashed home a goal as Shaw and Carr were basically on top of Lehner banging away at a loose puck until it barely trickled over the line.
The fourth line played well defensively, and Mitchell chipped in a Byron rebound to give the Canadiens a two goal lead in the second period.
The only line that didn't score was the second. However, most Habs fans I talked to following the win were most impressed with Radulov's hustle and passing skills as well as Lehkonen's heavy shot.
It was an ideal lineup, and it lasted a little more than four periods for the Canadiens. Hopefully Therrien comes to his senses and goes back to the lines that worked so well in training camp, and played extremely well in game one against the Sabres.
I won't hold my breath. But I'm sure I will get to smash my forehead against the wall again soon.
More from A Winning Habit
This article originally appeared on