Cam Ward Goes From Scapegoat to Hero In Only Two Weeks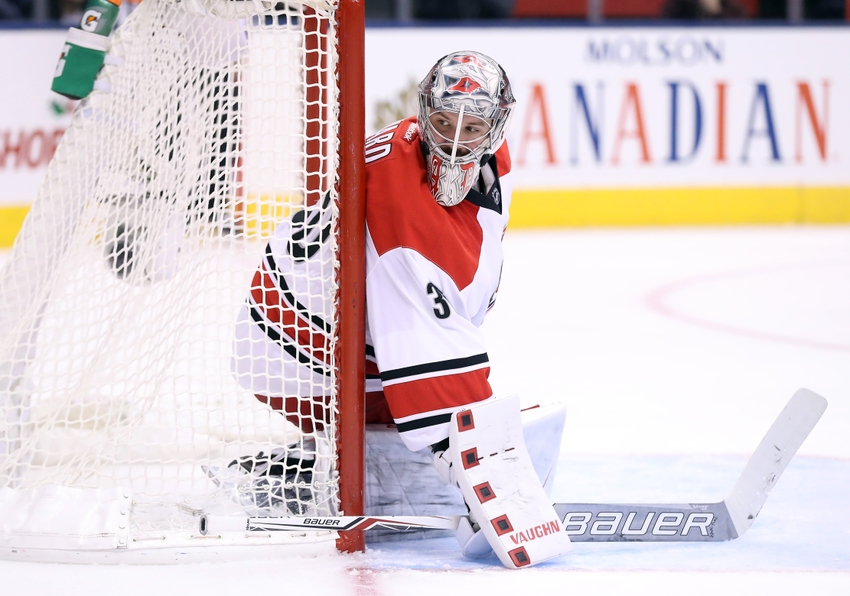 Carolina Hurricane's goalie Cam Ward has gone from being his team's scapegoat to their very own superhero.
He, like his team, looked dead and buried. After only a month between the pipes, people were calling for Cam Ward's head on a stake. The last remaining piece from the legendary year of 2006 was sinking that same team a decade later. It was all of Caniac Nation's goaltending nightmares coming true. Yet, from a bad dream to hockey nirvana, Cam Ward has led his team out of the abyss to near the play-off cut line. In a complete 180 degree turn, the Canes goalie of past and present is somehow becoming the goalie of the future.
After re-signing with the team over summer, an ill-advised move by many, Ward won the job out of camp. Based off of how both he and Eddie Lack started the season, that didn't seem all that impressive. The two were woefully bad in the month of October. It was not all Ward or Lack's fault, but they certainly weren't innocent either.
It was well documented that Ward was not good last month. His play was also well criticized (I laid into him plenty) last month. However, since the second game of Carolina's 5 game home stand of this month, the former play-off MVP has shut me and everyone else up with stand out play.
Last week, Cam Ward was the NHL's 2nd Star of the Week. He won every game that week. The first, a shutout against the former Western Conference champion San Jose Sharks. Followed by a great performance against Montreal, when which he kept his team afloat, jump starting a 3rd period comeback. Finally, against Winnipeg, he stopped 28-29 en route to another victory.
That stretch doesn't even include his great performance against Washington before last week or his away victory in Toronto on Tuesday. Both games he surrendered only one goal a game. That's 5 straight starts for 5 straight victories. Over that stretch, he has conceded an average of a single goal against, which is pretty remarkable.
What might be most remarkable is his save percentage. Back when we were grilling Ward and Lack, Ward's save percentage was .869. Now, only 2-3 weeks later, its up to a .919. Of course, percentages fluctuate significantly when there are few games to draw upon, but that's still a massive jump in a short time. It also is the highest save percentage he's had since 2010-11, when he was an NHL All-Star.
Is Ward's resurgence going to continue? Who knows? In the meantime, he should be marveled at. Remember, it wasn't just Caniac Nation that gave up on Ward, but so did everyone around the league too. If he wasn't re-signed by the Canes, it possible he isn't even an NHLer anymore. Instead, Ward signs and is doing everything in his being to win over this franchise for another time.
Back in October, the Hurricanes were desperate for anything positive. If that meant kicking someone to the curb, even a long time Hurricane like Ward, it was pretty welcome. He was part of the problem, but now he is becoming the solution and then some. If Ward can keep this up and potentially lead his club back to the play-offs, he might have a good argument at comeback player of the year.
On Thursday, Ward will duel Carey Price at the Bell Centre. The Hurricanes are the hottest team in hockey right now. They play the best home team in hockey. If Ward can show up again against Price, there may have something really special happening in the Hurricanes crease.
This article originally appeared on