Calgary Flames: What's Wrong With This Struggling Team?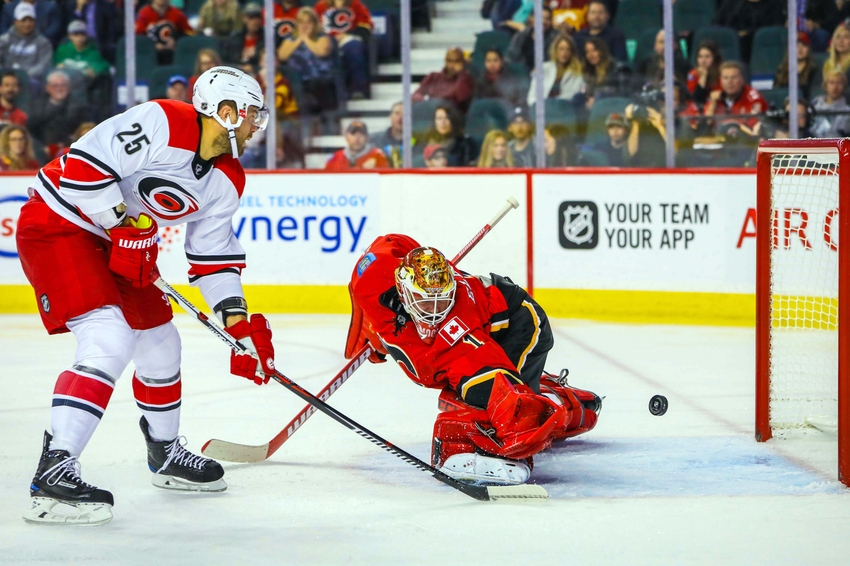 The Calgary Flames are 1-3-1 to start the first five games of the season and rank 25th in the league. So what's going on with this team?
The season has been going for about a week and a half now and the Calgary Flames are 26th overall in the league. Their special teams are looking like a repeat of last year as well. They are 30th overall for power play and 19th for penalty kill.
So what's wrong with this team?
Not for lack of trying
The Flames offensive numbers right now are actually not too bad. Their goals for are pretty decent, considering their position in the league. They have 14 goals for which is tied for 8th in the league. Their shots for are actually pretty good as well; they're currently tied for first in the league with 162 shots, averaging about 32.2 sf/gp (shots for per game play). So clearly, it's not for lack of trying. Even their shots against aren't that bad and the Flames do a decent job of blocking shots. They have about 28.2 sa/gp which is below average and they're currently fifth in the league for blocked shots with 74.
Clearly there's some good effort happening here and there are some things that are working.
So let's look at what's not working.
They keep getting scored on
It's the goals against that are really hurting the Calgary Flames. They're currently last in the league with 20 goals against and they're tied for second last for goals against per game, averaging 4.0 ga/gp. They also have the worst goal differential, with -7. Like we saw earlier, their shots against aren't too bad and their blocked shots are pretty good. So if the shots against aren't bad and the amount of shots they block are respectable, but the goals against aren't, what would be the factor here?
Currently, Brian Elliott is in 53rd and 54th place for save percentage and goals-against-average, respectively. He was projected to be the Flames number one goaltender after their last few seasons with subpar goaltending. After the numbers he put up the last five seasons, it was something Flames fans were looking forward to. He has only played three games right now, but he's tied for second for highest number of goals allowed out of all goaltenders, and has the third highest ga/gp.
More from Flame for Thought
We don't need to be super pessimistic here, I mean he is coming to a new team and a new city. I was watching the game against the Carolina Hurricanes and Rick Ball and Kelly Hrudey were the commentators for the night. Kelly Hrudey was saying how to not completely lose hope in Elliott just yet, because Hrudey has been in that situation before. When he got traded from the Los Angeles Kings (he was also a goalie), it took him about three weeks to finally get back into his normal habits, even though he had a great preseason, which we saw with Elliott this year.
Now of course, it's not completely fair to place all the blame on the goaltending.
Breakaway after breakaway after breakaway
If you've been watching every Flames game thus far, then you know what a breakaway is. But not because the Flames have been getting a lot of chances.
The Flames currently lead the league for giveaways with 60 of them. Putting that into perspective, that averages 12 giveaways per game. TWELVE. Do you know how hard it is for goaltenders to block a shot when it comes from a breakaway? Especially when it's someone like Connor McDavid. So yes, teams might not be getting an insane amount of shots against the Flames, but if they get the shots that matter, that'll hurt them.
Now let's look at something else that isn't working.
They're struggling with the man advantage
Like I mentioned, it's not completely fair to put all the blame on the goaltenders. Especially when you get three back to back power plays and aren't able to take advantage. The Flames are tied for last in the league with only one ppg. They actually have less power play goals than they do shorthanded goals (two).
Their even strength numbers are pretty decent, they're tied for 13th place for 5on5 goals with 9 of them. It's their power plays that are really hurting them. Like I mentioned earlier, they're last in the league for power play success rate with 4.5%.
So why can't they score on the power play?
Again, it's not for lack of trying. They've had 22 power play opportunities, which is second in the league. But why can't they score?
Well a reason could be that the top line isn't performing to the best of their abilities. None of them have a ppp and Johnny Gaudreau, who's aimed at being one of the Flames top forwards, and one of the top forwards in the NHL, finally registered his first goal on Thursday night against the Hurricanes.
Something needs to change here if Flames aren't able to make anything of their man advantage. Yes, you could get a lot of shots on goal and block shots that come your way. And yes, we could also say that it's not for lack of trying, which it isn't. However, if you're not winning games, then those mean nothing.
Their efforts only really matter if they're winning. And they need to win.
This article originally appeared on