Calgary Flames: What Gaudreau Getting Injured Means For The Team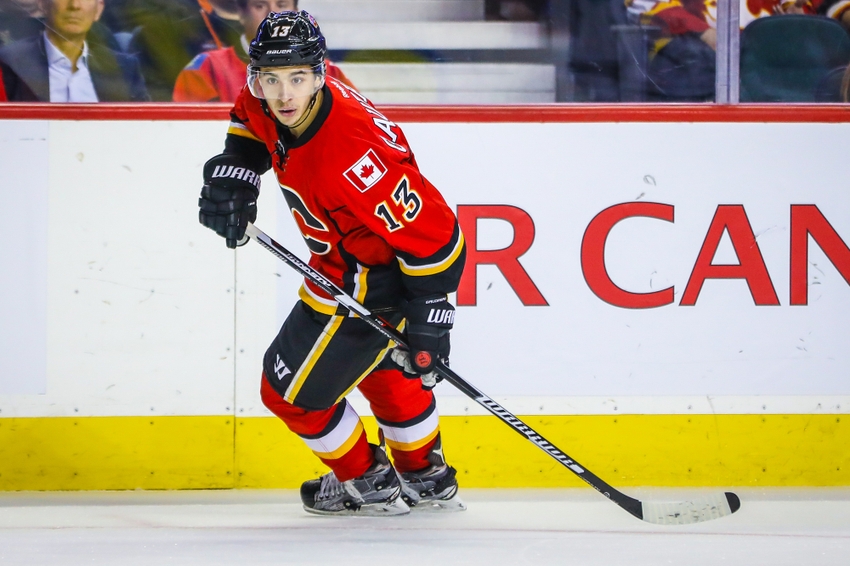 Calgary Flames F Johnny Gaudreau suffered a fractured finger against the Minnesota Wild on Tuesday evening. What does this mean for this team?
Calgary Flames F Johnny Gaudreau got a slash to the hand during the second period against the Minnesota Wild Tuesday evening. Earlier this morning, the Flames released that he suffered a fractured finger and will have surgery later today to fix it.
They haven't released when he'll be back in the game. Just simply that an update on his return will be provided in the ensuing days.
So what does Gaudreau being injured and out of the game mean for this struggling team?
More from Flame for Thought
Well, he's the only one scoring
It's no secret that the Calgary Flames are in a slight goal drought right now. In their last five games, they have five goals. And three of those come from Johnny Hockey.
Actually, in the Flames last 224:44 minutes of play, Gaudreau has every goal except for one by Micheal Ferland that came in a 4-1 loss against the New York Rangers. On top of that, with those last five goals in the last five games, Gaudreau has a point in four of them.
The Flames need to find some other scoring besides just Gaudreau. He currently leads the team in points with 11 of them. Bit of a slow start after what people had predicted he would be. However, lately he's been the Flames most consistent forwards. Always making plays, always around the net, and he's getting a lot of scoring opportunities.
Everybody else needs to step up
Micheal Frolik and Mikael Backlund have been playing amazing together and that goes back to last season. Whichever left wing they play with, that line always seems to have some sort of impact when they're on the ice. If Gaudreau is out for the next two games (he'll for sure be out in the game against the Arizona Coyotes), then they really need to step up and bring some more scoring opportunities and find some ways to get the puck to the back of the net.
Some other notable forwards who had high hopes heading into this season also haven't been performing. Like Sean Monahan. He is in a bit of a scoring drought. He hasn't scored a goal since October 28th and he'll definitely be feeling the pressure tonight with Gaudreau out of the line-up.
Gaudreau was also having some struggles with scoring. Then he scored two goals in the game against the Dallas Stars and he's been pretty solid since then. I mean, I'm not saying it's because his mom was at that game, but it's because his mom was at the game. So we literally owe everything to Jane Gaudreau.
Moving on.
The Flames also aren't getting as much help from the blue line as people anticipated, especially from Mark Giordano and TJ Brodie. They haven't released the projected lineups for tonight yet, but if it's like last night, then the Brodano pairing will be split up again. But they'll still need to find a way to not only improve on their puck possession, especially in the neutral zone and at the blue line, but they'll need to help with the offense.
Who will be the LW on the first line?
Johnny Gaudreau has been on the first line practically every single game. Some fans were calling to have him on second or third or even sit out a game when he wasn't performing well. Just to give him a bit of a "Hey man. We need you right now."
But now that he's gone, who will be joining Sean Monahan and Troy Brouwer on that first line? If they even stay on first line. Like I mentioned, Backlund and Frolik have been an incredible duo this season and they've been a lot of fun to watch. Last night, they were on second line alongside Matthew Tkachuk, so for tonight, will they maybe be first line? Realistically, probably not. My guess is that they'll move Sam Bennett to first line along Monahan and Brouwer. Or they might also replace Brouwer for tonight with Alex Chiasson as well, since him and Bennett have been playing well together as of late.
Just some of the options and guesses ahead of tonight's game. Like I mentioned, the Calgary Flames haven't released the projected lineups, so this is all a guessing game right now.
Let's just hope Gaudreau is a wizard and heals in a day and we don't have to worry about his absence for too much longer.
This article originally appeared on