Calgary Flames: Tough Breaks Continue Against The Chicago Blackhawks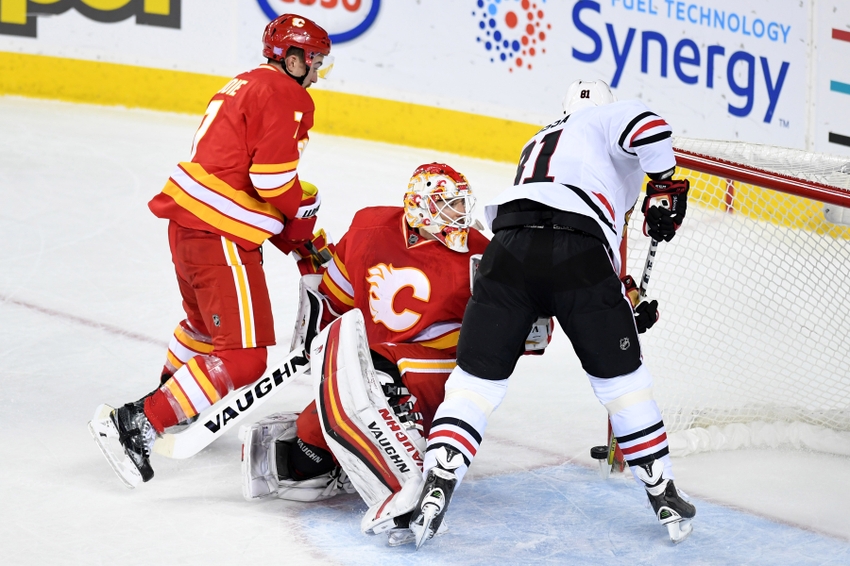 The Calgary Flames suffer a tough 3-2 loss to the Chicago Blackhawks by a late game goal. Or should it have even been a goal?
The Calgary Flames battled hard through most of the game against the Chicago Blackhawks on Friday evening. They suffered a tough break when Blackhawks veteran Marian Hossa scored a late game goal with only 2:23 left in the game.
But should it have even been a goal is the main question.
Some say there was goalie interference. Some say it was knocked down with a high stick. But okay fine, it was a goal. That's okay, the Flames will just have to challenge it. Right?
Wrong.
Calgary Flames head coach Glen Gulutzan decided to take a timeout with eight minutes left of the game when the score was even at 2-2. It may not have been the best decision, given that the game was tied. But there was an icing call against Calgary and he wanted to let the players rest for a few before they had to go back out there. So either way, if they stayed out and no timeout was called and the Blackhawks scored, Gulutzan would have been under fire no matter what. And how was he supposed to know the Flames would get scored on with less than three minutes left. I mean, it is the Flames so rookie mistake on his part to assume the best of this team. Sorry, I'm still (clearly) bitter about this loss. Moving on.
Since he took the timeout, the Flames weren't able to challenge the goal. However that being said, the officials could have still overturned the goal themselves and called for a review. But again, with that also being said, Gulutzan really should have not taken a timeout with eight minutes left.
I remember when he did it, I even said out loud to my dad, "Why are they taking a timeout with eight minutes left?"
But nonetheless, we can't change the outcome of this game. I know I sound like I may be biased (what fan isnt?) but take a look for yourself at the goal (I'm sorry Flames fans but the Chicago feed is the only highlight that NHL provided):

So what are your thoughts? Should the NHL allow a Coach's Challenge even if the team has already taken a timeout? Should the officials themselves have requested a review of the goal?
Nobody can say for sure. All I know is that #WidemanGate2k16 is looking more and more evident with each game.
More from Flame for Thought
This article originally appeared on