Calgary Flames Three Stars Of The Week November 14-20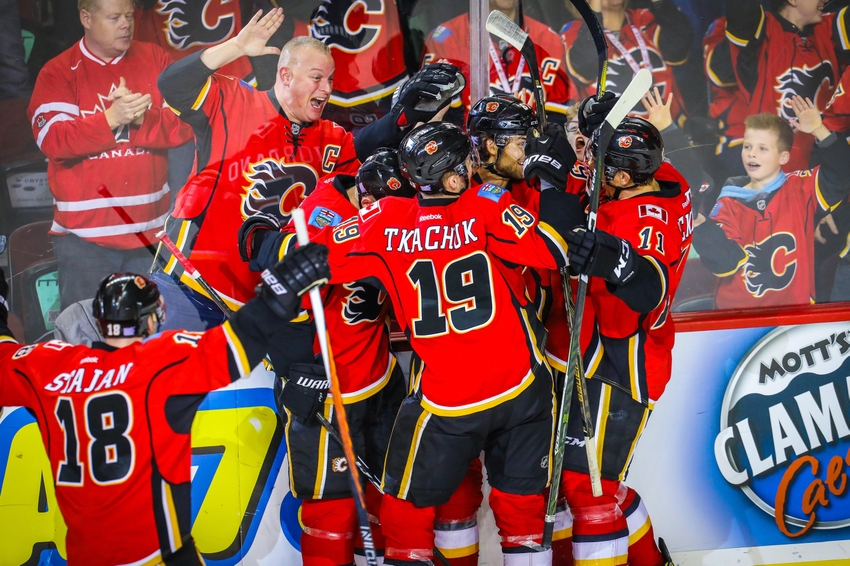 The Calgary Flames had a busy four-game week and some players stood out. Who made the cut for our three stars of the week?
The Calgary Flames went 3-1-0 this week. This team pushed hard in every game in that four game stretch and many players had impressive games. Some more than others, but nonetheless, the games this week were all completely team efforts.
That being said, here is Flame for Thought's three stars of the week for November 14-20:
THIRD STAR
Sam Bennett ft. his balding head and his stache
Sam Bennett has been on fire all week. He was ALWAYS around the net and generating plenty of scoring chances, especially in the game against the Chicago Blackhawks where the Flames lost 3-2.
This week, he finally broke out of his scoring slump, with a goal against the Blackhawks. Previously, he had gone ten games with no goal. This week, even when he wasn't scoring, he always had an impact on the ice. Especially since Johnny Gaudreau got injured in the game against the Minnesota Wild in the first game this week. With Gaudreau's injury, Bennett moved up to first line and he has definitely been proving himself as a first line winger.
Also, how could you not give his creepy stache a star of the week?
SECOND STAR
Dougie Hamilton (and his weird facial hair)
Like Bennett, the Calgary Flames defense are also in a bit of a scoring slump themselves. They have now gone 11 games with no goal from the blue line. But that isn't to say they haven't been getting chances.
However, especially in the last few games, the defense have been on fire. They keep generating tons of scoring chances, on the power play too. While the goals might not be coming, they've definitely been a big factor in the goals the Flames have been getting.
Especially Mr. Dougie Hamilton. He had an incredible 3-point night against the Detroit Red Wings on Sunday evening. Now, I'm a huge supporter of the Brodano pairing (Mark Giordano and TJ Brodie). I was incredibly upset to see them split up. However, right now, Gio and Dougie have been solid everywhere on the ice. They're getting lots of takeaways, they're generating scoring chances, they're a lot stronger in the neutral zone, they're a lot better with puck possession, etc. I could go on.
With Dougie's 3-point night, on two of those goals, he had the primary assist. Yes, he didn't get a goal. However, two of those goals were completely because of him. I mean, even Mikael Backlund gave him a little wink on the bench after his third point. I think that's worthy of a star of the week.
— AOL Keyword: Mike (@mikeFAIL) November 21, 2016
Also just look at Dougie's weird facial hair. I don't know what he's trying to do with that, but he looks like a sad dad.
FIRST STAR
The Chad
Someone who had been one of the reasons the Calgary Flames have three wins in their last four games is Chad Johnson. He got the nod in all four games this week and has been more consistent than Brian Elliott (Sorry Moose). When the season first started, everyone anticipated that Elliott would be the #1 goaltender for the Flames and Johnson would serve as a backup. But lately, Johnson has been proving himself as worthy of being the primary goaltender and now Elliott's got some competition.
Johnson is 5-3-1 so far in the season and has a 0.911 save percentage. That's versus Elliott's 3-8-0 record with a 0.882 sv%. Actually, funnily enough, we know Johnson was meant as the backup. And Elliott came as a surprise because the names that were always being mentioned were Ben Bishop and Marc-Andre Fleury. However, right now, Johnson has a better save percentage than all three of those guys. Who would have thought, hey?
This week, Johnson had a sv% of 0.937 and a GAA of 1.50, including a shutout. How could he not earn first star of the week?
There you have it, Flame for Thought's three stars of the week. This isn't to discredit the other players on this team. Like I mentioned, every win was a complete team effort.
But for this week, we had some good goaltending and some weird facial hair.
This article originally appeared on