Calgary Flames Three Stars Of The Month: November 2016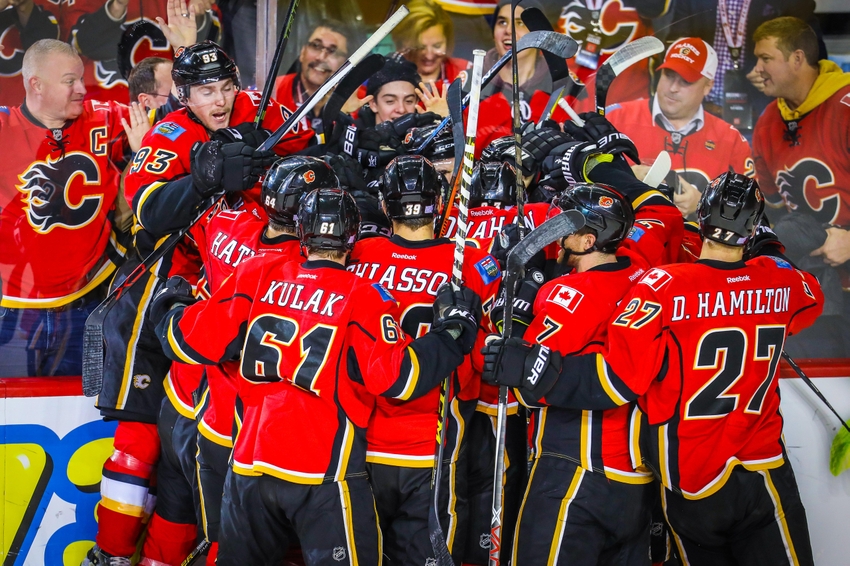 The Calgary Flames had a very busy month and many players stood out over others. Who made our cut for the three stars in November?
The Calgary Flames had a very busy 16 game month. Their second half was even worse than their first half, where they played 10 games in 15 days. It didn't take too big of a toll on them because they went 6-3-1 in that second half.
Of course, we love all players and we don't discriminate against anybody. But you know the drill. Three players stood out more than others. Here are Flame for Thought's three stars of the month of November:
THIRD STAR
D Ham
Dougie Hamilton had a pretty impressive month. With some trade rumors circling around the last few days, he's managed to not let it get to his head.
More from Flame for Thought
It's no secret that the Calgary Flames have been struggling as of late offensively. So when the coaching staff made the decision to split up Mark Giordano and TJ Brodie, everyone was slightly upset. But moving Dougie to the first defensive pairing alongside Gio has paid off to be a good decision.
In November, he leads Flames defensemen with six points and is tied for second in points as well. There aren't any goals in those six points which is something that the Flames have been struggling with. Goals by the d-men.
Before the decision to move Dougie up to first defensive pairing, he had 0 points in November. But since then, he has those six points. Three coming in one game against the Detroit Red Wings. He's making a point and he's proving he deserves to be a top two defenseman.
Actually, since that three-point game he had, he's had those six points which was only a week and a half ago. And since that, he also leads the team in points (with six). Since that game as well, he's Giordano. Showing that this was definitely the right decision.
Because of that, he gets our third star. Also because of his weird facial hair. What is going on there, Doug.
SECOND STAR
Fro-yo
Is this really THAT big of a surprise? I mean, there are three Mich(kae)als on the team. One was bound to be chosen. It's statistics.
Michael Frolik is such an underrated player in the NHL. And this isn't me just being biased because I'm a Calgary Flames fan. You have to admit that this guy is such an incredible two-way player. If we had to rate top two-way players in the NHL, he would definitely rank in the top five. Frolik currently leads the team in points with 15 and is tied for goals with six.
Since the injury to Johnny Gaudreau, he has stepped up. Not only is he offensively contributing, but without him, the Flames PK would be so much worse than it already is. The numbers don't exactly show it, but whenever he's on the ice during a PK, you know the Flames will be alright.
The only time I get worried is when he gets a penalty. Every time the Flames have to kill off a penalty when Frolik's in the box, I lose a year off my life.
Frolik is second when it comes to SH TOI right after his line-mate and PK partner, Mikael Backlund. (This second star is really dedicated to Frolik and Backlund since they come as a pair). Him and Backs are leading the team in SH SOG, SHP, and Frolik has two SHG out of the Flames five. Him and Backs are also leading the forwards in SH takeaways. I love these two I could write a whole five page essay dedicated to them.
That might not be such a bad idea, actually…
FIRST STAR
The Chad
This was inevitable. You ALL knew this was coming. Flame for Thought is no longer a Calgary Flames blog anymore, it is now a Chad Johnson fan page. I can (and I will) spend hours talking about my love for Chad. I will seriously name my first born child after him if he keeps up the way he's been playing.
In the month of November, he has been the Flames best player, without a doubt. His record for the month is 7-3-0. When your team isn't doing that great and they're letting the opponents get a lot of shots in and let them get breakaways, it's very nerve-racking. But not when the team has someone like Chad Johnson to back them up.
In his last eight games, he has gotten three shutouts. THREE SHUTOUTS IN EIGHT GAMES. If he keeps up this pace, he's definitely on route for like 20 shutouts this season (I don't know the exact math, don't quote me on this). Alright, so he gets three shutouts in his last eight. But he had four in his last 105.
Maybe coming back to his hometown and to his childhood team was all he really needed.
In November among goalies who have played at least five games, he is fifth for both SV% and GAA with 0.939 and 1.80, respectively. He is also leading all goaltenders for shutouts. Actually, if we just look at the second half of the month when he recorded his first shutout as a Flame on November 15th, he has the best goalie stats out of all goaltenders who have played at least three games in that time frame. He has a 0.951 SV% and a 1.50 GAA. Wow, I truly would die for this man. Okay, a little dramatic, I know. But man, is it ever refreshing to have a truly amazing goaltender between the pipes. Especially when that goalie wasn't meant to be the starter.
I have so much more I could say about Chad Johnson, but I'll leave you with this for now. We have written a lot about him lately. If you'd like, go to our website Flameforthought.com and on that little search in the top right-hand corner, search "Chad Johnson" and you will see at least five in the last two weeks. I told you, I could talk about him for hours. He didn't get a star of the month with NHL (because the league is rigged) but he will always be the first star in our hearts.
So there you have it folks! Flame for Thought's three stars of the month. Who would you pick if you had the chance to change this?
Don't worry everyone, I will be writing a very angry email to the NHL for not giving Johnson a star.
This article originally appeared on