Calgary Flames Slowly And Quietly Climbing Up The Standings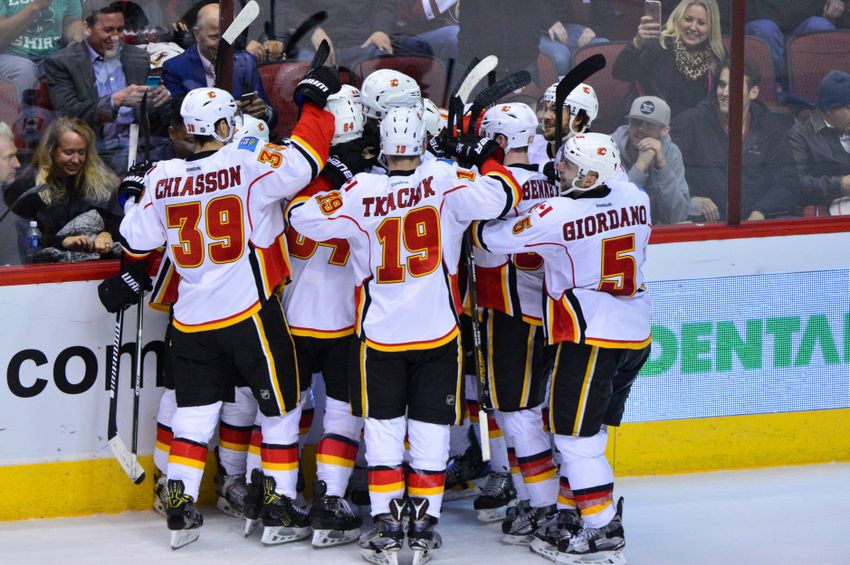 The Calgary Flames didn't start their season off like they had hoped. However, they've completely turned it around the last couple weeks and are now in a playoff position.
Through the Calgary Flames first 15 games of the season, they were 5-9-1, giving them just 11 points. They were also tied for third last in the league for points. In their last 15 games, they're 10-4-1, giving them 21 points in that span. They're also tied for first for points in that time span. They're now 15-13-2 and they're finally over 0.500 for the first time since January 7th 2016.
They are currently in a playoff position being tied for second place in the Pacific division. However, they do have some work to do because they have a few games on the other teams. If we look at their points percentage, they're one place outside of a playoff position with 0.533.
But they're doing everything right lately. And now with their win against the Arizona Coyotes on December 8th, they now have the most road wins out of every team this season. Again, if we just look at their pts% for away games, they're not first, but they're close. They're sixth in the NHL for away win% with 0.563.
Want your voice heard? Join the Flame for Thought team!
This is also the first time since the 2009-2010 season that the Flames have a home% – away% that's in the negatives, meaning they've won more away games than they win home games. Currently, they're second last in the NHL for home% – away% with -0.146. In the 09/10 season, it was -0.024.
Based on the way they've been playing the last few weeks, that's bound to change. They've won their last three home games and have won their last five games.
And another hopeful sign is Johnny Gaudreau and Sean Monahan who have been incredible as of late. Gaudreau who's played in three games since coming back from his injury and has multi-point games in all three games. He also leads the Flames in points, even with missing ten games. And then there is Monahan, who is now on a six-game point streak.
Calgary Flames Extend Win Streak To Five Games With Win Over Coyotes
December's good for the Flames
So far in December, the Calgary Flames are perfect. They are 4-0-0 and they have scored at least one power play goal in each game. They're the only team right now in the Western conference who have been perfect in December and only one of four teams in the league.
Their special teams have drastically improved too. In December, they're third on the PP with 35.7% and have five PP goals on 14 PP opportunities. Their penalty kill has also immensely improved, with only allowing one power play goal against on 12 times short-handed, giving them a 91.7% PK. We should also note how this team has also found a way to be more disciplined. I mean, they're still not great at it, seeing how they're second for PIM in December, and especially when they constantly take offensive zone penalties. But the fact that they're averaging being short-handed just three times a game in December is a hopeful sign.
For some reason, December is either horrible for the Flames or an amazingly incredible month for them. There is no in between. In the 2014-2015 season, they went through that eight-game losing streak where they only got one point in eight games. Then there was last season, where December came and it was very nice to them, with them setting a new franchise record of winning 11 consecutive home games.
Unfortunately last season, that wasn't enough to turn their season around. But no two seasons are alike. And by the way the Calgary Flames have been playing as of late, we could only be hopeful.
More from Flame for Thought
This article originally appeared on