Calgary Flames Sean Monahan Starting To Regain Confidence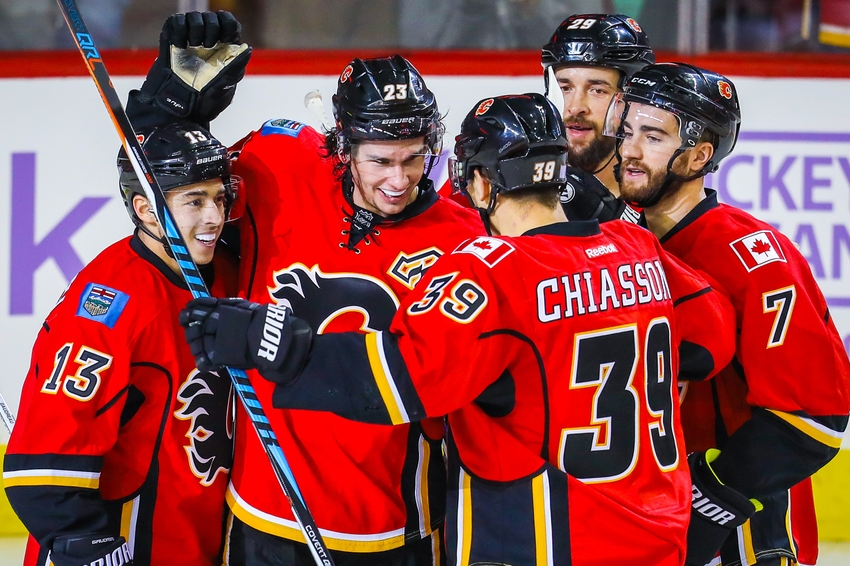 Calgary Flames forward Sean Monahan didn't have the season he was hoping or that everyone was expecting. However, he looks like he might be gaining his confidence back.
Sean Monahan signed what will most likely be the biggest contract of his career during the off-season this year. He signed a seven-year $44.624 million contract with the Calgary Flames. This averages to about $6.375 which is third highest on the team. Now, I don't know about you, but that is a lot of money. Seriously Monahan, please pay my tuition. Kidding! Sort of.
So, one would expect him after just signing a hefty contract that he would be performing up to it. Right?
Wrong.
Him, alongside Johnny Gaudreau who also signed a big contract this off-season (I mean would you really call it off-season if it was two days before the season started), haven't exactly been living up to expectations. Relatively high expectations, too.
October
Through the first couple weeks into the season, Sean Monahan definitely struggled along with the rest of the team. In that first month, he had just four goals on 10 games and a -5 rating. With the Calgary Flames also struggling on the power play, Monahan did manage to get a power play goal along with a game-winning goal.
But let's be real. Four goals in 10 games isn't star quality performance.
He was still doing relatively well for his face-offs like he normally does keeping it above a 50% FOW%.
November
Then we get into the first two weeks of November and safe to say that Sean Monahan was still struggling. Up until the 15th when Gaudreau got injured, he had just two assists in six games and a -5 +/-, now bringing him to just six points in 16 games. His face-offs also took a hit in this time period, where he only had a 43.5% FOW%. Definitely not ideal from a first-line center-man.
Calgary Flames: Five Players Not Living Up To Their Payroll
Then we get into the next couple weeks from the 16th to the 27th where he again had just two points in six games, now giving him just eight points in 22 games. He also started to lose some ice-time in that time frame and was now averaging around 16 minutes TOI/GP. Before that, he was averaging just below 19 minutes TOI/GP. Of course, a factor for this also has to do with the fact that his line mate and part of first line, Johnny Gaudreau, was injured. And the coaching staff changed the lines up a little bit and Monahan would spend time on second line now. Thankfully, he managed to get better in the face-off circle and now had over a 60% FOW% in that time frame.
Something notable to mention about Monahan in the last few weeks as well is he's not playing with confidence. He's making passes when he should just shoot the puck; he's not shooting as much as he should be.
But in the last three games, he looks like a completely different player.
Three-game point streak for Monny
Sean Monahan is now on a three-game point streak where he has one goal, two assists, and one shootout goal in those three games. So needless to say that he's starting to gain that confidence back. And definitely that shootout goal that ended up being the game winner will definitely boost his morale a bit.
And ahead of the game against the Anaheim Ducks on December fourth, the Calgary Flames released that Johnny Gaudreau will be in the lineup and Sean Monahan will have his line buddy back.
Maybe all he needed was a few-games point streak and a shootout winner to gain his confidence back. And his bff joining him on the ice again.
More from Flame for Thought
This article originally appeared on