Calgary Flames Score Four In Second Period To Top Winnipeg Jets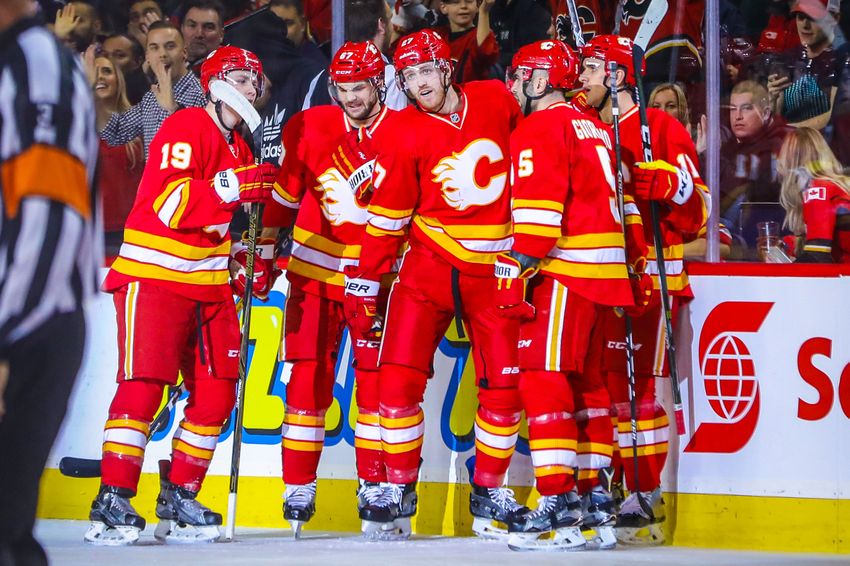 The Calgary Flames scored four goals in a span of 9:23 in the second period against the Winnipeg Jets. The Flames would end up winning this game 6-2.
The Calgary Dougie Hamiltons had an explosive second period (jokes). But honestly, the Calgary Flames had a wild second period after a scoreless first against the Winnipeg Jets on December 10th. Even though the first period was pretty exciting to watch with a fight happening by none other, Deryk Engelland. But then the second period happened and suddenly I was screaming on my couch.
The Flames scored four goals in 9:23 with two goals from Dougie Hamilton and another assist, giving him a three-point game. Mikael Backlund and Matthew Tkachuk each had three-point games as well.
And of course we have the Calgary Flames Lord and Savior Mr. Chad Johnson, who saved 26 of 28 shots. Unfortunately, he didn't get a shutout like everyone wanted, but he still put up an impressive fight. And of course, like always, he was one of the Flames best players tonight. And I'd just like to note that the goal that the Jets got was on a three-on-one breakaway when the Flames got too excited on the penalty kill when they almost got a short-handed goal. Then that last one was a buzzer beater who nobody expected to be a goal.
The Flames for the fifth game in a row scored on the power play, however they couldn't kill off all the penalties. They went 2/4 on the PP and allowed one PPGA on four shorthanded opportunities. On more impressive feats, Sean Monahan and Johnny Gaudreau continue to excel (as they should). Monahan is now on a seven-game point streak and has nine points in those seven games. And we have Mr. Johnny Hockey who has a point in every game since returning from his injury on December 4th (plus one before his injury). He has eight points in those four games and has multi-point games in all those games.
The Calgary Flames now extend their win streak to six games and are now first in the Pacific division! They're also perfect in December being 5-0-0.
The Flames may have some games on hand on the other teams. But as long as they keep up the way they have been playing, they'll keep that number one spot.
More from Flame for Thought
This article originally appeared on