Calgary Flames Mishandled Johnny Gaudreau, Sean Monahan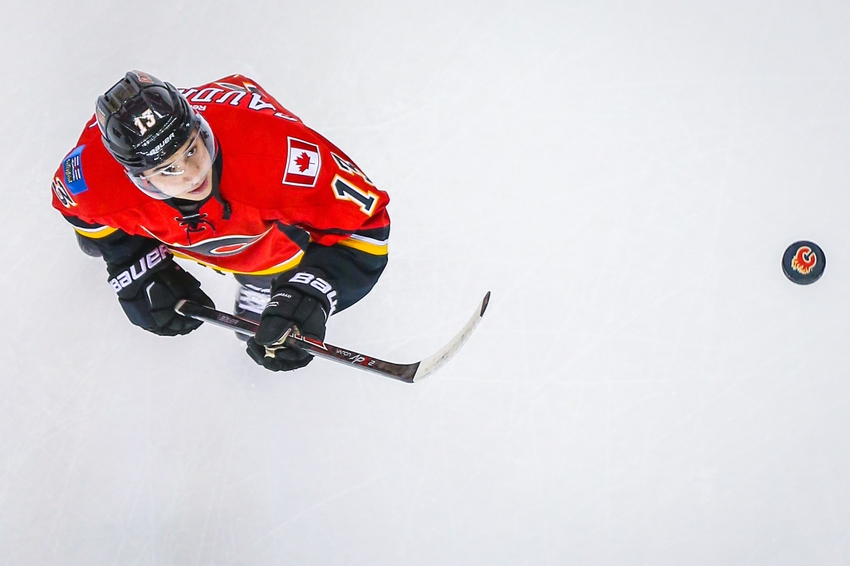 Calgary Flames Mishandled Contract Negotiations With Johnny Gaudreau, Sean Monahan and Ultimately Cost Themselves More Money
Calgary Flames star duo Johnny Gaudreau and Sean Monahan were both destined to sign lucrative long-term deals heading into the offseason; so why did GM Brad Treliving wait so long to negotiate with his top two forwards?
They allowed Winnipeg/Colorado to dictate market value in early July with Sean Monahan's best two comparables. It may have actually cost them a few extra hundred thousand dollars by waiting, which oddly enough is the exact opposite of what GMs are trying to achieve with this veritable game of chicken.
Now the Flames risk paying up even more with Johnny Hockey. Reports last week suggested the two sides are apart by roughly $1.5 million dollars, with Gaudreau seeking upwards of $8 million/year. A stellar performance at the World Cup of Hockey (such as we've seen in pre-tournament games) might cost the Calgary Flames a little extra for waiting once again.
Let's break this down from the beginning to make a little more sense of it, starting with Sean Monahan.
Sean Monahan
Rewind to July 8th, Monahan's two best comparables, Mark Scheifele (Winnipeg) and Nathan MacKinnon (Colorado) sign long-term deals.
The Jets handed Scheifele an eight-year deal ($6.125 million dollar cap hit) and just hours later, the Avs ink Mackinnon to a seven-year contract ($6.3 million dollars).
This is a great example of how market value works since Colorado's offer was likely below (or same range) $6.125 before Scheifele signed his deal in Winnipeg. It would have given MacKinnon's agent enough leverage to raise the Avs offer.
A couple of weeks before that, Monahan's next best comparable Filip Forsberg was the market setter with his six-year $6 million dollar/year contract.
Lost Money
With Sean Monahan having slightly more success in recent years than all three listed above, it gave his agent the necessary leverage to ensure his client be paid north of at least $6.3 million dollars/year. The Calgary Flames wound up signing their star center for seven years at $6.375 million/year.
It can't help but make you wonder what would've happened if the Calgary Flames paid up early (something they were inevitably going to have to do anyways) and made themselves the market setter instead. Surely they could have got Monahan's camp excited if they were the ones throwing around a number just north of $6 million from the get-go. It seems like peanuts, but the difference between $6.125-$6.375 million/year is significant in a salary cap world.
Couple that loss for waiting with whatever the eventual cost to sign Johnny Gaudreau is and we could easily be talking about enough money for an extra minor leaguer on the 23-man roster or close to a $1 million dollars lost annually that could be used in free agency/or for trade deadline rentals.
Johnny Gaudreau
Next, we come to Johnny Hockey. There won't be a new deal in the immediate future as Gaudreau already announced he will not negotiate while participating in the World Cup of Hockey. Recent reports were suggesting that Johnny is seeking $8 million dollars/year, putting the two sides apart roughly $1.5 million dollars.
It's difficult to imagine the Calgary Flames believing Gaudreau is only worth $125,000 dollars more a year than Monahan ($6.375 million dollar cap hit). This sounds more like an opening offer, which is typical for both sides to start with outrageous numbers.
Johnny Hockey has comparables (in a sense) from the offseason to work with at the World Cup of Hockey, although you wouldn't use them in the traditional way for talent comparison. North American teammate Aaron Ekblad inked an eight-year $7.5 million dollar/year deal; Sweden's Victor Hedman signed an eight-year $7.875 million dollar/year contract; Canada's Steven Stamkos reached an eight-year extension worth $8.5 million dollars/year.
The Last Word
Get the FanSided App
With all that in mind, here's something to think about: What happens if Johnny Gaudreau continues his offensive dominance once official group play is underway?
What if Team North America squares off against Canada in the semifinals with Gaudreau out playing Stamkos, maybe even lead the tournament in points?
Lastly, think about this… Johnny Hockey has six more points than Stammer over the last two seasons with both men playing the exact same amount of games.
By mishandling Sean Monahan and Johnny Gaudreau, the Calgary Flames will have ultimately cost themselves more money once the dust finally settles. They achieved this by playing the waiting game with both and allowing their superstar forward to step up on one of hockey's biggest stages against the games best players.
This article originally appeared on