Calgary Flames Johnson Proving Himself More Consistent Than Elliott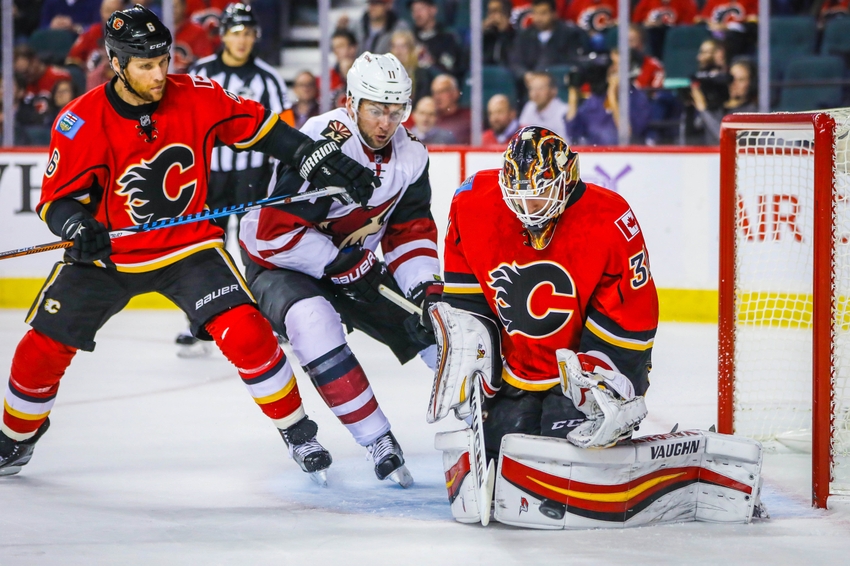 When the Calgary Flames signed G Brian Elliott in the off-season, fans were ecstatic. Little did they know that Chad Johnson would end up being the unsung hero.
On draft day in June, the Calgary Flames traded for goaltender Brian Elliott from the St. Louis Blues. Everyone was over the moon. Finally the Flames would have an extremely solid and consistent goalie for the first time since Miikka Kiprusoff.
Moooooooosssseeee
Brian Elliott has been one of the best goalies in the NHL over the last five seasons. In the last five seasons, he has the second best save percentage of all goaltenders who have played over 50 games a season. So you'd imagine the excitement that came from Flames fans when he came to Calgary.
The the season started and he had a bit of a slow start, despite being excellent during the preseason. No worries though, he'll get his game back. Just give him a few weeks.
Want your voice heard? Join the Flame for Thought team!
And he did get his groove back. And a couple weeks is all he needed. But then, he sort of lost it again. I'm still not super worried about Elliott, I know he'll get his game back. I mean, it's not like he just had a fluke good season for five consecutive seasons. That doesn't just happen to mediocre goaltenders. But like I said, for now, he still hasn't completely found his game. So far this season, he has a 0.882 save percentage and doesn't even rank in the top 50. His record for the season is 3-8-1, so safe to say he's sort of under-performing compared to what people were expecting of him. Especially in his last few games, where in his last three games, he has allowed 12 goals on 88 shots.
Johnson
Thank goodness for Chad Johnson. After the Elliott signing, people didn't really pay attention to Johnson a whole lot and I think people really underestimated him. I know I was definitely guilty of this. Last season, it was his first season of starting over 40 of the games for the Buffalo Sabres, and played 45 games, which was also a personal best. Previously, he was always seen as a backup. And this season with the Flames acquiring Elliott as well, people thought that would be the same scenario.
But so far this season, he has really stepped up when the Calgary Flames desperately needed him and he has come out as the unsung hero.
His record for the season so far is 4-2-1 and has a 0.915 save percentage which is pretty respectable, given how the start to his season wasn't the best. In his last two games, he has only allowed one goal on 48 shots, giving him a 0.979 sv% and had two wins along with a shutout in those two games. Before the lone goal that the Flames allowed against the Arizona Coyotes on Wednesday evening, he had gone 106:13 minutes without allowing a goal. I'd also like to mention that that goal came on a call that fans thought should have been a penalty. It seemed that the Coyotes had too many men on the ice late in the second period and the Coyotes got a goal out of it.
But that happens, and Flames would end up winning in overtime (Thank you Johnson).
So will the Calgary Flames continue to use Johnson until he has a fluke game? Or will they still be leaning on Elliott and only use Johnson when needed?
It might still be too early to tell. But luckily the Flames still have two great goaltenders which is really all you could ask for.
More from Flame for Thought
This article originally appeared on