Calgary Flames: How They're Doing Without Johnny Gaudreau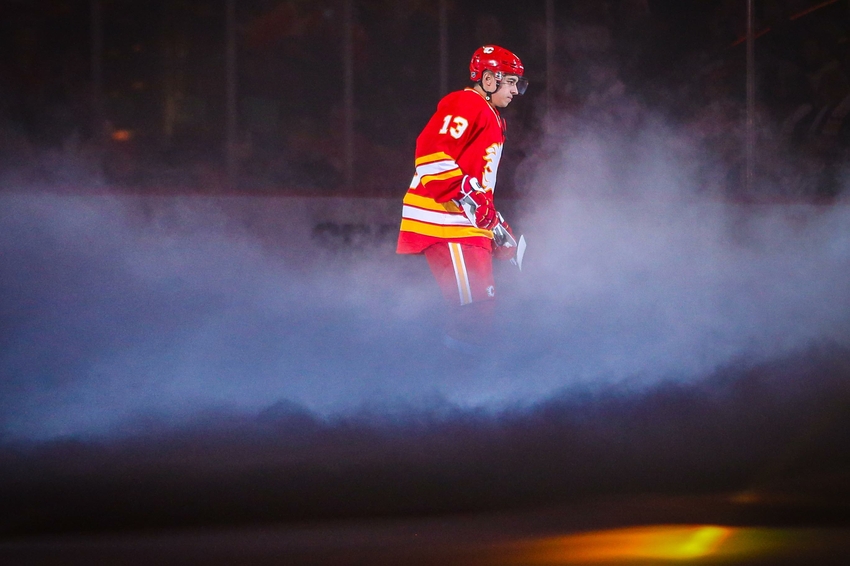 Calgary Flames forward Johnny Gaudreau suffered an injury on November 15th and would be out about six weeks. How has the team been doing since then?
Calgary Flames top left winger Johnny Gaudreau suffered a fractured finger in the game against the Minnesota Wild on November 15th. He required surgery and would be out an estimated six weeks (I will never forgive you for this Eric Staal).
So how have the Flames been doing since this injury?
How do the lines look?
It was a pretty clear option who would replace him alongside Sean Monahan and Troy Brouwer on first line. And that player was Sam Bennett who definitely proved himself as worthy enough for first line since the Gaudreau injury. He was constantly around the net, making plays all around, and always had an impact when he was on the ice. Even when he wasn't getting the points. However, there has been some line juggling since then.
The previous second line consisting of the 3M line (Michael Frolik, Mikael Backlund, and Matthew Tkachuk) recently became the first line in the last couple of games. But how could you not with how well this line has been doing, especially Backlund and Frolik? This line always has an impact when they're on the ice and they've been getting the majority of the points lately. Frolik leads the team in points with 14 and is tied for first in goals with six.
Actually since the injury to Gaudreau, this line all have positive +/- and they're among the leaders for ice-time out of all the forwards. Clearly the Calgary Flames coaching staff has a lot of trust and faith in these guys (as do I). Since Gaudreau's injury, Backs is also leading in shots with 27 of them and Frolik isn't too far behind him. Thank you hockey gods for this duo because without them, we would be, and for lack of better terms, screwed.
How are the team's stats?
Well since the injury, the Calgary Flames are actually tied for second for most amount of wins with five of them. I mean, given that they have played nine games which is more than any other team. Come on NHL, nine games in 14 games? It's like they want them to fail.
The Flames record right now since Johnny is 5-3-1 which isn't that bad for this struggling team. Especially without one of their best players. In these last nine game, they've gotten three power play goals, which of course isn't incredible by any means. But seeing how they only have eight on the year, this isn't too bad. Especially without one of their players on the first PP unit. Their PP% still isn't good by any means, with still a mere 12.5%. Better than their overall on the year, but still not good enough.
The Flames have been shorthanded the most amount of times in the NHL and that hasn't changed since the injury to Johnny Hockey. They have been shorthanded 32 times since, however their PK is starting to look up since the start of the year. It's at 76.8% right now, but that has been improving with every game. Right now since Gaudreau's injury, they're at 84.4% and overall, they look much better and much more confident on the PK.
Of course, I'm sure the team can't wait for the return of Gaudreau. If how the Calgary Flames have been playing as of late is an indication for the rest of the season, then we can start to leave some concerns behind.
And they'll be even better with the guy who's nickname has the word Hockey in there.
This article originally appeared on