Calgary Flames Goalie Brian Elliott Fighting For Starter Again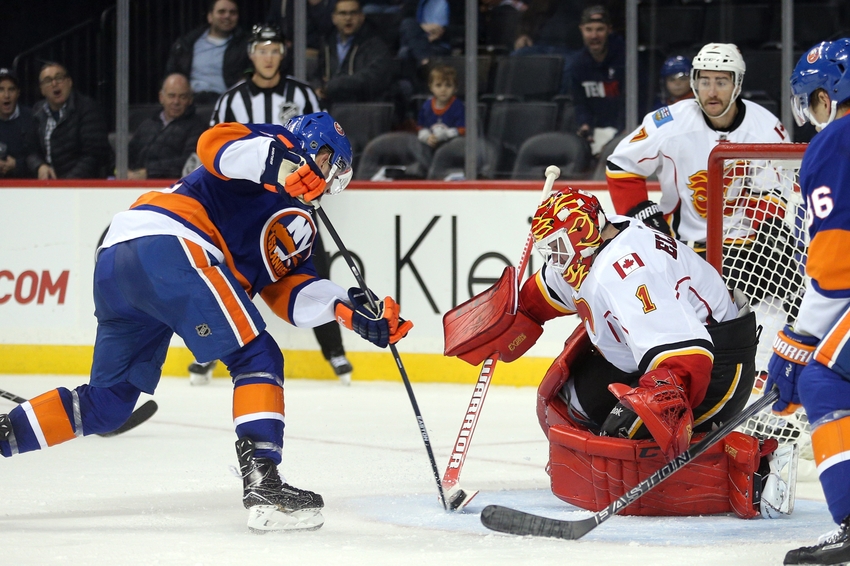 The Calgary Flames goaltender Brian Elliott has been struggling between the pipes the last few weeks. However, he's definitely fighting for the starter role again.
Brian Elliott was acquired by the Calgary Flames in a draft-day trade. Flames fans were ecstatic for him because of the impressive numbers he's put up over the last five years.
However, over the last few weeks, he has been struggling in the crease. And thus, the Flames have been turning to Chad Johnson who has been incredible. Elliott was meant, and expecting, to be the Flames' starting goaltender whereas Johnson was meant more of a backup. The plan was for Elliott to start the majority of the games and Johnson to be there when the Flames needed him.
However in the month of November, this has definitely not been the case. The Flames have been turning to Johnson more and more and Elliott is losing his position as the starter. Of course, it doesn't help that Elliott hasn't been getting a lot of help from the team in front of him. However, we could say the same about Johnson. Yet he still managed to maintain impressive stats.
With the rough game against the Philadelphia Flyers and Johnson letting in five goals, the Flames bench bosses decided to start Elliott against the New York Islanders to end their longest road trip of the season. Rightfully so, because Elliott completely looked in his element again. He looked like his calm Moose self between the pipes and he stopped 25 of 27 shots.
Want your voice heard? Join the Flame for Thought team!
Right now, as it has been for the last few seasons, it looks like the Calgary Flames will have a battle of the goaltenders again. Not really a primary starter, but whoever is proving themselves more gets the start for that game. Which I love. It gives some healthy competition to the goalies.
Back to the game against the Isles, Elliott made some incredible saves as well and helped the Flames get an extra point to get seven out of a possible 12 points on this road trip. Unfortunately, he couldn't stop that overtime goal, but again, hardly his fault for the two goals.
There is still plenty of work to do and he still needs to prove himself more. But for now, Elliott Moose is on the Loose.
(I'm sorry I really need to stop with that).
More from Flame for Thought
This article originally appeared on