Calgary Flames Go Duck Hunting: Gaudreau Doesn't Miss A Beat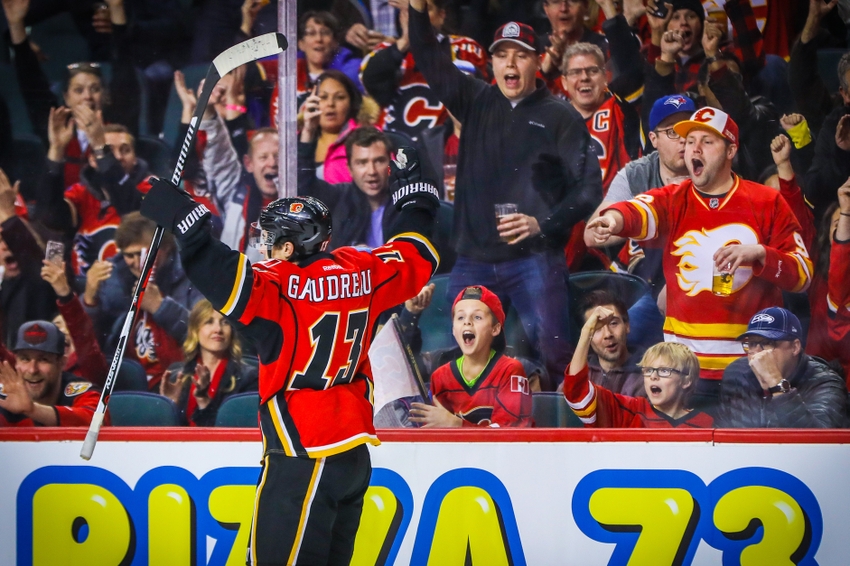 Johnny Gaudreau returns to the Calgary Flames lineup and doesn't miss a beat in the destruction of the Anaheim Ducks. The Flames beat the Ducks 8-3.
The Calgary Flames had quite the game against the Anaheim Ducks. Especially during the second period. The Ducks are 9-1-0 against the Flames in their last ten games but the Flames just added one more loss for the Ducks with a 8-3 win.
VS.
| | | | | |
| --- | --- | --- | --- | --- |
| | 1 | 2 | 3 | T |
| Flames | 1 | 5 | 2 | 8 |
| Ducks | 0 | 1 | 2 | 3 |
Some notable things happened in this game. First of all, Johnny Gaudreau was back into the line-up after missing 10 games and boy did he have a first game back. He scored about two minutes into the game and was fired up the whole game.
In the second period, the Ducks did end up tying the game but that definitely didn't last for long. Also as I'm typing this the Flames just scored their seventh goal. Moving on.
Man there is so much to talk about I honestly don't even know where to start. Let's start with the second period, I guess.
Second Period
This was the most exciting period I think I've ever watched. First, the Ducks ended up tying the game and it would be 1-1. Then at the 11:28 mark, Troy Brouwer made it 2-1 on a power play goal. At home! How exciting, since we know how good the Calgary Flames are at those. Too sarcastic? Moving on.
52 seconds later, Alex Chiasson makes it 3-1. Actually, Chiasson would end up getting a Gordie Howe hat trick in this game. Exciting, right? Told you. I don't even remember the last time a Flame had a Gordie Howe hat trick. Maybe since Jarome Iginla since he was known to get a few of those.
Alright so the Flames are now up 3-1, that's pretty good right? Maybe they'll stop applying a lot of pressure and stick to being better in the defensive zone?
The Flames actually had a different plan in mind. They scored again 35 seconds later. Then again 3:42 after that. Then 55 seconds later again. Basically, they scored five goals in 6:04. Very impressive, especially for a team who has struggled basically all season on home ice.
Each team would end up scoring two more in the third period and I was able to make a "I'd 8-2 be a Ducks fan right now" pun that lasted about a minute.
Now let's talk about special teams because why not.
Special Teams
The Calgary Flames special teams have definitely improved and I'm not scared to watch a penalty kill or a power play anymore. The Flames were incredible on the penalty kill all night until they unfortunately let in a goal with less than four minutes left in the game. They went 1/4 on the penalty kill tonight. But in a more impressive feat, they were 2/3 on the power play. And it was on home ice. Before the last game against the Toronto Maple Leafs two days before this game, the Flames had one pp goal on home ice all season. Then they scored one against the Leafs. And they scored two in the game against the Ducks. So they just increased their home pp goals by 400%. Cool.
The Flames also got a beautiful short-handed goal. I mean, that goal was, and I hate using this word, but it was a beauty.
2-on-0 on the PK

Sweet sassy molasses pic.twitter.com/sFtMrqCuPe

— FlamesNation (@FlamesNation) December 5, 2016
The Flames now have six short-handed goals and continue to lead in that category.
You get a goal! You get a goal! Everyone gets a goal!
(Read that in Oprah Winfrey's voice). Eight different Calgary Flames had a goal tonight. And eight different Flames had two or more points in this game. Actually, only five players didn't have a point tonight, and one went to the locker room after an early fight in the first period (Micheal Ferland). Safe to say, Gaudreau coming back from injury was definitely good luck. And safe to say that Sean Monahan has definitely found his confidence back.
Some other notable things in this game but Monahan is now on a four-game point streak. The Flames had also not scored more than five in a game this season. The Ducks also hadn't allowed more than five goals in a game this season. And I'm going to be framing the score of this game.
Well, the Calgary Flames so far are 2-0-0 in December. And they're now over 0.500 again. Is this a turning point for the team? Will it go up from here?
If they continue to play like this, it looks like the playoffs are definitely in the near future.
More from Flame for Thought
This article originally appeared on