Calgary Flames Get Two Firsts Of The Season – But Not Good Ones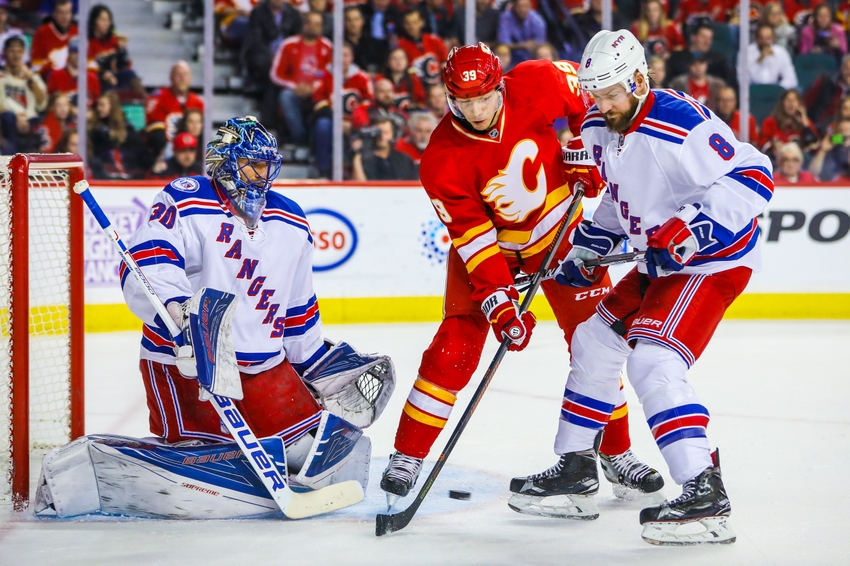 The Calgary Flames lost 4-1 to the New York Rangers on the evening of November 12th. However, that loss didn't come without some firsts for this team.
The Calgary Flames have done two memorable things on Saturday November 12th. However, none of which are really things to be proud of.
Memorable thing number one:
They finally scored a power play goal on home ice. Previously, they had gone 28 power play opportunities at home without registering a point. So I mean, it's about time. They're also the last team to finally score a pp goal on home ice. So that's one of the firsts that they did Saturday evening.
They had also gone 22 power play opportunities without registering a goal before this pp goal. Even though the Flames lost 4-1 against the New York Rangers, they battled pretty hard. They managed 35 shots on goal, 16 alone in the third period. The Rangers also went 0/2 on the pp and Flames went 1/3 on the pp. This is impressive because the Flames, like I mentioned, before this, were 0% on the pp at home. The Rangers on the other hand were tied for second best for road pp with 30.0%.
On the other end of things, the Rangers before this game were 81.8% road penalty kill versus the Flames home pk which was 63.3% which ranked last among the league.
Now, this isn't exactly a positive outlook onto the future, but at least we can say that special teams weren't the reason for their loss.
Memorable thing numero dos:
The other first the Calgary Flames managed to get was that they are now the first team this season to reach ten losses. And who says the Flames aren't the best team in the NHL?
They also have the worst goal differential of -20, which was versus the Rangers best goal differential of +27. So safe to say that the Flames are in a slight goal drought. Before the pp goal by Micheal Ferland, the team went 154:56 without a goal by any player except Johnny Gaudreau. Right now, the Flames are 21st for shooting percentage with 8.2%. However, since the start of November, they're 27th overall in that category with a shooting percentage of 4.6%. They've also only had eight goals in their six games since the start of November.
On the other side of that, they're tied for second for allowing the most amount of goals in that time frame with 24 goals. Like I said, it's not for lack of trying. In that six game time frame, they've had 173 shots, which isn't incredible by any means, but they've only allowed 160 shots which is tied for fifth for least amount of shots allowed.
This team needs to find a way to get more scoring opportunities and find some ways to get goals. By increasing their shooting percentage, their struggling power play will follow and they'll get back into the game in no time.
Let's hope it really is in no time because they don't have any time to waste.
More from Flame for Thought
This article originally appeared on