Calgary Flames: Five Things That Are Not Working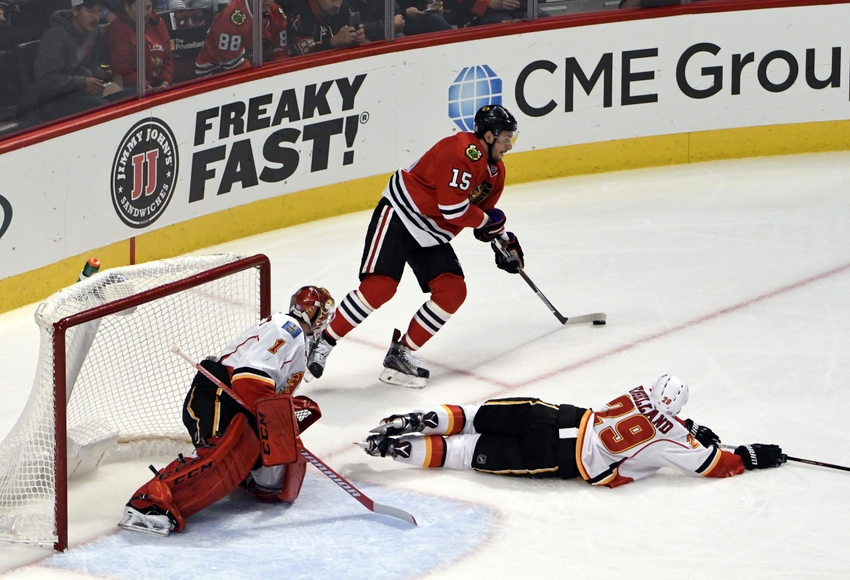 The Calgary Flames are now 5-8-1 and have lost four of their last five games. Despite a sense of optimism that came with their win streak a few weeks ago, there is still much to work on for this team.
The Calgary Flames have now lost two in a row and there are still many aspects in which they're struggling in. Don't get me wrong, there are many things they're doing right. But also many things that need working on/things that aren't working.
Let's take a look at five of them (I also would like to apologize to all my high school English teachers for how many times I just said things in that paragraph).
Power Play/Dave Cameron
I have lost count on how many articles I've mentioned the horrendous power play this year. The Calgary Flames are dead last in that category with 8.3% which is quite a rough number. If we look at last year's numbers, the Flames ranked 22nd in power play with 17.0% and even that was considered quite awful. The last in the league last season for pp was 14.8%.
Flames had a couple of games where they had pretty decent pp numbers and after going 22 power plays with not a single goal, they had two pp goals in one game. Then the next game again they had a pp goal. So some sense of optimism came with that.
But now, that optimism is going. They have now gone 15 power plays in a row without registering a point. They are also 0/24 on the pp at home.
Dave Cameron, one of the assistant coaches, is the power play coach. I've mentioned before, but something leaves me very baffled as to why Flames management decided he was the best contender for the pp coach. In the last two seasons he had as head coach of the Ottawa Senators, their numbers every season were worse than the Flames for that respective season. The Flames have already tried a different approach to the power play, going with four forwards and one defenseman, but that didn't help too much. Either Cameron needs another new approach to the power play, or he needs to go. And soon. Because so far this month, they are 0% on the pp.
Conclusion: Dave needs to go bye bye.
Penalty Kill
The penalty kill, along with the power play, has also been quite horrible this season. The Calgary Flames are second last in that category with 72.4%. Comparing to last season, the Flames were last in that category and even then they were still 75.5%. Again, something needs to change.
The Calgary Flames are tied with allowing the most goals in the league with 50. 16 of those come on the penalty kill. That's about a third of their goals they've allowed total that comes when shorthanded. Like I keep saying, something needs to change.
Now, I mention this about five times a week, but I hate goalie shaming. I hate when blame is put on a goaltender. However, it doesn't help that the Flames right now aren't getting too much help from their back end. In the last two games, Chad Johnson and Brian Elliott had 0.810 and 0.872 save percentage, respectively.
Actually, since the start of November, Elliott and Johnson don't even rank in the top 40 for sv%. Also since the start of November, the Flames have allowed the fifth highest number of pp goals against with five of them so far. Five ppga in four games is definitely not ideal and not the way to win games. And that's a good reason why they've only won one since the month started.
Conclusion: Do better on the PK. Also goalies do better so I don't have to goalie shame.
No Discipline
The Calgary Flames are second for most amount of penalties with 75. They are leading the league for minor penalties with 70 of them and they're sixth for PIM with 159. So clearly, this teams doesn't have a whole lot of discipline.
Not only do they not have discipline, but they're getting penalties that can easily be avoided. They've gotten a few too many men penalties, and some hooking calls that can be avoided if they don't allow a giveaway in the first place.
Want your voice heard? Join the Flame for Thought team!
In a game against the Ottawa Senators, Sam Bennett and Matthew Tkachuk both got offensive zone penalties that could have and should have been avoided. They both got them in the first period, one after the other, and those both led to goals by the Sens.
Of course, these guys are still young and they'll learn through experience. But right now, the Flames can't afford to be risking taking bad penalties, especially offensive zone penalties, and especially when their penalty killing is lacking.
Currently, the Flames are averaging five minor penalties per game. This needs to change because, like I mentioned, they're tied for first for allowing most amount of power play goals against. In their last five games, there has only been one game where they didn't allow at least one ppga (I mean, that game they still ended up losing 5-0, but we're all going to pretend that game didn't happen).
Conclusion: Stop taking bad penalties. Please. For my sanity.
Puck Management
Even though the Calgary Flames struggled through the first few games of the season, their puck management wasn't all bad. They were doing great in the neutral zone, not letting the other teams set up as much as they wanted to, and they were getting some good chances.
More from Flame for Thought
However lately, the Flames need to get better with the puck. And not just managing the puck, but knowing when to watch it and when to let it slide. In the game against the Anaheim Ducks, one of their keys to the game was to not always watch the puck. The night before in the game against the LA Kings, the Kings scored a goal because of poor puck watching. You have about three Flames in the corner trying to get the puck when there are open guys in the zone with nobody protecting them.
Now, back to the puck management, the Flames have the fifth highest number of giveaways in the league with 140. This goes back to what I was saying about the neutral zone, and how they need to be stronger in that area since that's where most giveaways happen.
In the last few games, they seem to be doing better at that and not allowing as much as they once were. I mean, given that since November, they're allowing on average nine giveaways per game, but still better than the start of the season.
The Flames are currently 15th for shots for, but they've gone down in that category. In October, they were third in that league with 290, but now in November, they rank 27th in the league with 106, and averaging just 26.5 sf/gp. The Flames have also only gotten five goals in their last four games. So something needs to change here.
Conclusion: Get shots in and stop giving away the puck.
Playing A Full 60
It was no secret that the Flames dominated the third period in the 2014-2015 season. Nobody ever underestimated their ability to come back and win a game when they were down a couple of goals. This year hasn't been the same, unfortunately.
It seems as though this team loses the energy in the third period. That was very evident in the first few games of the season. It wasn't that they necessarily lost momentum in the third, but there was always a sort of "down" period, if you will. There was always a period where they didn't give it their all, and that costed them. They need to find a way to play a full 60 minutes.
Fortunately, the Flames haven't lost a game yet when they've been leading after two periods. And four of their five wins come from when they've lead after two periods. However, they also trailed going into the third period seven times this season. And six of those ended in losses.
The fact that they trail so often heading into the last period shows that they need to push harder early on. They can't wait until third period hoping for a comeback. Having a strong first period will be key for this team because it'll also boost their momentum and their morale for the rest of the game.
Conclusion: Play a full 60. Again, for my sanity. Please.
The Flames need to find some way to boost their confidence. Even if they improve in one of these categories, everything else will start falling into place. They play the next two games at home so let's hope being in front of the C of Red will give them what they need right now.
This article originally appeared on