Calgary Flames: Biggest Concerns For The Season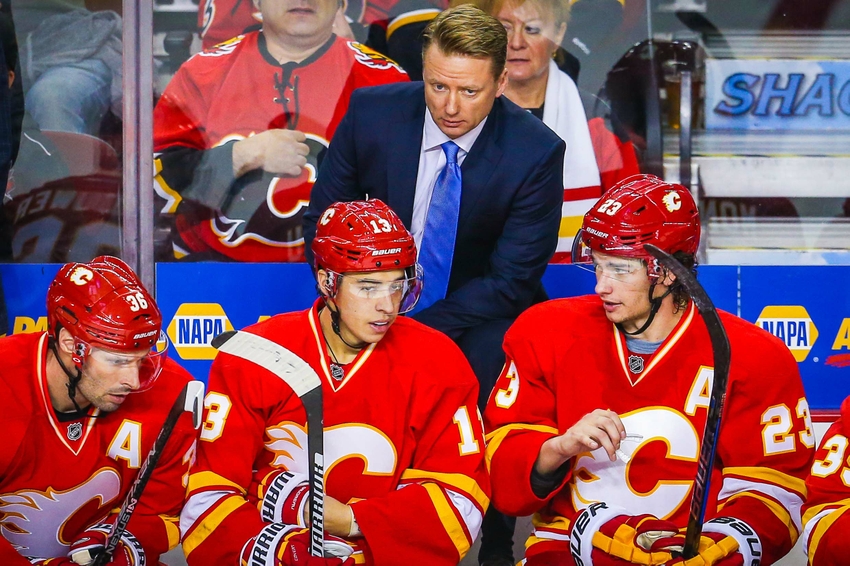 The Calgary Flames have had three games to so far to start their season and have only walked away with one point. Is this going to be foreshadowing what the rest of the season will look like?
Almost a week into the NHL season and the Calgary Flames are 0-2-1. Not the start anybody would want, but we can't change the past.
After a rough start, what can we say will be the biggest concerns for the rest of the season?
Elliott Will Take A While To Get Into The Swing Of Things
It's no news that the Calgary Flames had trouble with their goaltending the last few seasons. Their goalies had a collective league worst goals-against-average with a 3.13 GAA. When the Flames traded for G Brian Elliott from the St. Louis Blues, fans were ecstatic. He led the league last season for save percentage with a 0.930 sv% and tied for second for GAA with 2.06. But it wasn't just a fluke good season. Elliott was always getting snubbed of the "elite goaltenders" talk and I will never wrap my head around why. You're always hearing about Corey Crawford, Jonathan Quick, Carey Price, Braden Holtby. And for some reason, Elliott doesn't get a spot in those conversations.
In the last five seasons, Elliott is second for sv% out of all goaltenders who have played over 50 games a season, with a .925 sv%. He also led the league for GAA in the last five seasons as well (again for goalies who have played over 50 games) with a 2.01 GAA.
Will this finally be the year that Flames have their first consistent goaltender for the first time since Miikka Kiprusoff?
Well, during preseason, it definitely seemed that way.
During preseason, Elliott was absolutely on fire. Nice way to be welcomed as a FLAME, hey? Sorry, no more puns. He had a 0.83 GAA and a 0.962 sv%. I couldn't wait for the season to start. Now I wish we could go back to the preseason when I was happier in life.
Elliott's ability during the preseason so far isn't reflecting in the regular season. Allowing two goals on his first two shots on goal on the season opener against the Edmonton Oilers and allowing six goals on 27 shots the entire game. Not a good look so far. Then came the home opener and unfortunately, it wasn't much better. He allowed four goals on 28 shots which isn't that bad, but let's face it. That won't cut it anymore.
More from Flame for Thought
That being said, G Chad Johnson was incredible in the game against the Vancouver Canucks on October 15th. There were some concerns for him following the preseason, but he's definitely proved himself in that game, and he's projected to start in Buffalo tonight.
A concern here as well is that Johnson played a career high of 45 games last season with the Buffalo Sabres. If for some reason, Elliott isn't able to pull through, what will that mean for Johnson? Will he be able to split the games with Elliott again this season? I mean in all seriousness, I'm sure Elliott just needs a couple weeks and he'll be good. But will these few weeks affect the Flames in the long run? What if he doesn't improve after these next couple of weeks?
Bennett Will Go Through A Goal Drought Again
In the first three games, the second line has definitely had some good chances, but they're not able to show that on the scoreboard. Sam Bennett last year went through a big of a goal drought in December, no matter how good he was on the ice. He made a big impact with his presence and had many chances, but for some reason he couldn't find the back of the net.
Matthew Tkachuk, 18 year old son of former NHL player Keith Tkachuk, is in a similar situation. In these three games, he also hasn't been able to find his name on the score-sheet. Him and Bennett keep getting these opportunities, but luck will not go their way. Will this be a problem for the Flames? This line is supposed to provide some secondary scoring, maybe even some primary scoring, but if they haven't found the back of the net yet, how long will it take?
At least we know that these guys both like to play a hard game and complete their checks which fans appreciate. During the Young Stars Classic, we definitely saw that in Tkachuk and we saw how he never missed a scrum, which again, fans really like. But when will he get his name on the scoreboard and help this struggling team?
Struggling With Away Games Again
Last season, it was clear that the Flames struggled with away games. I'm about to give some numbers and percentages which may look confusing, so bare with me and I'll try to make it as simple as I can.
The Flames had a win % of 0.470 (meaning they lost a higher number of games than they won). Of course that's not good and why they ranked 26th overall at the end of the season. Now, let's look at the difference between their home and away games. For their home games, they had a win % of 0.550, so still not amazing, but at least they're over .500 which isn't too bad. Then there are the away games and that really hurt them. Their win % for away games was at 0.363 which was fourth last.
Their home % – away % was at 0.188 which was third highest in the NHL last season. Putting that into perspective, the average for all teams was at 0.06.
Not only did the team in its entirety struggle with away games, but one of the Flames best players, Johnny Gaudreau also struggled. From the start of his NHL career in 2014, he scores over double the amount of points at home than he does on the road per 60 minutes of ice time. Last season, he was tied for 6th place in the NHL for points, however, in home games he was first with 38 points, 6 more points than second place, Sidney Crosby. In his away games, he ranked 124th overall for points. Can you believe that?
Definitely something to be concerned about this season, especially with a lot of road games coming up in November, and the Flames last three games of the season in April are away games.
Want your voice heard? Join the Flame for Thought team!
Special Teams
Something the Flames have said multiple times that they need to work on are special teams. Last year, they ranked dead last for penalty killing and ranked 22nd for power-plays. The penalty kill could also reflect in the goaltending like I mentioned earlier, but this is something Flames really need to focus on. Considering how many penalties they've been getting in the first few games of the season, they really need to make that a focus.
Let's hope the Flames can prove me and everyone else wrong about these concerns.
And they can come out as the underdogs like we all know they can be.
This article originally appeared on