Calgary Flames: Are They Targeted By The Officials?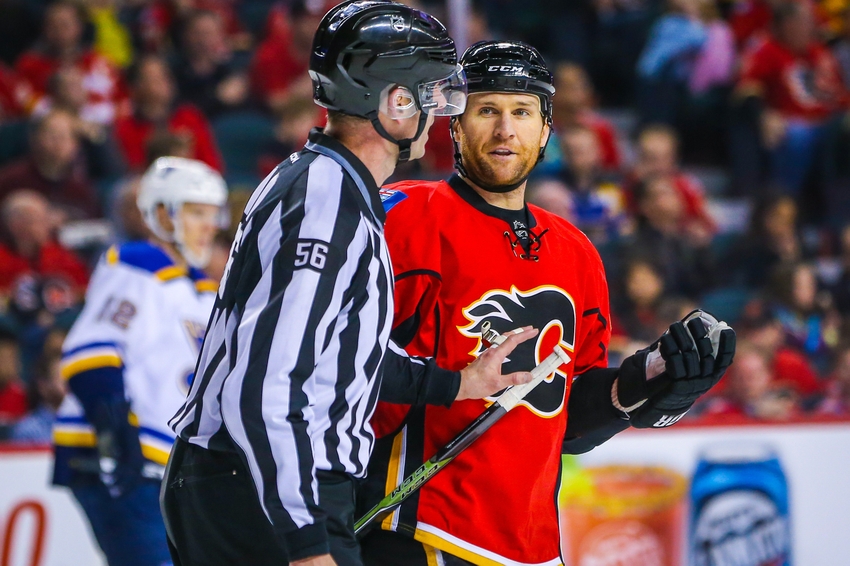 The Calgary Flames are currently leading the league in penalties. Is this entirely the team's fault, or is there some sort of other factor here?
The Calgary Flames are tied for first in the league for penalties with 80 of them. They are leading, however, in the most minor penalties with 74. In the last five seasons with this team not even ranking in the top 20 for most amount of penalties, what changed?
The Wideman Effect
Some seem to think it might have to do with the Wideman Effect, as Sportsnet puts it. As me and my friends put it, we call it #WidemanGate2k16. Last season on January 27th, 2016, Flames D Dennis Wideman crashed into a linesman after a big hit along the boards. For those who aren't aware, Wideman was hit hard along that boards that ended up giving him a concussion. As he's leaving the ice, he looked like he sort of cross-checked a linesman.
I may be biased because I'm a Flames fan, but I was on Wideman's side for that. Since he ended up getting a concussion, he may have not even been aware what happened. He explained after the game that the linesman went closer to the boards at the last second and he just tried to get around him. At the time, Wideman didn't think it was a hard hit at all and didn't even realize the linesman fell. Even after this, many fans of other teams and analysts alike were all on Wideman's side, because it showed to be more proof of the NHL's poor ability to deal with head injuries. Even Canadian Prime Minister Justin Trudeau says that the NHL head injuries are a very real problem. The NHLPA even had a meeting to reduce his suspension, since he ended up getting a 20-game suspension.
No Calls and Bad Calls
More from Flame for Thought
As a fan watching the games, of course I know that every fan thinks some calls shouldn't be calls. But there were definitely some miscalls.
I remember a specific example actually that had to do with Michael Frolik. It was a couple weeks after the suspension to Wideman and that's when fans were noticing that the Calgary Flames were getting some more-than-usual calls against them. In this particular game, another player tripped Frolik and he fell. Me watching the game, I'm like "Ok great, now we'll get a power play." However that wasn't the case. The officials instead gave a diving call to Frolik and the Flames got the penalty instead.
Even Rick Ball and Kelly Hrudey, Flames commentators, were stunned at that call. I believe it was Hrudey who said, "Wow. THAT was a diving call?" and proceeded to mention, "I'm not one to talk about poor officiating, but there have been some weird calls against the Flames lately." (Hrudey also becoming aware of #WidemanGate2k16).
In the Flames first game against the Edmonton Oilers this season, there was also some frustration among Flames fans about the poor calls on the Flames. The Flames had some offensive zone opportunities, but then some hooking and holding happens on Johnny Gaudreau and he loses the puck. However, there was no call on that. Cool, it happens. But then, what made it even more frustrating was seconds later Connor Mcdavid gets a breakaway and Wideman goes back trying to stop him. Wideman barely touches his stick on him, but the officials call a penalty shot for McDavid, which he ended up scoring on.
It left many fans angry, saying things like "What do you expect getting Wideman against a player like Mcdavid?" Even Oilers fans were saying that shouldn't have even been a penalty, let alone a penalty shot. Even reading all the comments on this video, half the comments are saying "Connor McGretzky" and the other half are talking about the weak calls by the refs.
Examining #WidemanGate2k16
Sportsnet went through the liberty of digging into the penalties before and after #WidemanGate2k16 and here's what they found:
Let's dig deeper: in the first 47 games last season — prior to Wideman's crosscheck on Henderson — the Flames averaged 2.62 minors per game. In the 34 games after the incident, they averaged 3.88. That's a 48 per cent jump in-season, for the same Flames team with roughly the same roster.
Given, they did mention how Flames still got plenty of power plays, but I think that's not completely relevant to constantly being shorthanded.
So everyone, you be the judge. Is there some sort of target on the Flames? I mean, realistically, probably not. But 2016 has been a very weird year. Anything can happen.
This article originally appeared on