Calgary Flames Address Dougie Hamilton Trade Rumors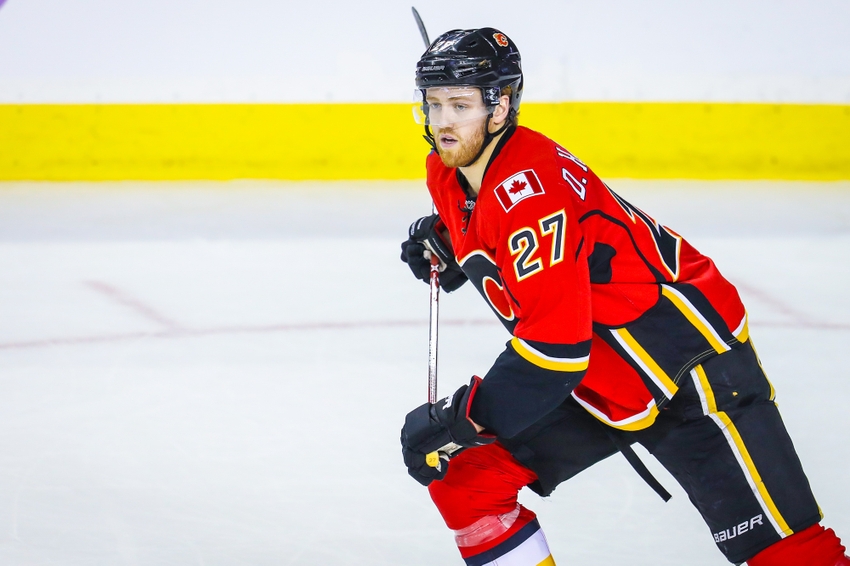 There have been trade rumors circulating in the last few weeks involving Calgary Flames defenseman Dougie Hamilton. What did the Flames have to say about this?
The Calgary Flames just got home from their longest road trip of the season. Since they're home, they can finally answer the million questions that the Flames media had for them about trade rumors surrounding one of their defenseman, Dougie Hamilton. Of course, the Flames management and coaching staff got around to answering those rumors right away. Some, more eloquently than others (cough cough Brian Burke cough cough).
First, Flames GM Brad Treliving had something to say, taken from the Calgary Flames website:
"I will say it's interesting I was at a game in Toronto and all of sudden, I wouldn't read anything into that. I go to a lot of games I was at a couple of other rinks after that and nothing came out of it. Don't believe all that you hear," he said.

"Dougie's an important part of this team. It's hard to find players of his ilk. I don't put a whole lot of stock into all those comments. We always look to improve our team but the comments that we're shopping a particular individual is completely false."

"We go to games all the time. It just seems like you show up in one place and things start to happen."
Dougie himself had, of course, heard of the rumors as well. Again, from the same post on CalgaryFlames.com
"I've definitely heard all of it," he acknowledged. "I think I'm pretty used to it by now. I think I've been in a lot of rumours, dating back to awhile ago. Just keep playing. It's just noise and it doesn't really affect me too much. I'm just trying to help the Calgary Flames win hockey games."
And then head coach Glen Gulutzan had something to say.
"I've thought he's just been fantastic for us," head coach Glen Gulutzan raved. "Him and Gio have just solidified us. He's played some big minutes against some heavy guys. I just really like that pair. They've really come into their own."

"The rumours, I don't really acknowledge. Dougie's a big part of our group and we really like the way he's playing."
I aspire to be like Brian Burke
Now, as we're all aware, Calgary Flames president of hockey operations, Brian Burke, loves to speak his mind and isn't afraid to tell it like it is. I think my favorite quote from him was from before the NHL did the draft lottery this year. Since we know the Edmonton Oilers keep winning the first pick and Brian Burke doesn't hide the fact that he's not happy about that.
Finish the sentence If the Oilers win the lottery tonight I will… "This is a family show, beat the snot out of anybody" – Brian Burke

— DJ HEER (@DJHeerMusic) April 30, 2016
I would have also beat the snot out of somebody if Oilers won the lottery.
So of course, he had some comments about the trade rumors. Specifically, he said, "People have no goddamn idea what they're talking about" and that "Rumor started by 'one idiot'. " Here's what he said in an appearance with TSN 1050 on November 30th:
Let's step back. This is one where it's very frustrating when you have to deal with leaks. Soon as one of the teams that's in the mix in the leaks is the Toronto Maple Leafs, now it's an army of leakers, an army of people who have no goddamn idea what they are talking about who will happily go on and say 'The Toronto Maple Leafs are doing this, and they're in on that'.

This is one where we think we can trace the leak. We got a call, our GM got a call, Brad Treliving is the GM. (Tre) got a call from a team, who shall remain nameless, at least for now – if this goes on much further I'm probably not going to remain nameless – and said 'Would you move Dougie Hamilton?' and Tre said no …

So we told this team – and by the way, the offer they made was insulting. we told the team, 'No we're not moving him, and next time you have an idea that stupid, just save the quarter, don't go to the payphone.' That team started telling teams, 'Yeah, we made an offer on Hamilton.' Now it's a rumour, it's got legs. Someone's like, 'Well, they must be moving him.'
So you can all have a sigh of relief, Calgary Flames fans. Looks like Dougie Hamilton is here to stay for a while.
More from Flame for Thought
This article originally appeared on