Calgary Flames: 5 Games To Circle In Your Calendar This Season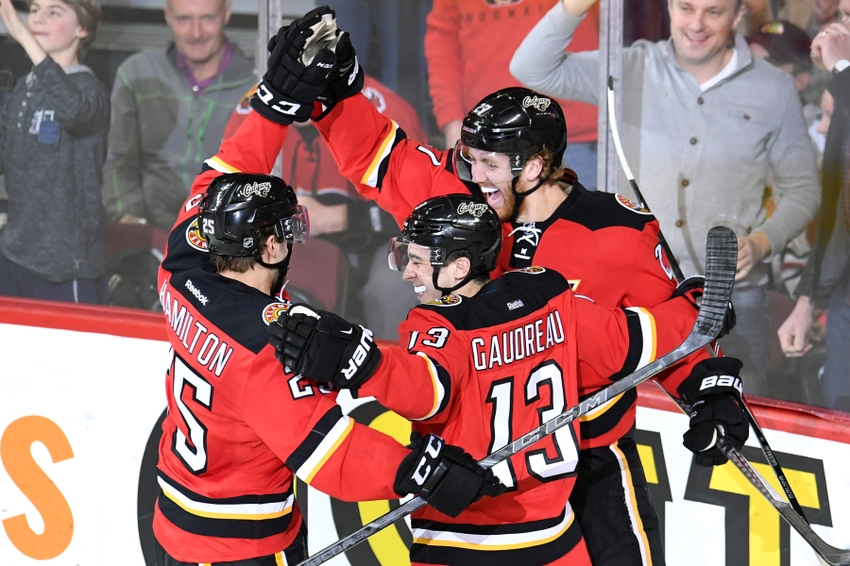 Everyone is busy these days and we know you won't be able to watch every single Calgary Flames game this season. So here are five of them you should be making time for if you're a Flames fan.
The season is literally hours away and I can't contain myself. The Calgary Flames kick it off at the other end of the province to face their arch nemesis, the Edmonton Oilers. The Flames already have a much different look this season than they did the last. The first two lines are already looking different, the goalie crease has some new faces, and the bench has some new bosses.
We get it, you have a busy schedule and you won't be able to catch every game. Or maybe there are some days where you don't really want to watch the game. Or maybe there's a brand new episode of your favourite show and you need to watch it. Totally understandable and we get you. Which is why here at Flame For Thought, we've got you covered!
We compiled a list of five games to circle in your calendar to definitely make room for because they will be jam packed with action. It goes in order of dates, so don't worry if you don't see your second favorite team, it might come up.
And spoiler alert: John Tortorella isn't in here.
WEDNESDAY OCTOBER 13: CALGARY FLAMES AT EDMONTON OILERS
Ah, the lovely land of Edmonton. And with all this snowfall in Alberta over the weekend, I think this province is also ready for hockey.
The Calgary Flames and Edmonton Oilers will kick off the season at the new arena in Edmonton, Rogers Place. We decided to add this one because
a) It's Calgary and Edmonton aka the Battle of Alberta
b) It's the season opener, and
c) Edmonton has a new battlefield.
You know, I've been wondering about this rivalry. We know that it hasn't really been the ultimate battle for who's the best team for the last, oh I don't know, about two decades or so. The Battle of Alberta has been a little non-existent since the early 90's and it's never really come back again. I mean, not to discredit any of these teams, but there needs to be some sort of change. Would a new arena change that atmosphere? Or maybe acquiring some new faces and getting those young guns playing will revive it? Looks like we'll just have to wait for the season opener to see what will happen.
TUESDAY OCTOBER 25: CALGARY FLAMES AT ST LOUIS BLUES
If you know Brian Elliott, then you probably saw this coming. The Calgary Flames acquired the net-minder from the St Louis Blues during the off season in a trade. It's always a fun and emotional time when you're playing against your old team. You of course want to beat them, but there are no hard feelings.
Generally when players who played for a long time with a certain team get traded to another team and they play their old team for the first time, there is some sort of gesture of appreciation from the fans for that player. Especially if they had a big impact on their old team.
Look at Jarome Iginla for example. He played with Calgary for 15 full seasons before being traded to the Pittsburgh Penguins in the middle of the 16th season. Then the following season in the 2013-2014 season, he was a free agent and signed with the Boston Bruins.
When the Bruins came to Calgary and Iggy played his first game in Calgary against Calgary, it was a roller coaster of emotions. He got a star of the game and all their players came back to the bench and Bruins captain, Zdeno Chara, made him do another lap around the rink as everyone gave him a standing ovation. Then, all the bruins players came from the locker room to cheer on their teammate. Everyone in the stands eventually started chanting "Iggy! Iggy!" and the players on the bench made him do another lap again. I mean, biggest applause I've ever seen for a star of the game, that's for sure.
It's especially special when you're a goalie facing your old team. The game is essentially up to you; it could go either way. It's even more exciting when you're facing your old team for the first time and you beat them in a shootout (Insert Jonas Hiller playing against his old team and winning in a shootout reference).
SUNDAY NOVEMBER 6: CALGARY FLAMES AT ANAHEIM DUCKS
If you've only been a Flames fan for a year or two, you probably still have a hatred for the Honda Center. It's the arena that the Anaheim Ducks play at home in. The arena that has a curse. The Calgary Flames have not won a regular season game in that arena since 2004, which comes up to 23 games. Nobody knows what it is. Is it in the water? Is it because the Flames are in Disneyland and they're distracted from hockey? Who knows. All I know is that they literally cannot win a game there. And fans are getting frustrated.
While writing this, I couldn't decide if I wanted to add the first game in Anaheim or maybe one later down the season when maybe it's down to a few games for a playoff spot. I decided on the first game because right now, the Flames are at a 23 game losing streak which is tied for an NHL record for most consecutive losses in one building. And who says Flames don't have nice things?
So in this first game, if the Flames lose, they will officially have the best NHL record! Wow how cool! But if they win, knock on wood, then they can finally break this Disneyland curse.
Actually last season in the Flames' last game in Anaheim against the Ducks, the Ducks won, obviously, and they clinched a playoff spot. I mean yeah, they clinched a playoff spot, but Flames tied an NHL record for most consecutive losses in one building, so who's the real winner here?
SATURDAY JANUARY 7: VANCOUVER CANUCKS AT CALGARY FLAMES
You all knew this was inevitable. The Calgary Flames and the Vancouver Canucks have this ultimate rivalry that even seems more prominent in this day than the Battle of Alberta. If you grew up a Flames fan, you probably have this deep built in hatred for the Canucks. You might not even be able to explain why you have it, you just do.
Again like the game against Anaheim, I couldn't quite decide which game to put. I knew it was going to be a home game but there are still a few options to choose from. After talking with some friends, they all said to do it on Saturday night. Of course, how could I forget Saturday night, aka Hockey Night in Canada (HNIC) aka Coach's Corner. If you're a Canadian hockey fan, or just a hockey fan in general, or just a Canadian in general, then you probably have a strong idea on who Don Cherry is. Every Saturday night, him and Ron MacLean host HNIC, except it's not really hosting. It's just Don interrupting Ron and pronouncing every player's name wrong.
And what better way to spend a Saturday night watching HNIC than with a fun rivalry between the Flames and the Canucks. There was of course that infamous brawl in 2014 that happened two seconds into the game and resulted in 113 penalty minutes. In two seconds. It even resulted in Flames head coach at the time, Bob Hartley, get a $25,000 fine, and Canucks head coach at the time, John Tortorella, get a suspension. I mean, you know a rivalry is truly intense when even the coaches get involved. And hey, I guess I was wrong when I gave that spoiler alert. Looks like I did end up mentioning Torts.
WEDNESDAY MARCH 15: BOSTON BRUINS AT CALGARY FLAMES
This might not seem like a super obvious choice to the naked eye. I mean an eastern team vs a western team that don't really have any sort of historical rivalry?
However if you watched the Boston Bruins at Calgary Flames game last season, you might have an idea why this game is here.
Teach Me How To Dougie (Hamilton)
Last off-season, the Flames acquired Bruins D Dougie Hamilton in a trade. They got him for a very good deal, only three draft picks, and the highest was the 13th overall pick. This left some bruins fans a little bitter. They thought it was because he thought he was 'too good' for Boston and wanted a trade. This turned out to be false, and the real reason Flames got him for a good price was because they made a good deal he was interested in. He wanted to play in the same organization as his brother, Freddie hamilton, but the Bruins wouldn't trade for Freddie. Flames agreed to trade for Freddie if Dougie agreed to come to Calgary, and thus, a trade was made.
Last season on December 4th, Dougie Hamilton played his first game against his former team. And that game was filled with action from start to finish. But it wasn't even really because of Dougie.
Kids Get In Fights Too
As nice and small as Johnny Gaudreau is, he still found an enemy. And that enemy was Brad Marchand. Johnny Hockey ended up getting his first roughing penalty that game against marchand, and maybe his last (until this game). Can you believe that? The kid who still needs to use an intermediate stick got a roughing penalty. And Marchand, who also stands at just 5'9″, gets into a fight.
Lights, Camera, Action, Action, Action
And when I said earlier that this game was filled with action from start to finish, I'm not lying. Gaudreau opens up scoring just 31 seconds into the game and it was 2-2 at the end of first. By the third period, they were 3-3 with only 1 minute left, and Marchand gets a penalty shot. At the fault of no other, Dougie Hamilton. He's sitting on the bench with this head down. I mean, you've gotta feel for the guy. He must have felt horrible. And of course, because luck always goes the Flames way, Marchand scores and makes it 4-3. All the Bruins players are cheering, they think they have this one in the bag. But of course, Flames pull some of their comeback talents and score with a mere 1.2 seconds left of the game (I told you. Action. FILLED).
Gaudreautime- I mean overtime
So now it's time for overtime. After third period, Marchand and Gaudreau each have two goals. Marchand scored that penalty shot going five-hole. Now in overtime, it's time for Flames to work their OT magic, aka work their Gaudreau magic. It was known around the league that Flames dominated 3-on-3 overtime, and it had a lot to do with Johnny Hockey. So after Marchand gets that five-hole goal with 1 minute left that could have been the game winner, Gaudreau decides that he won't let him have the spotlight.
So what does he do? He pulls a Johnny Hockey and scores in OT, also going five-hole, and ends up getting a hat trick. And who gave him the feed for the goal? Well, it was none other than Mr. Dougie Hamilton himself (Again, action. FILLED).
I wish the Bruins at Flames game was sooner than it is because just thinking about that last game has me all worked up already. Looks like we'll just have to wait until March.
So there you have it folks. The top five games you should be circling in your calendar this season. But hey, we can't predict the future. Who knows what this season has in store for the Calgary Flames. All we can say is what we already know, and that is the games they've already played. But at least these five games we gave you have anything you can ask for. Rivalry, emotions, and a whole lot of action.
Call that a hat trick.
This article originally appeared on