Buffalo Sabres Will Be Over The Hump Once They Can Beat Their Rivals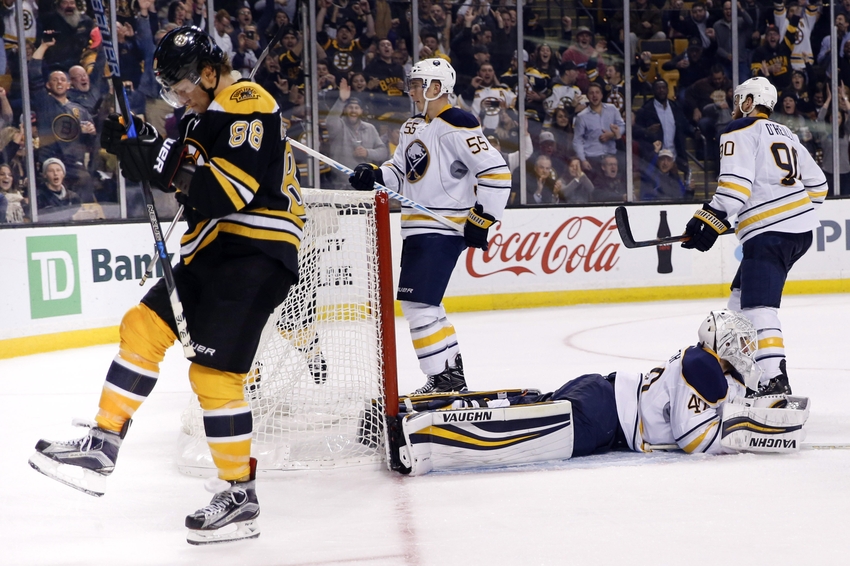 The Buffalo Sabres would make this fan happy if they could just shut up two annoying fanbases.
Having had a full 24 hours to digest the Buffalo Sabres' humiliating 4-0 to the Boston Bruins, I come to you today with my personal wish list:
I will be satisfied with the Buffalo Sabres' rebuild if they build a team that can spend a good 4-5 seasons kicking the asses of the Toronto Maple Leafs and the Boston Bruins.
Yes, every Sabres fan wants to see the team bring Lord Stanley's Cup to the 716, and I'm no different.  Don't be ridiculous and read what I'm about to say and reply with something like, "So you don't care if the Sabres ever win the Cup?"  If you watch the Sabres play and read this and other fan sites, you long to watch someone like Jack Eichel lift the greatest trophy in all of North American professional sports above his head in triumph.
Problem is, odds are it will not happen.  Mathematically-speaking, the odds are against any team winning it – no matter which NHL squad you cheer for, your team has a 1 in 30 chance of winning a championship in any given year.  So, if you are judging the rebuild by whether or not this team manages to win the Stanley Cup, odds are you will be disappointed.
Me?  I'd be happy just to shut up Leafs and Bruins fans for a few years.
It's not like the Leafs or Bruins are really that good right now; neither of those teams look like they are going to make the playoffs this season . . . but in the span of a week, Leafs and Bruins fans got to say, "Well, at least we're still better than Buffalo."  And man, that annoys me – but what annoys me more is that a good number (I hesitate to say a majority, because I have no data to support that!) of Leafs and Bruins fans were not even worried that their teams would lose to the Sabres.
Imagine that: having your own team be in a rebuild of its own, and STILL being able to say, "We'll get a win tonight – after all, we're playing the Sabres."
And if I'm being totally honest, I would be happy if this team could just own the Bruins for a few season straight – and lest you think I just hate Boston in general, I am actually and avid Red Sox and Celtics fan.
The Sabres were 1-1-2 against the Boston Bruins in 2015-16 and 2014-15, and 2-3 against them in 2013-14.   The Sabres had a winning record against Boston in 2012-2013, but were 2-2-2 against them the year before that.  Add all this together, and mix in the fact that so many Bruins fans were delighted to see Milan Lucic try to end Ryan Miller's career, and it would make me happy to be able to spend a few years making the Boston Bruins and their fans really, really, really hate to play against the Sabres.
And there's a method to my madness here: obviously, if the Sabres are good enough to begin exerting some dominance over Boston, and Toronto, then they are probably also good enough to begin competing against all the teams in the NHL on a nightly basis.
But, baby steps!  Let's kick Boston's teeth in for a while, just to see if we like it!
Want your voice heard? Join the Sabre Noise team!
Sometimes in life, you have to simplify your goals.  Winning the Stanley Cup would be a huge accomplishment for the Buffalo Sabres and their fans, and it's a result we should all hope we live to see.  Until that day comes around, though, I will settle for watching the Blue and Gold flip the script and own the boys in Beantown for a little while.  Make Buffalo great again!
This article originally appeared on