Buffalo Sabres Update: What To Expect From Jack Eichel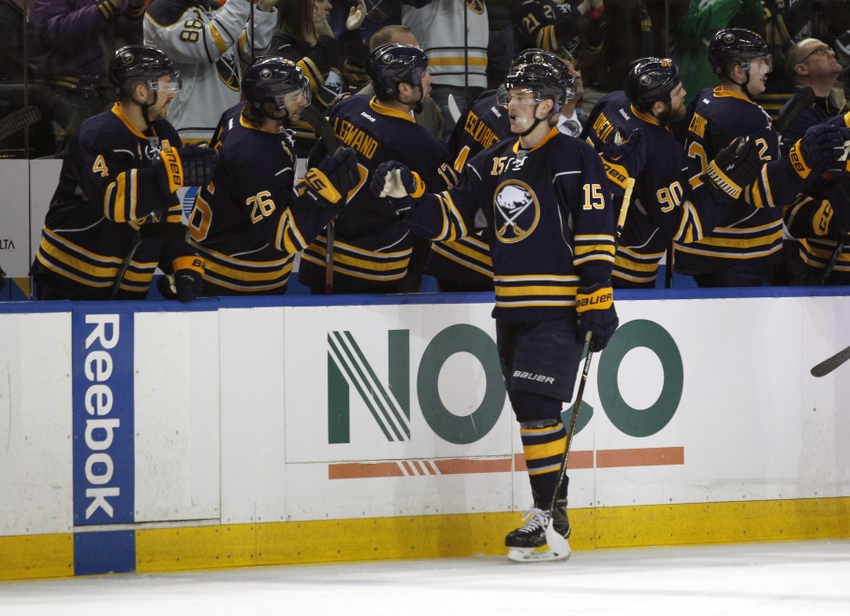 The Buffalo Sabres are getting a boost at just the right time – but how much can one man affect this team?
All right Buffalo Sabres fans – we know you're excited.
I mean, we're all excited.  We're not getting Dmitry Kulikov* back, after all – it's the debut of Jack Freaking Eichel, man!  This is important ****!
*No offense, Dmitry – we're looking forward to getting you , back too . . . but come on.
When your team gets its best player back on the ice after suffering a nasty injury the day before the regular season began, it's okay to be excited – but we here at Sabre Noise want to make sure your excitement doesn't get the best of you.  Cautiously optimistic, we like to call ourselves, so while we would love to see Eichel pull a page out of Auston Matthews' playbook and explode for 4 goals this evening, we would like to establish some context for you.
For starers, the Buffalo Sabres are not one player away from being a playoff team (on paper, of course – if Eichel starts averaging 2 points per contest, we will gladly admit to being wrong).  The Sabres' top-6 forwards are top-6 in name only – still very much a work in progress.  This isn't the NBA or the NFL, where teams can play their best offensive players the entire game; Eichel will be lucky to see 18 minutes of ice time tonight, meaning the remaining 42 minutes will be in the hands of guys who started the season playing in Rochester.
Second, Eichel is not much of a defensive forward, so he's not going to help the Sabres on that end of the ice much, if at all.   Buffalo will still allow too many shots on goal, still struggle to get out of the defensive zone, and will still make you long for Brayden McNabb, who boasts a +/- of +25 since joining the Los Angeles Kings back in 2014.   (I'm aware he spent a lot of time playing alongside Drew Doughty before he got injured, but you have to admit, you're sad he's gone.)
Finally, and this is the most important part, Eichel is returning from a high ankle sprain, one of those injuries that can linger for a long, long time.  Eichel is going to be rusty, possibly a bit tentative when it comes to his injury, and almost certainly not at 100%, despite how good he has looked at practice.  Remember what Brett Sopel cautioned back in October: namely, that Jack EIchel will not be good this season due to the nature of high ankle sprains.
Ready to hate me yet?  That's fine – I'm just trying to remind you of the reality of the situation.
There is good news when it comes to Eichel's return, of course – we're not trying to rain on everyone's parade here. To begin with, Eichel averaged 0.69 points per game last season when he was just a tender rookie adjusting to the pace and physicality of the NHL.  The Buffalo Sabres already have scored one goal or less ten times this season – it's safe to say that a healthy Jack Eichel cuts that number in half, in which case the Sabres are about 5 points better, the difference between being 28th in the NHL and being 17th.
Even better, Eichel's return might help spark his linemate, Sam Reinhart, who has always struck me as being a better player when he is not the focus of the offensive (and of the opposition's defensive efforts).   Reinhart's game is waking up as of late – one goal and two assists in his last five games – and the return of Eichel should take some pressure off of Samson, which honestly could be exactly what the doctor ordered.  Some players can play the role of hero; others are sturdy sidekicks, valuable in their own way but not nearly as effective when thrust into the spotlight.  I would be surprised if Reinhart's game continues to languish now that Eichel is back in the lineup.
Buffalo Sabres fans have every reason to be excited about the debut of Jack Eichel in Ottawa tonight, and it would be great to see him make his presence felt immediately.  The Eichel Tower sure cannot save the Sabres all by himself, but by God the team won't be worse with him than they were without him.  Hopefully he is close to being 100% and can give his team some much-needed scoring punch – be sure to tune in to find out!
This article originally appeared on