Buffalo Sabres Tim Murray Could Stop Being A D-Bag About Rasmus Ristolainen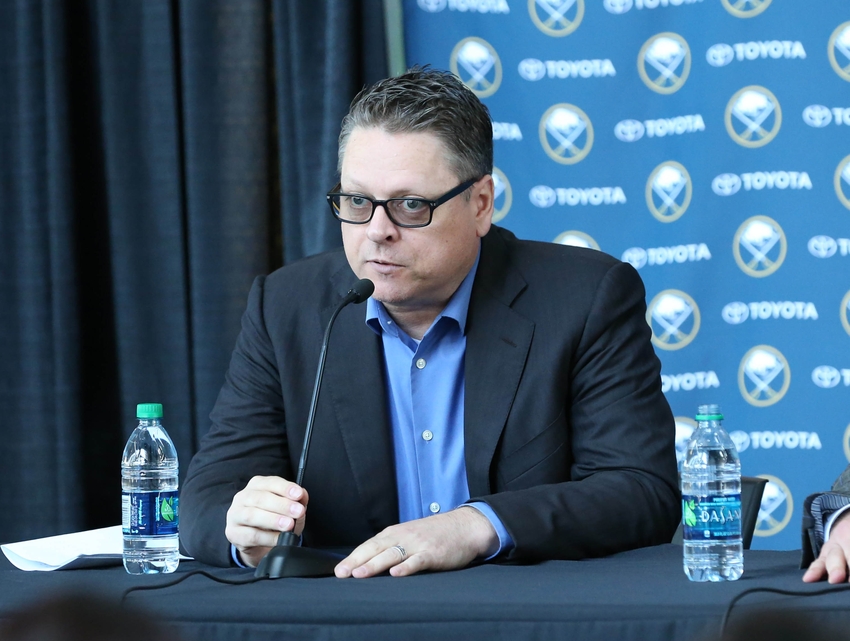 The Buffalo Sabres GM has one priority right now – so maybe he should get on it.
Buffalo Sabres fans, it's days like this, I love being a blogger.
See, if I was getting paid to simply report the news, I would have to dutifully quote what Tim Murray had to say about Sabres' RFA Rasmus Ristolainen Friday afternoon. (All quotations courtesy of wgr550.com)
I would share with you that Murray commented, "there hasn't been a deadline yet" when it comes to contract negotiations with Ristolainen's camp.
Additionally, I would report that Murray said the Sabres are "open to listening to what they're needs are.  We're open to a short-term deal, we're open to a bridge deal, we're open to a long-team deal."
And finally, I would be happy to inform you that Murray seems to like Ristolainen and appreciate what he has in the Finnish blueliner, which is evident when he says things like, "He's a hard-working, diligent young person on and off the ice . . . I certainly want to be fair, but I want to be fair within our structure and what's good for the organization. It's not like we're trying to low-ball this kid or anything like that by any means."
Then, I would wind down my article by feeding you some statistics about Ristolainen from last season and the 2016 World Cup of Hockey, and leave you feeling like everything is peachy in the 716.
Hogwash.
I know that the NHL is a business, and I know that Rasmus Ristolainen will eventually get signed.  Even on my most pessimistic day, I cannot bring myself to believe that Tim Murray will allow these negotiations to get nasty enough that the Sabres will wind up dealing Risto.  Murray's not Colorado Avalanche-dumb, right?
Regardless, the Sabres have allowed these negotiations to go on longer than they need to, even if they have not gotten nasty.  For starters, Ristolainen is Buffalo's best defenseman.  If it takes a 5-year, $5 million per-year contract to get him signed, make the deal.  We can hem and haw about he is really a top-pairing defenseman, or whether he is really a second-pairing guy who is keeping the top spot warm . . . but since Buffalo's blueline has been a hot, steaming bag of crap for a while now, the Sabres should give him the benefit of the doubt.  We're not looking at a level of production akin to what Tyler Myers produced; Risto's numbers have gone up every season, to the point where he ranked 24th among all NHL defensemen in scoring in 2015-16.
The Sabres are in no hurry to re-sign a top-24 scoring blueliner in time for a season in which they hope to make the playoffs?!?
Probably the thing that bugs me the most about Murray's approach to resolving this contract is when he commented that Ristolainen's decision to return to skate with the Sabres, rather than retreat home to Finland a la Hampus Lindholm, who is skating in Sweden while experiencing the same sort of impasse with the Anaheim Ducks, will not sway contract talks.  Well, unless "when he [Risto] got here that he got all lovey-dovey and wants to play for what we want to pay him."
Really?  That was the response of the Buffalo Sabres GM?  It's a little too smart-ass a comeback for my taste, given the fact that Ristolainen is clearly not ratcheting up the tension whatsoever.
Eventually, the Buffalo Sabres are going to re-sign Rasmus Ristolainen – that much I can pretty much guarantee.  It's taking too long for my liking, but even that I could live with . . . if it wasn't for Tim Murray's flippant approach.   I'm assuming Murray is taking the contract talks more seriously than the "lovey dovey" comment would imply, but as a Sabres fan who isn't thrilled with what the team did to improve its defense during the offseason in the first place, I would prefer less humor and more business from the Sabres.
Get. Risto. Signed.
This article originally appeared on