Buffalo Sabres Three Stars Week Ending November 20, 2016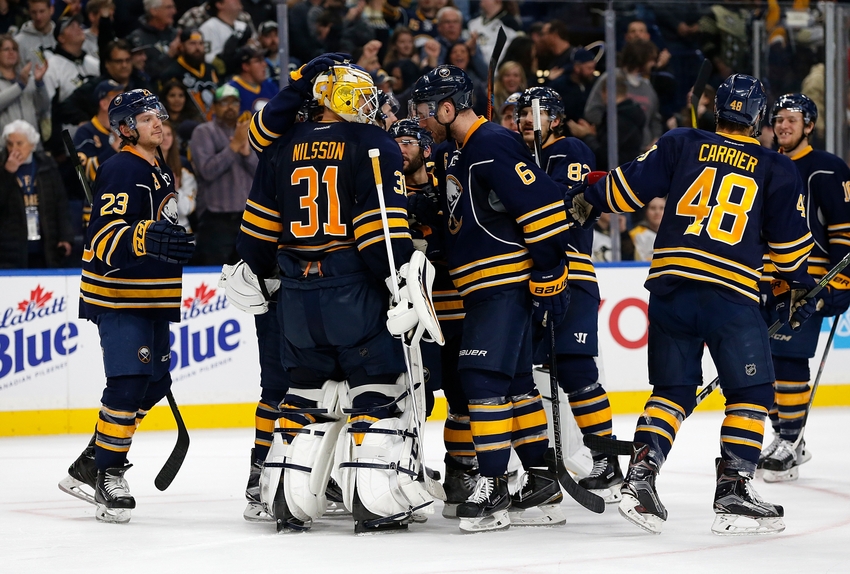 The Buffalo Sabres may have only won one game last week, but there were players who shone nevertheless!
The Buffalo Sabres went 1-2-0 last week against the St. Louis Blues, the Tampa Bay Lightning, and the Pittsburgh Penguins.
But they won in a shootout!
The Sabres only scored 3 goals in regulation over the course of those three games, while allowing 9.
But they beat the defending Stanley Cup champions!
Buffalo is currently 27th in the NHL with the fewest goals scored.
BUT THEY WON A GAME LAST WEEK!
Hey – no one can accuse me of being too negative.  Here are three stars of the week ending November 20, 2016.
3. William Carrier
Carrier scored the first goal of his NHL career against the Penguins, so if that's not worth a stick-tap, I don't know what is!  Overall he had 4 shots on goal and an even +/- last week, which is no small feat for a team that was outscored by six goals.
If you don't feel good about naming Carrier one of the stars of the week, check out this piece from FanSided's St. Louis site, Arch Authority, which finds Blues fans wondering "What could have been" had Carrier remained in St. Louis.
2. Cal O'Reilly
The only player to score in Saturday's shootout earned this spot in our list.  O'Reilly, who had just played a game with the Rochester Americans Friday evening, gave Buffalo just its third win in ten shootouts with this laser:
RJ's call on Cal's shootout winner. pic.twitter.com/vn0K4lgZ5f
— Buffalo Sabres (@BuffaloSabres) November 20, 2016
Sweet.
1. Anders Nilsson
No-brainer here.  Not to disparage Robin Lehner, who did not play terribly last week despite allowing 8 goals, but Nilsson faced over 40 shots for his second-straight start Saturday against the Penguins, and for the second-straight time stopped over 95% of the shots he faced.  We all knew that the only way the Sabres would be able to steal a victory against the Stanley Cup champions was if Nilsson stood on his head, and I would count making 46 saves on 47 SOG the very definition of a goalie standing on his head.
Too early to start making the case for Nilsson to become the team's starters?  Nope – but we all know that won't happen, so let's just enjoy Nilsson's latest gem and name him Buffalo's no.1 star of the week!
Want your voice heard? Join the Sabre Noise team!
Sure, all of these stars came from Friday's night game against the Penguins – but were the other two games the Buffalo Sabres played last week memorable in any good sort of way?  No they were not!  Let me know if you agree or disagree, and stay tuned for our game-day coverage!
This article originally appeared on