Buffalo Sabres: Three Stars Of Week Ending 11/6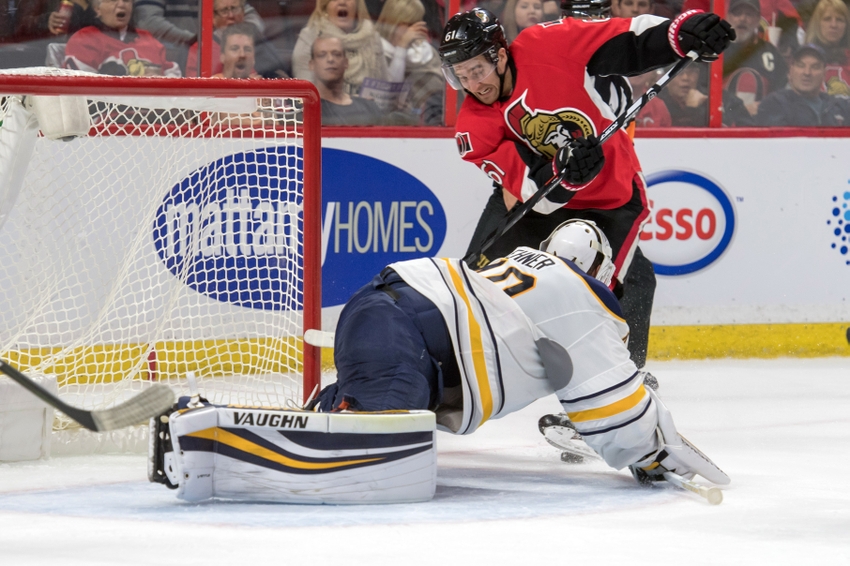 The Buffalo Sabres have started the month of November just like they finished the month of October: playing winning hockey!  Here are three players who got work done last week.
The Buffalo Sabres have turned in two solid weeks in a row, compiling a 5-3-2 record over their last ten games – all that, despite missing Jack Eichel and Evander Kane since opening night.
We all know there is no "I" in team, and winning professional hockey games involves contributions from all three aspects of the game – offense, defense and goaltending.
Still, some players make bigger contribution than others, and contribute more consistently.  Back by popular demand, then, here are our Buffalo Sabres three stars for the week ending November 6, 2016.
3. The Shutdown Line
Marcus Foligno and Johan Larsson each put a puck in the back of the net last week, while Larsson also added two assists.  Throw in an assist from Brian Gionta and a week in which the Buffalo Sabres surrendered 4 goals total, and you have a big stick tap going out to Buffalo's third line.
2. Sam Reinhart
Happy belated birthday, Samson!  My gift to you?  The second star of the week!
And it's not like he didn't earn this honor; he did pick up two points last week, including this nice little bit of "stick-with-it"ness that gave Buffalo the lead for good against Ottawa:
1. Robin Lehner
I like it when life presents you with no-brainer decisions, and declaring Lehner the top star of last week is, indeed, a no-brainer.
Lehner was in net for all three of Buffalo's games last week, making 27 saves against Minnesota (28 SOG) Tuesday and again versus Toronto (29 SOG) on Thursday, and wrapping the week up by stopping 32 (33 SOG) shots against Ottawa on Saturday.
That's 90 shots faced, 86 saves made, a save percentage of .956 and a GAA of 1.33 for the Sabres last week, people.  You can't say enough about Lehner's performance right now; he's the biggest reason the Buffalo Sabres are sitting at 5-4-2 and tied with 5 other teams in the NHL with 12 points.
Want your voice heard? Join the Sabre Noise team!
What are your thoughts on the three stars from last week?  Sound off below!
This article originally appeared on