Buffalo Sabres Salvage October With Win Over Winnipeg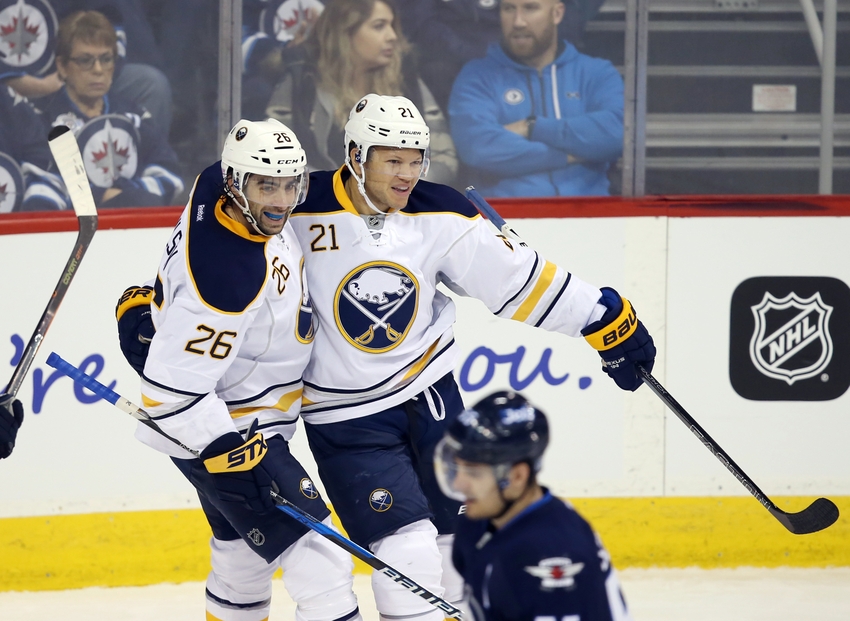 The Buffalo Sabres battled tired legs and a slew of injuries to cap its first month with wins on back-to-back days.
Well would you look at that.
Just Friday, I was writing a post about how the Buffalo Sabres were dead last in the NHL in the win column, the only team with just one win.
Now, after two improbable back-to-back victories, the Sabres have a record of 3-3-2, own a .500 points percentage, and have jumped from 29th to 18th in the league standings.
Crazy.
So how the hell did the Sabres go from being a loss away from everyone calling for Dan Bylsma's head to where they stand tonight?  All you need to do is look at the keys to victory that I discussed in both my Saturday and Sunday game day posts:
1. Strong goaltending
On Saturday, Anders Nilsson managed to shake off a somewhat poor showing against the Minnesota Wild to notch his first shutout with the Sabres.  Then, on Sunday, Robin Lehner came within one bounce off the boards from duplicating Nilsson's effort, giving up just one goal on 38 shots.  Goaltending has been a huge question mark surrounding the Sabres, and make no mistake: it still is.  In all honesty, though, the Sabres played four times this past week and got strong goaltending in three of those four games.
It sure would be nice if this was the trend, not the exception to the rule.
2. Big-money player making big-money plays.
You don't lose Jack Eichel (and to some extent Evander Kane) and hope to stay afloat based just on the play of your goaltenders.  Without super human efforts from the rest of their top-6 forwards, the Sabres could easily be stuck on one win at the end of the month.
Instead, Buffalo received three goals from Kyle Okposo, an assist and a goal from Sam Reinhart, and points from Ryan O'Reilly and Rasmus Ristolainen this weekend.  Without Eichel in the lineup, those four guys are easily Buffalo's four best players, and they are all going to have to continue to carry this team until Eichel (and Kane) return.
Want your voice heard? Join the Sabre Noise team!
The Buffalo Sabres are probably not where they hoped to be, standings-wise, when the season started . . . but they are exactly where I thought they would be now that they have finished their schedule for October.  Given how challenging their schedule for this month was, and add in the injuries they have suffered, everyone in the Sabres organization should feel good about where they stand right now.  There is still a ton of work to be done, but kudos to this team for not rolling over and playing dead.
This article originally appeared on