Buffalo Sabres – NHL 17 Player Ratings, the Forwards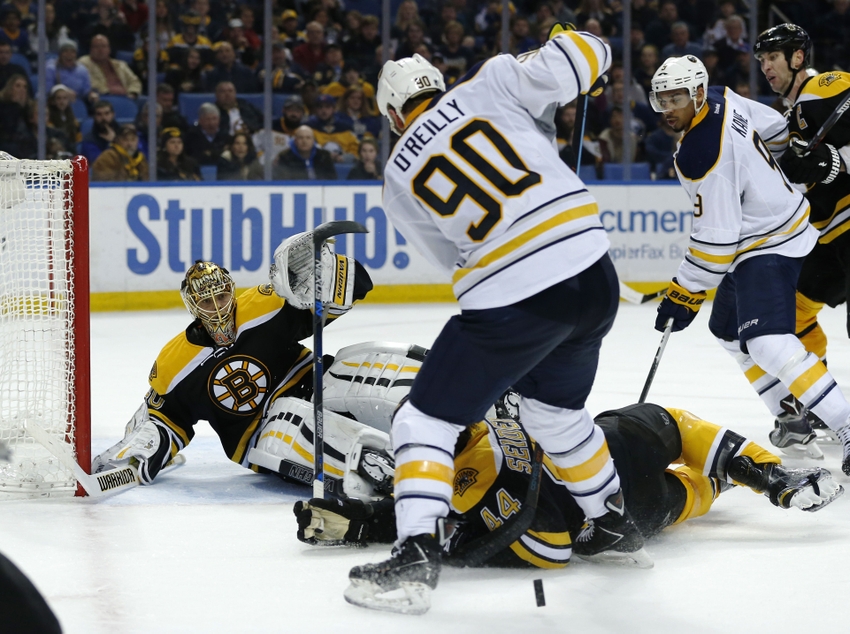 The Buffalo Sabres have an improved team in this years EA Sports hockey game, NHL 17. In this post we will take a look at the player ratings given to the Buffalo Sabres forwards.
The Buffalo Sabres find themselves at the mercy of EA sports when it comes to player ratings. The forward core is no better than the defense, when it comes to the accuracy of some of these ratings. What is even more questionable to me is the starting line-up EA sports has created for the Sabres. This post will focus on the forwards, I'm interested to hear your opinions on the topic.
Ratings for the Buffalo Sabres forwards
Forwards
Evander Kane – 86           Ryan O' Reilly – 88                Kyle Okposo – 88
Sam Reinhart – 83           Jack Eichel – 86                       Tyler Ennis – 83
Matt Moulson – 82          Zemgus Girgensons – 82     Marcus Foligno – 81
Nic Deslauriers – 80        Cal O' Reilly – 77                     Cody McCormick – 77
Thoughts and suggested changes
Wow, well at least EA sports can say they tried. The Buffalo Sabres will undoubtedly look different than the suggested lineup in NHL 17. First things first, where is Johan Larsson? Well I'll tell you, he is on the Sabres roster, but is a scratch. Also, he is listed as a LW with a rating of 80.
Most of the ratings for the forwards listed above are close to where I would put them at. Matt Moulson is rated a bit too high in my opinion, as is Nic Deslauriers. Cal O' Reilly likely doesn't start with the Sabres at the beginning of the season. Cody McCormick is out indefinitely, not sure what the thinking was here.
I would like to bump up Eichel's rating, however his mediocre showing at the World Cup of Hockey has me thinking otherwise. I hope that thought changes as we start up the season. Sam Reinhart may deserve a slight bump, same with Tyler Ennis aside from his injury concerns.
I look forward to hearing your thoughts on our forwards and their given ratings. I may end up touching on some of the prospects ratings in a future post.
Thank you as always for reading, I look forward to hearing from you in the comment section!
This article originally appeared on