Buffalo Sabres Jack Eichel Skates, Has Date In Mind For Return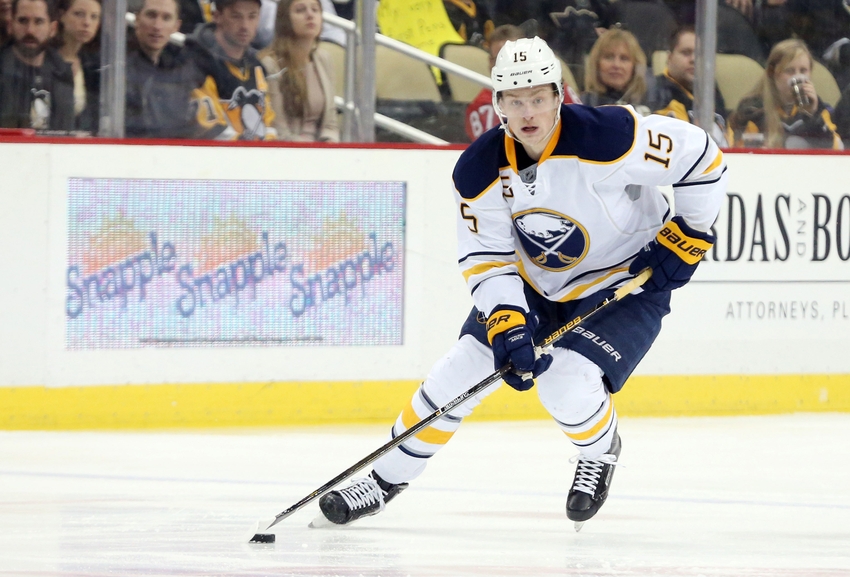 It turns out that the current winning streak of the Buffalo Sabres is not the real reason to give thanks this holiday season!
He's baaack, Buffalo Sabres fans!
Jack Eichel is skating with the team this morning for the first time since his injury.

Morning skate underway! pic.twitter.com/eJrQfFuHEf

— Buffalo Sabres (@BuffaloSabres) November 23, 2016
Yep: Jack Eichel is back to skating with the team, and admit it: it makes you feel pretty damn good.
Now, some words of caution: Eichel is not ready to skate in a game yet.  I'm not going to set a timetable on his return, but I would be surprised if we see him on the ice before the calendar flips to December.
Having said that, Eichel appears to feel pretty good about how his rehab has been going (courtesy of Sabres.com):
For the most part I really have progressed through everything.  I think prior to skating with the team you go through everything. I've had a little bit of physical contact, soft starts, pivots, crossovers … I think I felt pretty comfortable and when you're out there you pretty much forget about the ankle, and that's a good thing.
Coach Bylsma admitted that the last couple of skating sessions Eichel had undergone were of a higher intensity than what he saw at today's morning skate, so there's that.  So what is Eichel's personal timetable for return?
Obviously I think there's something I have on my calendar that I have circled where I think I can play, but that's pretty fragile and can change pretty quickly.  I think for me personally, I just want – not only my ankle but my entire game – I want to feel like I'm back to normal and feel like I can obviously step in and [not only] make an impact, but step in and make an impact the way I want to.
As much as Buffalo Sabres fans might be satisfied to get Jack Eichel at 80% back on the ice – because an 80% Eichel is better than a whole lot of the players skating with the Sabres right now – a high ankle sprain is nothing to rush.  Besides, the Sabres are riding a two-game winning streak and just got Ryan O'Reilly back in the lineup.  Another few weeks of patience is required, everyone.
Most Buffalo Sabres fans would prefer that Jack Eichel make sure his ankle is as close to 100% as possible before he skates in a game, but it will be interesting to see how the next few games affect the fanbase.  If Buffalo can keep winning, waiting for Eichel will be a lot easier than if the Sabres lose four of the next five.  Either way, seeing him on the ice with his teammates is the perfect reason to give thanks in the 716!
This article originally appeared on