Buffalo Sabres Game Day: Third Time's The Charm Against Washington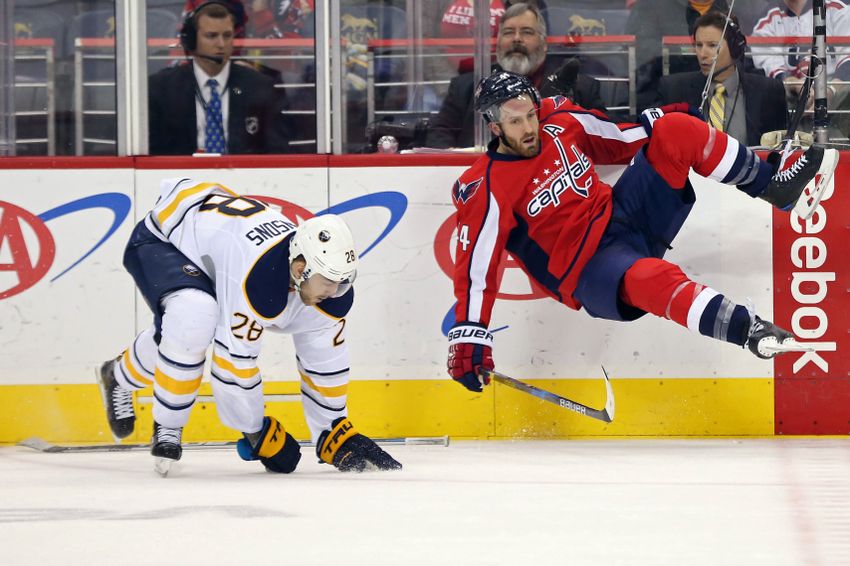 The Buffalo Sabres have revenge on their minds as they host the reigning Presidents' Trophy holder.
It was one they let slip through their fingers.
The Buffalo Sabres were ahead, 2-1, on the road against the Washington Capitals, the beneficiaries of goals by unlikely heroes Zemgus Girgensons and Evander " 'Bout Damn Time" Kane and a Capitals power play unit that had gone 1-for-16 on the power play in its previous three games.
Buffalo had already killed off two penalties in the game, and might have been able to emerge from our nation's capital with a W if they could have stayed out of the penalty box . . . but a tripping penalty by Kane gave Washington a third attempt to resurrect its power play, and sure enough, they did just that.  Two Marcus Johannson goals later, the Sabres left Washington with a loss in overtime – not the worst result in the world, of course, but disappointing given how much they had controlled the game through the first two periods.
The OT loss gives the Sabres a 0-1-1 record against the Capitals at this point in their 2016-17 season, and you can bet your paycheck that everyone suiting up for the blue and gold tonight would love one more chance to earn a W against Alex Ovechkin and company.  Here are 3 Ways Not To Blow It tonight against the Caps.
1. Don't wake a sleeping giant
Despite Washington's game-tying power play goal Monday, the Capitals are still just 2-for-21 with a man advantage over their last five games, including an 0-for-2 effort Wednesday against Boston.  As the Sabres found out Monday, though, you can only poke a sleeping bear so often; give this team enough chances, and they will burn you.   Washington may currently own a bottom-10 power play success rate (14.8%) but the Sabres will be playing with fire if they give the Capitals more than two man advantages tonight.
2. Learn to play 60 minutes
It's hard to dominate a team for 60 minutes in today's NHL – teams are just too good.  Sure, every so often you will stumble across a game in which one team gets its teeth kicked in from start to finish, but more often than not you see a team that looked terrible for ten minutes look invincible for the next ten.  That's what parity will do for you.
Having said that, the Sabres have this annoying history of allowing teams to dominate them for entire periods.  Monday, they allowed these Capitals to run them ragged in the third period, and they followed that up by dominating Edmonton for the first period . . . and then getting outshot 32-14 the rest of regulation.  Momentum will swing during games, but the Sabres need to find a way to keep their opponents' momentum for lasting 20 minutes or more.
3. Play like they do in front of Anders Nilsson
Some of our astute readers have brought up the point that the Buffalo Sabres just generally appear to play better when Nilsson is in net.  The fact that Nilsson has a better W-L record than Robin Lehner (5-2-2 for Nilsson versus 5-8-4 for Lehner)lends weight to the argument, and although there are numerous factors that contribute to a goaltender's success rate, this much cannot be argued: the Sabres are an above-.500 tem when Nilsson is manning the pipes.
Does the team feel more confident when they are in front of Nilsson?  How the hell would I know?  But the Sabres have beaten some pretty good teams (the New York Rangers and Pittsburgh Penguins come to mind) when Nilsson starts.  I'm not trying to bag on Lehner – I think he has played quite well this season, with the shootout being his only true Kryptonite – so I am not quite sure why Buffalo has been more successful when Nilsson starts – but facts are facts, and the Sabres need to do something different if they want to start getting more Ws for Lehner.
Tonight's game will be the last chance the Buffalo Sabres have at earning a quality win over one of the Eastern Conferences best teams.  Follow us on Twitter @sabrenoise and let's go Buffalo!
This article originally appeared on