Buffalo Sabres Game Day: Sabres Look To Rock Detroit In The City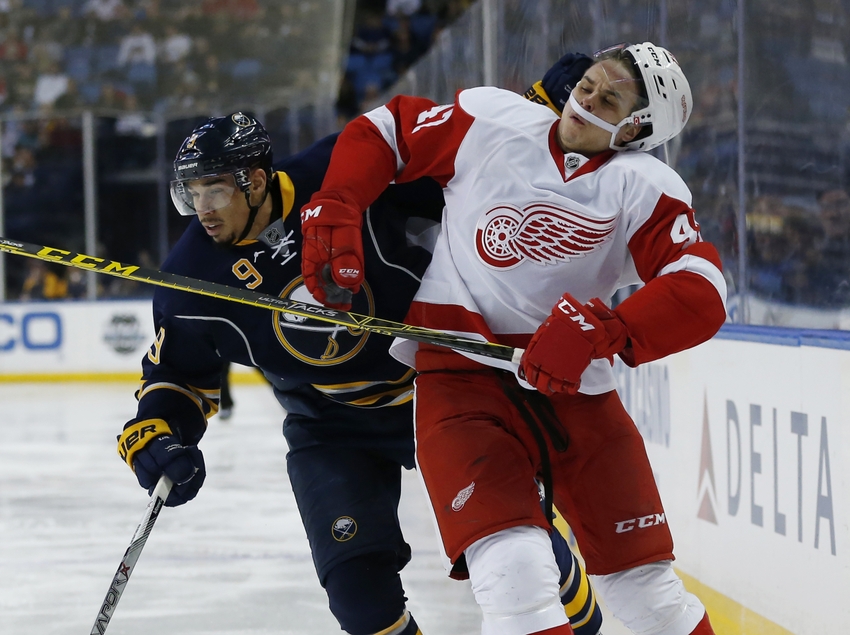 The Buffalo Sabres are looking to extend their win streak while closing out a successful home stand.
The Buffalo Sabres will host the Detroit Red Wings at the KeyBank Center tonight to close out their current four-game homestand.
Calling this homestand a success would be an understatement; the Sabres have won their last two games, despite the fact that they have had to rely on the likes of Cal O'Reilly, William Carrier, and Taylor Fedun to fill in for injured players such as Jack Eichel, Ryan O'Reilly, and Zach Bogosian.   Fedun in particular has made the Sabres organization look like hockey geniuses, as the defenseman has provided 4 assists in just three games played.
Buffalo has also benefited from strong play in net the last two games, with Anders Nilsson stopping 46 of the 47 shots that the Pittsburgh Penguins fired his way, while Robin Lehner made 29 saves against the Calgary Flames on Monday.
Let's get to my Three Ways Not To Blow The Game – I promise to be a little more helpful than I was on Monday . . . .
1. Continue to win the special teams battles
The Sabres committed just six minutes worth of penalties to Calgary's 14 on Monday, and the team capitalized on that discrepancy, scoring three times with the man advantage.  The Sabres have been guilty of committing stupid penalties too often this season, and those are the games when you just want to throw your remote control at the television and beat a small child.  It's nice to see the Sabres play with something resembling hockey intelligence!
Matt Moulson, by the way?  Most power play goals in the NHL this season.  Who woulda thunk it?!?
2. Keep going with what works
Obviously, rolling out Moulson on the top line and first PP unit has been working, so no one expects to see that change.  What I am mostly referring to with this point is the increased amount of ice time that Fedun has been receiving.  He received 14:02 worth of TOI in his debut against Tampa Bay, and has seen his minutes go up (15:21, then 17:15) since.  With two assists on the power play against the Flames, Fedun is providing just the sort of boost to Buffalo's offense that the organization hoped he would based on his production with the Rochester Amerks (12 points in 14 games) to start the season.
Until he proves otherwise, Fedun needs to be a staple in the Sabres power play unit and should continue to see his minutes creep up close to 20:00 TOI.
3. Start Anders Nilsson!
Sorry – I couldn't resist!
With Ryan O'Reilly set to return and Jack Eichel skating with the team for this first time since his injury, the Buffalo Sabres could begin building momentum with a win tonight against Detroit.  The game is scheduled to begin at 7, so make sure you check out our Fan Chatter piece and get your picks in before puck drop!!!
This article originally appeared on