Buffalo Sabres Game Day: Mr. Eichel Goes To Washington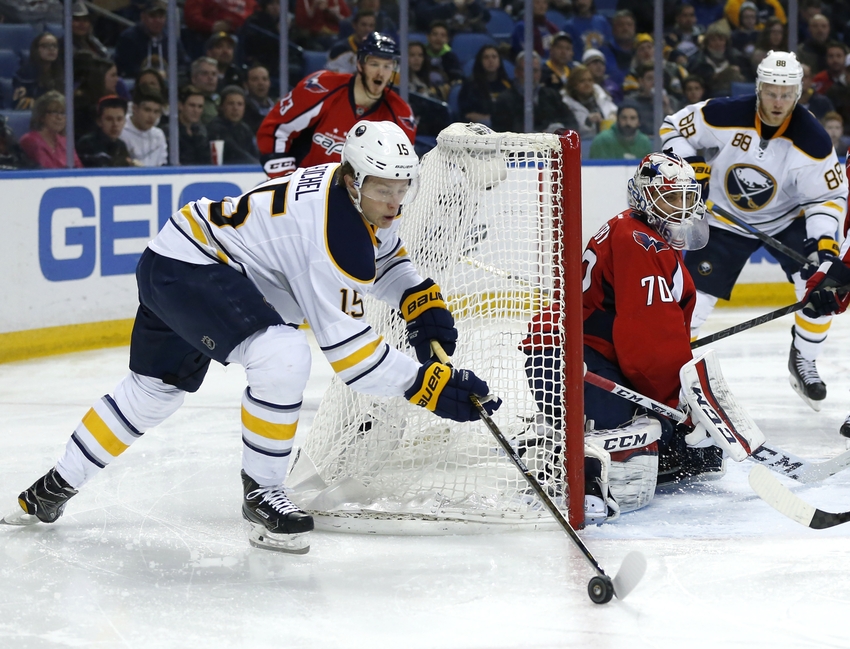 The Buffalo Sabres can climb back to a .500 points percentage with a win in our nation's capital.
The Buffalo Sabres enjoyed a nice boost from Jack Eichel's return last week, scoring 9 goals in Eichel's first two games and winning both of those contests (you mean you can win if you just score goals?!?).
Reality returned to the 716 on Saturday, however, as Buffalo only managed to slip one puck by Boston's Tuukka Rask in a 2-1 loss in front of the rejuvenated fans at the KeyBank Center.  Hey – good goalies win games, and Rask stoned the Sabres even though they outshot the Bruins 36-33.
As a result of the loss, the Sabres are NHL cellar dwellers once again, as their 23 points are good for 27th in the league.  A win tonight, though, would give the Sabres a .500 points percentage again and could move them up in the standings are high as 23rd.  Exciting, I know!
Here are our 3 Ways Not To Blow The Game for the Buffalo Sabres.
1. Grind it out.
There is no way to get around this: this matchup has the potential to be another of those 2-1 or 3-1 games the Sabres seem to enjoy playing, and losing, this season.  Washington ranks 19th in the NHL in goals scored per game; the Sabres, dead last.  Of course, we all know the Capitals have the potential to explode – they put up 7 on the Penguins on November 16, and scored 4 goals three times in the month of the Turkey.  However, Washington has been shutout twice this season, and has pulled a Buffalo (scoring one goal) four times this season.
Of course, that's child's play compared to Buffalo's 10 instances of only scoring once, so Buffalo needs to be ready to grind this baby out.  And Sabres fans need to be ready to overdose on Red Bull or something!
2. Fire the rubber.
It's bad enough that the Sabres struggle to score, but the Capitals will compound that fact tonight.  Washington gives up the sixth-fewest shots in the NHL at just 28 shots allowed, which is big reason why Washington has surrendered just 51 goals this season, tied for second-best in the league.
Of course, it's not necessarily the number of shots that Buffalo fires off that makes a difference; it is nice to make sure those shots are quality scoring chances.  But when a team clamps down on you and limits your shot opportunities, you cannot afford to be picky.  The Sabres have take the shots that are given to them and get bodies in front of the net to force the issue.
3. Remember: it's not all about Jack
Jack Eichel makes the Buffalo Sabres a better team, but if I have said it once, I have said it a thousand times: the man can only be on the ice so many minutes a night (less than one third of the game, if you want to be more specific).  On paper, this Sabres roster cannot compete with a team like the Washington Capitals, but a little determination and some good goaltending go a long way toward winning games in the NHL.  The Sabres cannot sit back and wait for Eichel to save them as he did against the New York Rangers last week.  Man up!
Want your voice heard? Join the Sabre Noise team!
The puck drops around 7, so be on the lookout for our Fan Chatter, grab a cold one (or 12) and cheer for those Buffalo Sabres!  They need it.
This article originally appeared on