Buffalo Sabres Game Day: Looking For Two In A Row Against Ottawa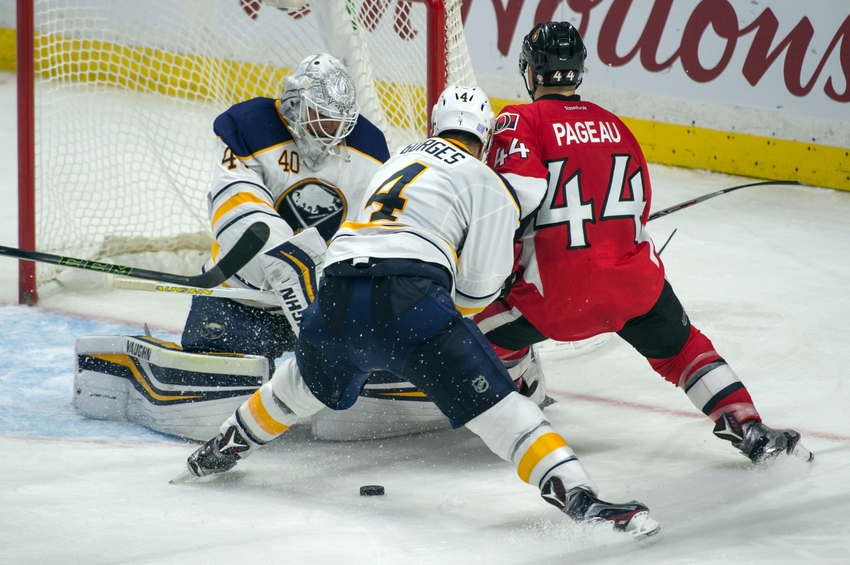 The Buffalo Sabres are back in the 716, and hoping that a familiar foe will produce familiar esults.
The Buffalo Sabres return to the semi-friendly confines of the KeyBank Center tonight to host the Ottawa Senators.
Yes, I said "semi-friendly" – it's not like the Sabres have what the sports experts would call a "home ice" advantage, what with their 1-3-0 home record this year, which is starting to make last year's 16-19-6 home record look commendable.
It doesn't help that Sabres fans are notorious for selling their tickets to Canadian fans in order to make a few extra bucks!!!!
At any rate, the Sabres have play their next two games at home, which means they could improve to .500 at home on the season, provided the get two wins.  And how can Buffalo earn a win tonight against the Ottawa Senators, who the Sabres beat 2-1 this past Saturday?
Time for my keys to the game.  Hmm – "keys to the game" had been done to death.  Let's call it something new, like 3 Ways Not To Blow This Game:
1. Stay out of the sin bin
The Sabres can already look at a few games this season and ask, "What if we had stayed out of the penalty box?"  The third-period collapse against the Philadelphia Flyers is an obvious place to start, since Buffalo's 3-0 lead was erased thanks to three third-period power play goals scored by the Flyers.
Recent history will also remind the Sabres that committing penalties often has disastrous results, too.   On Monday, Buffalo gift-wrapped three goals to the Boston Bruins' power play, which had only converted on 3 of 38 man advantages up to that point.  Long story short: the Sabres need to play a bit more disciplined brand of hockey tonight.
2. Outshoot the opposition
The Sabres are once again one of the league's top-10 worst teams at suppressing shots, allowing 31.4 SOG per evening.  Compounding Buffalo's problem?  The team is also the 12th-worst team when it comes to generating shots, averaging 29.2 per contest.  Compared to last season, Buffalo has actually regressed, as they took more (29.5) and allowed less (30..6) SOG per game in 2015-16.
Granted, we are talking less than a shot on goal both ways – but the bottom line is, every team wants to take more shots than they allow, and the Sabres really struggle with this part of their game, having been outshot 42-32, 33-32, and 28-24 in three of its past four games.  (The teams faced were Boston, Ottawa, and Minnesota, for those of you playing at home!)  Let 'em fly, boys!
3. Score
The Sabres were shutout 4-0 against the Bruins.  Even if Robin Lehner had been able to stand on his head and make 42 saves, this team probably would have been forced to try and win in a shootout, which never goes well for them.
So maybe they try to score a goal, or more, tonight?!?
I will start putting the Fan Chatter post together minutes after I publish this, so be on the look out for that!  And as always, share your ways the Buffalo Sabres can win tonight in the comments below!
This article originally appeared on