Buffalo Sabres Game Day: It's Open Season On Peguins . . . If The Sabres Can Shoot Straight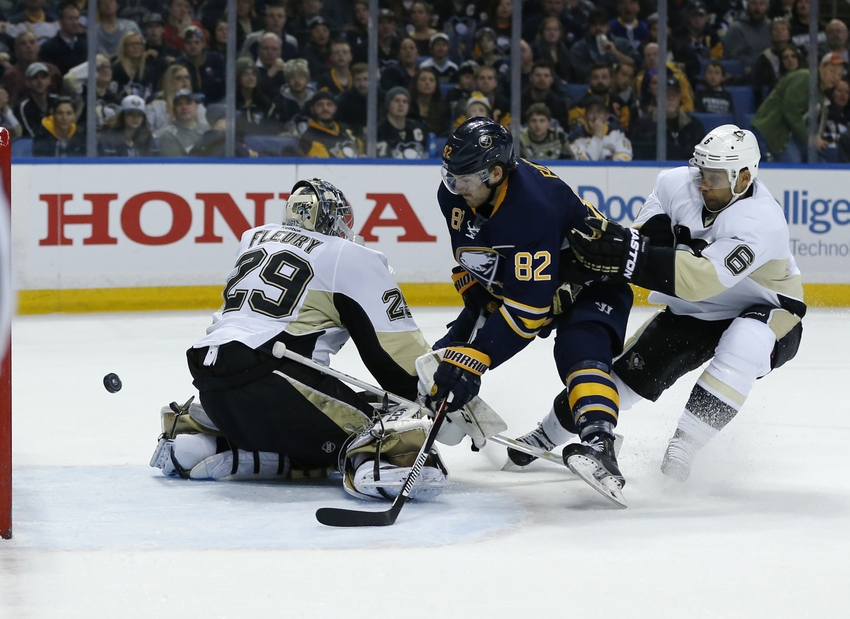 The Buffalo Sabres look to end a winless streak against the defending Stanley Cup champions.  Hmmmmmm . . . .
Do you believe in miracles, Buffalo Sabres fans?
Because if you are hoping that the Sabres can earn their first win in two weeks tonight against the Stanley Cup champion Pittsburgh Penguins, a miracle is precisely what you will need.
I'm not sure if Buffalo beating Pittsburgh tonight is comparable to Team USA trying to take down Russia in 1980 – honestly, it might be worse – but even if you think I am guilty of using hyperbole, you have to admit: it doesn't look good for tonight.
Despite the fact that there appears to be no way on paper that the Buffalo Sabres can earn a W tonight in the KeyBank Center, we solider on.  Here are my three ways the Sabres can avoiding blowing this game.
1. The superhuman Anders Nilsson must show up
With Robin Lehner getting a much-deserved rest, the goaltending duties will fall on the shoulders of Nilsson, first off the ice this morning:
Anders Nilsson is first off the ice, likely starter tonight. pic.twitter.com/Ol97cUmdvP

— Buffalo Sabres (@BuffaloSabres) November 19, 2016
In 4 starts this season, Nilsson is 1-1-2, having allowed only 8 goals out of the 138 shots he has faced, for a GAA of 1.96 and a save percentage of .942.  His last outing was a 41-save gem against the New Jersey Devils – let's hope he has that sort of performance in him tonight.
2. Pray the AHL's top scorers can bring some scoring to the NHL
The Sabres have recalled Cal O'Reilly and Cole Schneider from the Rochester Amerks and sent Nicholas Baptiste and Evan Rodrigues back down.  The reason?  O'Reilly (3-15-18) and Schneider (7-10-17) are the AHL's top scorers right now.
Meanwhile, Buffalo has scored one goal in 4 of its past five games, had yet to score more than two goals in a game this month.
So, yes: we have now reached the point where we are hoping that Cal O'Reilly can kick-start our offense.  May the Lord have mercy on our souls.
3. Pray for snow.
Hey – one of these days, it's going to happen.  And on that night, we can finally safely say "The Buffalo Sabres will not lose tonight!"
The Sabres host the Penguins beginning at 7 p.m. tonight.  I promise to actually get a Fan Chatter post up before then, so ave your picks ready to roll!
This article originally appeared on