Buffalo Sabres Game Day + Fan Chatter: Sabres Head To Washington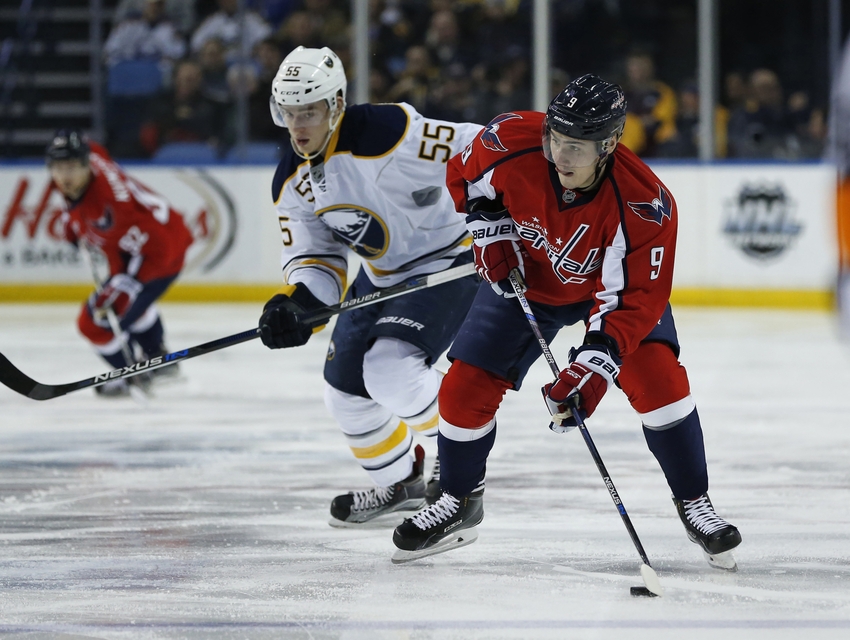 The Buffalo Sabres continue to look for consistency as they head to the nation's capital.
The Buffalo Sabres came THIS close to owning a .500 points percentage 20 games into the 2016-17 season.
Despite taking it to the Detroit Red Wings in overtime Wednesday evening, courtesy of the relentless efforts of Ryan O'Reilly, the Sabres fell 2-1 in a shootout and own 19 points roughly 1/4 of the way into their season.
The good news is that the Sabres are one point better than where they stood at 20 games in 2015-16 – small consolation for fans of a team that is currently sitting in 25th place, I know.
Can the Sabres hit the 20-point mark this afternoon against the Washington Capitals?  Here are my 3 Ways Not to Blow the Game for Buffalo!
1. Find a Way to Finish
We're only 20 games into the season and the Buffalo Sabres have already lost seven games decided by a goal, including 3 losses in a shootout and 5 games in which the final score was 2-1.  Before the season even began I wrote a piece that described how the Sabres had mastered the art of playing games decided by just one goal; 39 of the 82 games Buffalo played in 2015-16 were decided by just a single goal (most of them losses, obviously).  At this rate the Sabres could blow last year's record out of the water!
Scoring one goal has kind of become Buffalo's MO this season, but not for a lack of effort – if you watched the overtime session against Detroit, you know that the Sabres were pressing hard and had some Grade-A scoring opportunities.  This team just cannot finish right now, so despite earning an A for effort when it comes to keeping games close, Buffalo's scorers need to start finding open net.
2. Stop blowing the lines up
I know I am not the only Sabres fan who is driven slightly mad by coach Dan Bylsma's constant need to tinker with the forward line combinations.  Sure, there are times when adjustments need to be made – but dammit Daniel, forwards practice together for a reason.  Creating chemistry with your linemates, learning their tendencies, knowing where they are going before the other team does – these are the habits of successful teams.  It would be nice to see Bylsma stick with his lines a bit more, because there is a fine line between making subtle adjustments and making changes just for the sake of making changes (or worse, panicking).
3. Keep an eye on the Great 8
If you have watched Alex Ovechkin enough, you know he scores an awful lot of goals from the left circle, as out friends over at Bleedin' Blue pointed out:
I've asked that question at least a thousand times. It's mind-boggling. https://t.co/xMkU0yoOdO

— SabreNoise (@sabrenoise) November 24, 2016
If the Sabres want to keep the game close tonight, they have to keep track of Ovechkin and not allow him to glide into the left circle and uncork lasers uncontested.
Now, since time is running out: Fan Chatter picks!
1. Will the Sabres score more than two goals today?  (5 pts.)
2. Will Rasmus Ristolainen score his first goal of the season tonight? (7 pts.)
3. Will Ovechkin score a goal tonight?  (7 pts.)
4. Will Buffalo successfully kill off every penalty tonight?  (5 pts.)
5. Will the Sabres win tonight?  (7 pts.)
Want your voice heard? Join the Sabre Noise team!
Remember – the game begins at 5 p.m.!  Leave your picks and hope for the best!  Let's go Buffalo!
This article originally appeared on