Buffalo Sabres Fan Chatter: Sabres – Leafs Rivalry, Round 1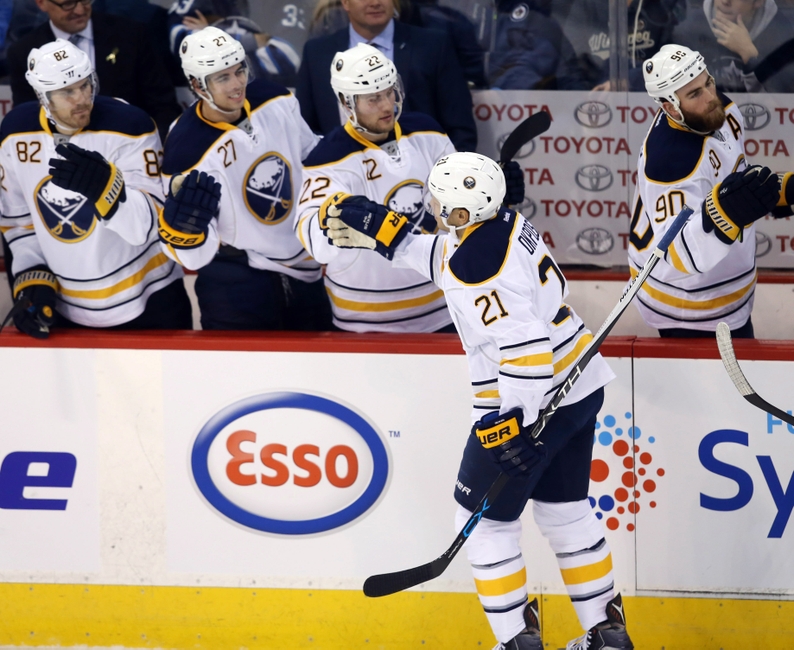 The Buffalo Sabres want to keep their streak alive; can Zach continue to work some magic in our fan picks?!?
The Buffalo Sabres host Auston Matthews and the Toronto Maple Leafs for the first time this season tonight at the KeyBank Center.
The Sabres are looking to win their fourth in a row, and seventh in a row at home against Toronto.  Meanwhile, Zach is looking to win his second fan chatter in a row, and I believe his third out of four tries.
Can the Sabres win, even as players drop like flies?  Buffalo lost defenseman Zach Bogosian for weeks to an MCL strain Tuesday evening, so right now, the Sabres top-6 forwards and top-4 defensemen are hurting.  We'll see if that comes back to haunt them against the young Leafs squad.
Your projected lineup tonight:
26 Matt Moulson – 90 Ryan O'Reilly – 21 Kyle Okposo
82 Marcus Foligno – 22 Johan Larsson – 12 Brian Gionta
63 Tyler Ennis – 28 Zemgus Girgensons – 23 Sam Reinhart
56 Justin Bailey – 27 Derek Grant – 73 Nicholas Baptiste
Defensemen: 4 Josh Gorges, 55 Rasmus Ristolainen, 29 Jake McCabe, 77 Dmitry Kulikov, 6 Cody Franson, 34 Casey Nelson
40 Robin Lehner
31 Anders Nilsson
And now for the picks!
1. Which team scores first?  (5 pts.)
2. Pick three Sabres players who you think will earn at least one point tonight.  (5 pts. per player)
3. Which goaltender makes more saves tonight – Lehner or Andersen?  (5 pts.)
4. What will be the combined score of the game?  (10 pts. to closest)
5. Who wins tonight?  (5 pts.)
Leave your picks down below so you can beat Zach, and keep checking in with us as the rivalry between the Buffalo Sabres and Toronto Maple Leafs resumes!
This article originally appeared on