Buffalo Sabres – Direction our Forwards are Trending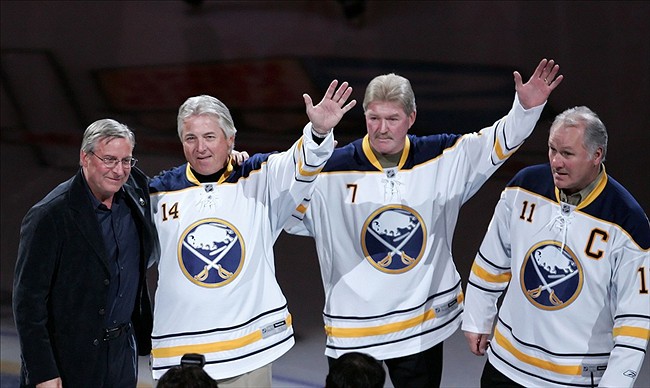 The Buffalo Sabres have a lot of up and coming talent mixed in with some seasoned veteran players. This post will focus on how our forwards will progress or regress in the upcoming season.
As you hopefully have already noticed, I specified that this post will focus on our forwards. In a follow up post I will provide trending predictions for our defensemen. I'm steering clear of the goalies on this series due to Robin Lehner's injury shortened season last year. In addition to that, Chad Johnson was unfortunately not re-signed. With Anders Nilsson being an unknown factor, I figured it was a safe bet to let fate hold the cards on this position for the Buffalo Sabres.
The ratings I am providing are based on my own personal predictions for each of the Buffalo Sabres forwards. The players will be rated on a scale of 1-7. The number 1 means the player is trending significantly down. The number 7 means the player is trending significantly up. A rating of 4 means that the player is not trending positively or negatively, but rather will have a very similar year to what they did last season.
I hope you enjoy reading this article, I look forward to seeing your feedback in the comments section.
Center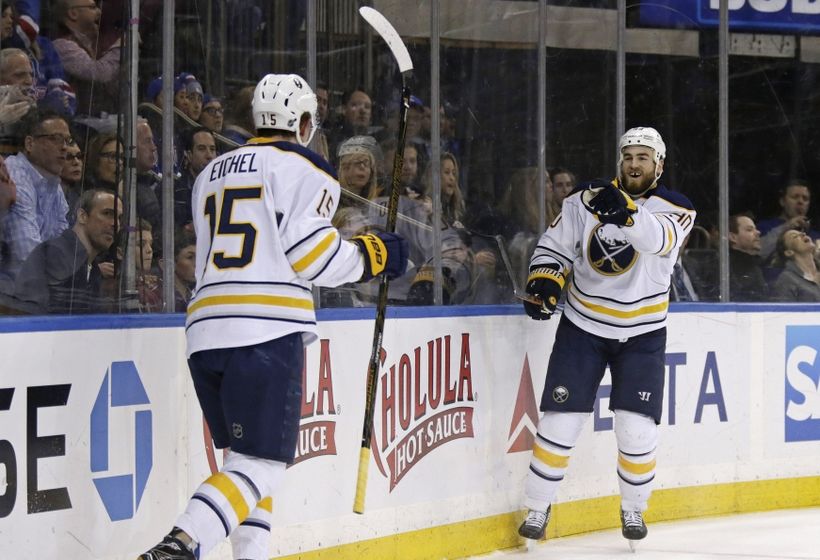 Ryan O' Reilly – (5) – It will be hard for O' Reilly to improve significantly in comparison the numbers he put up last season. I still expect him to slightly improve based on the likelihood of playing with Kyle Okposo. The likely future captain of the team is in line to have another solid season.
Jack Eichel – (6) – It is exciting to envision Eichel and McDavid playing on the same team in the World Cup of Hockey. I would be stunned if Eichel did not start the season off with a bang. He will have come from playing against some of the best players in hockey, and should be ready to take the next step in his development. A 70+ point season is not out of the question this year.
Zemgus Girgensons – (6 or 7) – Let me explain the reasoning behind the two rating numbers listed. If Girgensons winds up playing the role of our 3rd line center, the rating of a 6 applies. Girgensons is on a 1 year prove it contract, and being the type of person he is, I expect him to play full throttle every game of the season. I do believe Girgensons has a quite a bit more offensive potential than we saw last season. The rating of a 7 applies if he ends up playing LW on the line with Eichel and Reinhart. There is a real possibility it works out that way, which would be fantastic.
Johan Larsson – (5) – We are in good shape for depth on center with Larsson anchoring our 4th line. The rating of a 5 equates to a slight improvement based on Larsson getting somewhat limited minutes, however had a very strong finish to last season. If Girgensons ends up playing wing, Larsson would get bumped to the 3C spot, and potential to surpass expectations rises. He is also on a 1 year prove it contract.
Right Wing
Kyle Okposo – (4) – I am expecting a strong season from Okposo. I do not believe that he will disappoint like Moulson did, and can live up to his massive contract. The reason I'm giving Okposo a 4 rating is because last season he played quite a bit of time with John Tavares. I do realize that Okposo also spent quite a bit of time away from Tavares and was still able to produce, but I would be happy to just see him hit 60+ points again this season. Chemistry will be a big factor here.
Sam Reinhart – (6) – Arguably our most improved player last season,  can he do it once again? I have confidence that Sam and Jack will grow as players together. I expect Reinhart's assist totals to dramatically increase this season. As he continues to grow more accustomed to the NHL game, his hockey IQ will stand out that much more.
Justin Bailey – (5) – I would be shocked it Bailey doesn't play more than half the season on the big club. I'm betting that he is on the Buffalo Sabres opening night roster. It will take a little time for Bailey to get used to playing at the NHL level. His style of game should translate well. The potential is there for a solid first full season.
Brian Gionta – (3) – The captain will still be able to contribute from time to time this season. I don't expect quite the same offensive totals as we saw last year. Speed is a key factor for most smaller players, and age doesn't often agree with that. I'm hopeful Gionta gets to experience the playoffs wearing a Sabres jersey this year.
Left Wing
Evander Kane – (? / 6)  – The most difficult player for me to predict in this upcoming season is Kane. Will he even be on the Buffalo Sabres roster come opening night? If Kane is able to clean up his off-ice issues and can stay healthy, i'm expecting a career year from him. Will that happen, it remains to be seen.
Tyler Ennis – (5) – Health remains a concern. If he can stay healthy, his offensive numbers should improve considerably. The cast around Ennis is significantly better than what he's played with in the past. I'm hoping for Ennis to rebound, I feel this could be a boom or bust year for him.
Marcus Foligno – (5) – While Foligno won't put up gaudy offensive totals, I was glad to see him resigned. One of the few regular NHLers with a plus rating on the Sabres last season. Foligno should be considered a reliable forward who can bring some team toughness and chip in some points every now and then.
Matt Moulson – (5) – It would be difficult for Moulson to not improve on his last season point totals. Unfortunately the talent the Sabres now have at the forward position pushes Moulson down the depth chart. Unless injuries occur, I don't see Moulson having the type of year that will be able to justify his $5 million cap hit.
Nic Deslauriers – (4) – What you see is what you get with this hockey player. Deslauriers is known to bring some energy to the game and the team. Unfortunately I have him penciled in as the extra forward, and would not put him higher than a 4th liner at any given time.
Final thoughts
There are a number of prospects in the system that could potentially be called up during the regular season. I chose to focus on what I believe will be NHL regulars throughout the majority of the season for this post. Please take the ratings I listed as predictions of how well that player will do this upcoming season in comparison to last season.
I know that a few of the players I listed have the ability to play multiple positions. Players like Tyler Ennis and Zemgus Girgensons may get moved around the line-up. I would be interested to hear your take on the starting line-up and what positions these players will play.
My next post for this series will focus on the defense, and it's possible I will add in an additional comment or two on the goalies. If there is anything additional you would like to see in my next post, please let me know. Also, i'm curious to hear who is excited for the World Cup of Hockey?
Thank you as always for reading, I look forward to seeing your feedback and comments.
This article originally appeared on