Buffalo Sabres Cody Franson Scores One For The Defense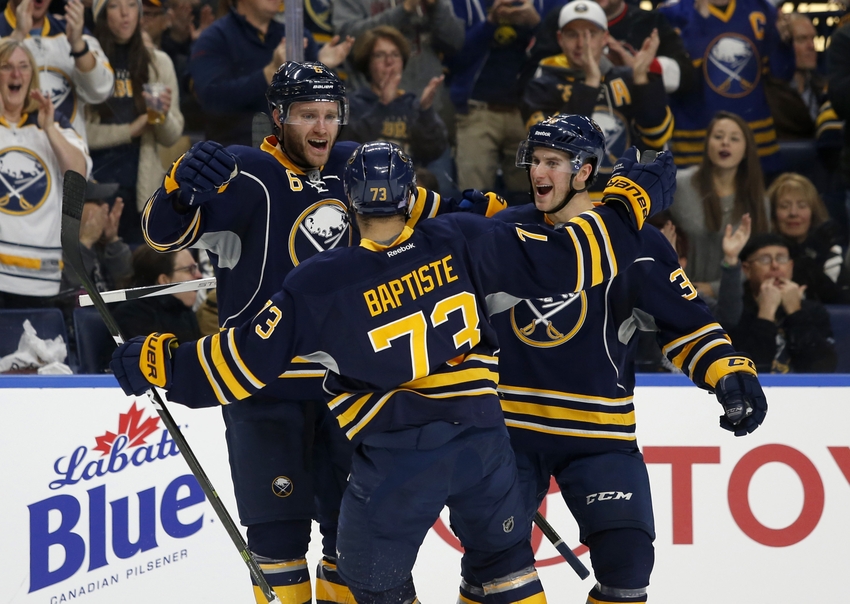 The Buffalo Sabres finally got a goal from its blueline, and it was from possibly the last person you would expect.
Buffalo Sabres fans, we have a winner!
After going 16 games without watching one of its defensemen put a puck in the back of the net, the Sabres finally saw their blueliners get off the schneid last night in their home game against the Tampa Bay Lightning.
The winner of the "Who's going to score the first goal for Buffalo's defense?" award?
Cody Franson, ladies and gentlemen!  Give that man a prize, and pat yourself on your back if you predicted it would be him.  (I fully expect NO ONE to qualify for this last part, not even you, Cody Franson!)
How sad it is that the Buffalo Sabres needed 17 games to get one of their defensemen a goal?  The Sabres were the last team in the NHL to get a goal from a defenseman, further proof that the 2016-17 season is not going quite as planned for this team.  It's not entirely surprising that the defense is struggling to score – did anyone feel good about the Sabres' blueline when the season opened? – but to go 16 games without even one blueliner finding the net?
Egads, that's bad.
The good news, if you want to qualify it as such, is that Franson put one in, which might spark the rest of his defensive mates.  In addition, it looks like Ristolainen has decided to ditch whatever garbage the folks at Warrior provided him in favor of sticks that don't snap like twigs.  I can only imagine how hard it is to score when your equipment keeps acting like it's made out of LEGOs.
Overall, though, there is nothing uplifting about this development.  The Buffalo Sabres are once again something of a joke in the NHL, and the fact that Cody Franson, who has never scored more than 8 goals in any of his seven years in the league, was the first Buffalo blueliner to find net is the punchline.  Let's hope whatever stick Risto starts using pays off, and soon.
This article originally appeared on