Buffalo Sabres Benefiting From Strong Play In Net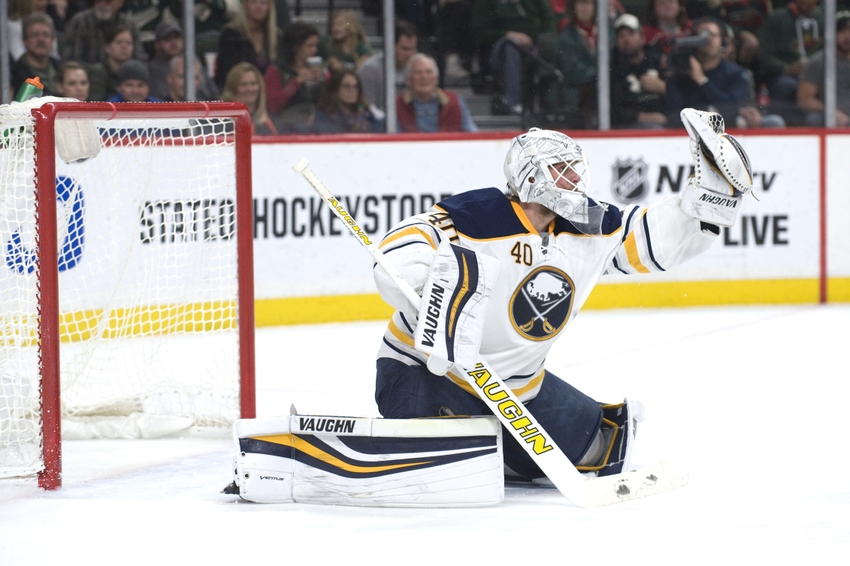 As surprising as the Buffalo Sabres' win streak may be, the biggest surprise could be how their goaltenders are playing right now.
The Buffalo Sabres started November exactly as they finished October: winning, baby.
Not coincidentally, their goaltending started November exactly as it finished October: shutting opponents down.
The Sabres' goaltending started showing signs of dominance last Tuesday, when Anders Nilsson was dominating the Philadelphia Flyers through two periods.  His team let him down in the third, taking its foot of the gas and committing three back-breaking penalties, allowing the Flyers to tie the game late and win in a shootout, but that game was NIlsson's to win if his teammates simply keep their cool.
Thursday night was a bit of a speedbump for the Sabres' net minders, but Nilsson and Lehner combined to stop 62 of the 63 shots they faced over the weekend against Florida and Winnipeg.  Lehner kept the ball rolling last night, stopping all but one of Minnesota's 28 shots in the hostile confines of the Xcel Energy Center, giving Buffalo's netminders a GAA of 0.67 and save percentage of .978 over the last three games.
Surprised?  You should be.
Goaltending was supposed to be a big question mark this season – and that was a best case scenario, because many people didn't see the Sabres' goaltending as a question mark; they saw it as a flat-out weakness, in the sense that the team appeared to have two backup goaltenders, but no one who could be counted on to be "the guy."
Lehner's career record heading into 2016-17?  35-45-18.  Anders Nilsson?  19-22-4.  Not exactly the sort of numbers that make you think the Buffalo Sabres have found the next Henrik Lundqvist.  And even though both Lehner and Nilsson looked good in preseason games . . . it's the preseason.  Derek Grant looked good in the preseason, for goodness sakes.
The Buffalo Sabres thought highly enough of Lehner to give up a first-round draft pick to get him, though, so you know GM Tim Murray will tell you that he saw this coming.  As for Nilsson, it's hard to hold his previous record and stats against him – he did play behind the Edmonton Oilers last season, may God have mercy on his soul.
So whether you thought it would happen or not, the Sabres are now 4-3-2 with 10 points, holding down the 10th spot in the Eastern Conference and 14th in the NHL.
Want your voice heard? Join the Sabre Noise team!
You can never win solely because of your goaltending – the Buffalo Sabres did have to score goals the past three games, ya know.  But high-quality goaltending makes life easier on your offense, as the players don't feel like they need to score 5 times a game just to have a chance.   Can Buffalo's goaltenders keep this up?   With Jack Eichel and Evander Kane out, they better!
This article originally appeared on