Boston Bruins Won't Play Tuukka Rask Tonight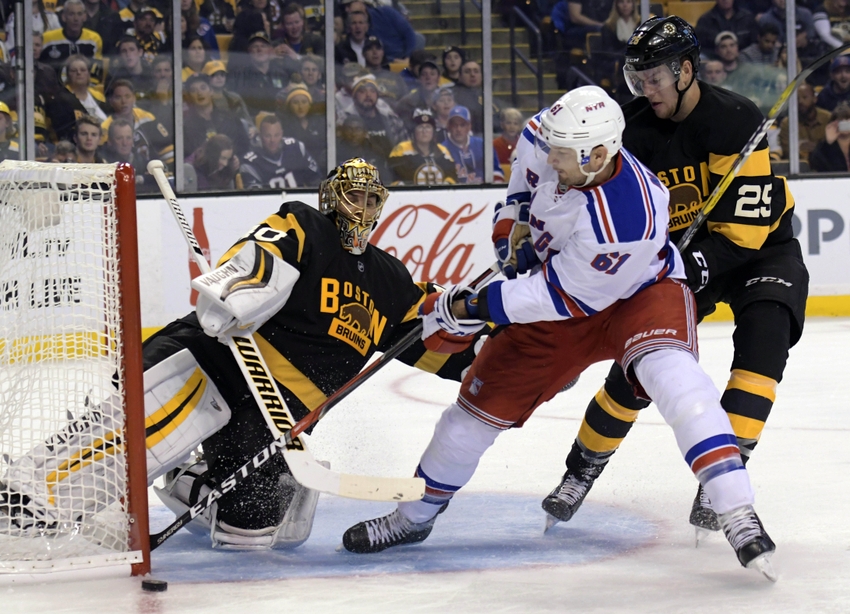 Boston Bruins goaltender Tuukka Rask has struggled when playing against the Montreal Canadiens.  But there is a valid reason why Claude Julien isn't going to put him in the crease against the Habs tonight.
Over the last few seasons, the famed rivalry between the Boston Bruins and the Montreal Canadiens has been a one-sided affair. The Canadiens have always found a way (either through a strong 60-minute game or some rather magnificent acting leading to late power play chances) to hand the Bruins defeats.
Bruins goaltender Tuukka Rask has certainly struggled against the Habs. He's a lifetime 5-15-3 against Montreal. He's got a disappointing 2.69 goals against average and a .910 save percentage in his 24 career starts. So far, Rask has missed both starts against Montreal this year. (Zane McIntyre is expected to be in the pipes at the Bell Centre tonight).
Still, Rask has a strong start to the season. He's 7-1-0, with a 1.74 goals against and a .941 save percentage. He's been the Bruins strongest player this year, and he's carried the team to several wins already this season.
NHL Las Vegas: Expansion Draft Protection List Decisions Roundtable
"If you look at the stats probably, it's got to be one of the best starts [of my career]," said Rask after the B's 4-0 win over the Buffalo Sabres. "Usually I think the starts are the worst part of my season. That's at least something I can look back at the year-end meeting and say I was good at."
Ever been on a Boston Bruins fan site on Facebook?  If you have, you know there are fans who believe that Rask isn't capable of playing against the Canadiens. While it's true the Habs seem to have Rask's number, there have been solid reasons why Rask hasn't played the Canadiens so far this season.
Rask was hurt the first time around. The Bruins goaltender was facing some 'general soreness' that caused him to be out the first game. (The Bruins fell to the Habs 4-2). Also, the Bruins can't burn Rask out. He's playing slightly hurt, and the last thing they need is to have their number one player out for weeks due to aggravating an injury. Especially when he's the only goaltender bringing the team wins.
"It's tough. It's still early in the season and you definitely don't want to burn yourself out," said Rask. "Obviously with Dobby [Anton Khudobin] being hurt too, I realize I might need to play more than planned and I'm fine with that. I'm sure there's going to be a time to get some rest.
"It's not my [decision on whether to play vs. Montreal]. It's one of those games I don't think any player really wants to miss because it's a big rivalry, and they're a great team. I definitely don't want to miss that but we'll see."
In my opinion, Claude Julien made the right call. It was the smart play to put Tuukka Rask in net against the Buffalo Sabres. It gave the Bruins two points against a struggling team.
We all hate the prospect of the Habs winning ten in a row against the Black and Gold. But would you rather have a mostly healthy Rask get two easier points then have get really hurt while standing on his head against the Habs?
This article originally appeared on