Boston Bruins: What To Fix, And What To Build Upon For Week Two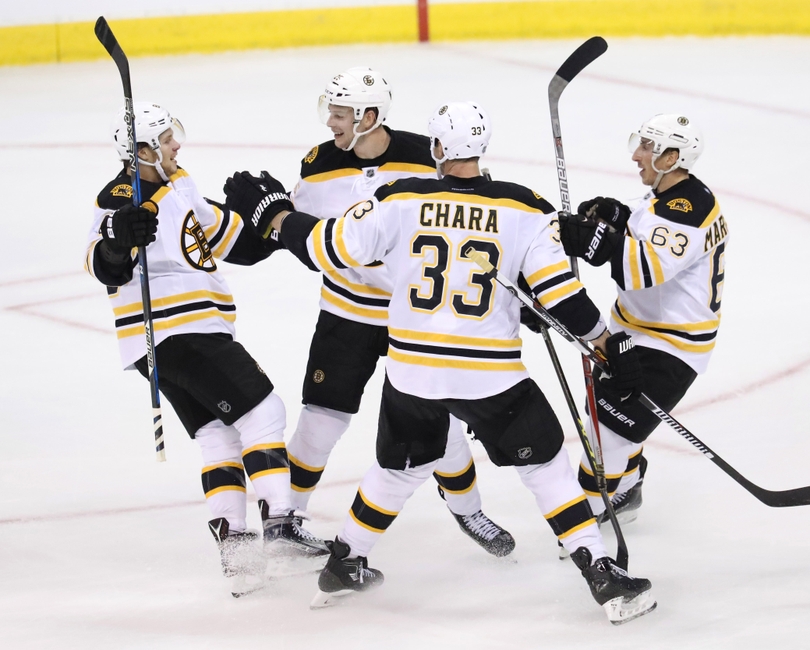 Ups and downs characterized the Boston Bruins first week of the season. Here are the facets of the game Boston needs to build-upon or fix heading into the stiffer challenges ahead in week two.
Taking four of six points on the road to start a season, on the surface, is never a bad way to get the ball rolling. The fact that the Boston Bruins did so while rolling out eight new faces (inlcluding four rookies) and were without their most valuable player in Patrice Bergeron is even more impressive. They scored eleven goals (including two empty-netters), they came from behind in both of their wins, and Brandon Carlo at 19 years old continues to display aptitude beyond his years and experience.
Going beyond the results, however, paints a different picture: All three games were played against teams that (like Boston) failed to make the playoffs last season, and whose chances for playoff hockey in 2017 appear to be marginal, at best. Boston was thoroughly outplayed for (by my count) five of nine periods against last season's cellar-dwellers. Furthermore, virtually all of the team's offense has come from one line.
With a tougher slate of games this upcoming week versus New Jersey, Montreal, Minnesota, and the New York Rangers, Boston must build upon the lessons learned through the season's first week in order to succeed in week two.
The Bad
Tighten Gaps And Clear The Crease
Through three games, Boston's gap control and ability to clear pucks and bodies in front of their netminder have left much to be desired. Contrary to how this reads (not to mention an entire offseason's worth of kicking the unit while it lay face down on the ice), the responsibility for this does not fall exclusively on the shoulders of Boston's defense. And though Boston was able to overcome this in two of their first three games, they will find wins increasingly difficult to come by should this not be rectified in short order.
Against Columbus, the first goal surrendered by Boston came when Alexander Wennberg received a pass inside his own blue line, undressed Ryan Spooner at center ice, backed up both JM Liles and Colin Miller on a one-on-two, and fired a wrister past Tuukka Rask. The goal came during 4-on-4 play, so admittedly there was extra ice available for Wennberg. Regardless, one of Liles or Miller needs to step up and challenge the puck carrier, rather than both retreating to the top of the circles. It was a save that Rask should have made, off of an opportunity that should not have existed.
Goal number three for Columbus came four minutes after David Pastrnak's goal pulled Boston within one. Following a Matt Beleskey turnover, Brandon Carlo was caught reaching for a loose puck in the slot (as opposed to moving his feet to get to it), whiffed on the attempted clear, and Seth Jones buried a shot from the high slot to extend Columbus' lead and extinguish Boston's momentum. Beyond the Carlo whiff, all three of Austin Czarnik, Jimmy Hayes, and Matt Beleskey were stacked so perfectly at the top of the slot that a bullet would have killed all three of them. From a turnover, to a failed clearing attempt, to a terrible instance of all three forwards chasing the puck, this was a disaster of a sequence for Boston. Had the Bruins been facing a better team it likely would have been a death blow.
Against Toronto…..well, it was ugly. Against one of the youngest and least experienced teams in the league, Boston was all out of sorts from the opening face-off. Connor Brown opened the scoring after Austin Czarnik lost a defensive zone face-off about as cleanly as one can. The shot from the point laid in between Colin Miller's skates for an eternity, no one on the Bruins could find the puck, and it wound up finding the back of the net less than three minutes into the contest.
Nine minutes later, Toronto executed one of the simplest break-outs you'll ever see. Nikita Zaitsev splits Noel Acciari and Dominic Moore with an easy ten-foot pass to Tyler Bozak up the middle of the ice, who then splits Riley Nash and Zdeno Chara with another pass straight up the middle to a streaking Mitch Marner. From there, Marner is off to the races 1-on-1 with Brandon Carlo, before rifling a shot far-post past Anton Khudobin. In the National Hockey League, a team just cannot get beaten so easily with two passes straight up the middle. With the exception of one of Boston's forecheckers (pick ONE) and Brandon Carlo, this was a perfect blueprint of how NOT to maintain gaps, and it put Boston in a two-goal hole from which they never escaped.
Less than three minutes later, Toronto's third goal comes off of equally brutal coverage. A single blueline-to-blueline pass from Jake Gardiner to Tyler Bozak catches all three Bruins forwards up ice (Czarnik, Beleskey, Hayes). Bozak then slides a cross-ice pace to James Van Riemsdyk (who will henceforth be referred to as "JVR," because his last name is annoyingly difficult to spell), who puts Colin Miller on the ice with a deke before burying a back-hander. Another awful sequence, and the game was virtually over from there.
Goal number four for Toronto featured Colin Miller leaving his position to chase Leo Komarov to the high slot, exclusively to say, "Here's my stick, now I'm going to hit you in the face with it," and then doing so. Milan Michalek is left wide open at the far-post, and he easily redirects Morgan Rielly's slap-pass. There were 16 minutes left in the game, Boston was down by two, and Colin Miller let his emotions get the best of him. This play ended any chance Boston had to seize momentum and pull within one. Dumb play, on top of a rough night all around.
More from Causeway Crowd
Boston was marginally better in this respect against Winnipeg, though they were burned for the first goal of the game on another stretch pass. Blake Wheeler had just exited the penalty box, and neither Colin Miller nor JM Liles (again) were aware of the time remaining on Wheeler's penalty. With time expiring on a penalty, one of the defensemen needs to have the wherewithal to sag into the neutral zone to prevent the stretch pass and subsequent breakaway. Fortunately for Boston, Tuukka Rask was absolutely sensational on the night, stopping 34 of 35 shots, mitigating another night of lax coverage in the neutral and defensive zones.
Lack Of Depth Scoring
The Backes-Marchand-Pastrnak line accounted for each of Boston's first seven goals on the season. And while that kind of production through six-plus periods of play is great for that line, the 70 minute goalless streak for the rest of the roster was a less than ideal way to start the season. Dominic Moore's first as a member of the team broke that streak at just the right time, tying the game just 19 seconds after Wheeler opened the scoring for Winnipeg. Regardless, the 88 minutes between puck drop on opening night and Brandon Carlo's first career goal featured just one tally from beyond the top line, and that is……no bueno.
David Krejci is still trying to round into form, following a nearly six month absence, and is (once again) having to adjust to new linemates. Of those linemates, one is a rookie (Danton Heinen), and one has pulled a virtual no-show through three games while learning a new position (Ryan Spooner). All three will need to start making cameos on the scoring sheet for Boston to be competitive in the week ahead, and beyond.
Patrice Bergeron's return to the lineup will allow Backes to slide onto Krejci's line, easing some of the Czech's burden while balancing out the Top 6. Heinen or Spooner will slide onto the third line, which has been a true weak spot thus far for Boston. Matt Beleskey and Jimmy "The Ghost" Hayes have combined for zero points on the young season, and both sport a +/- of minus-4. This writer would like to see Hayes make a move up to the press box, so we can all see what a Czarnik-Heinen-Beleskey line can do. With Bergeron, Krejci/Backes, and Dominic Moore all ranging from solid to spectacular in the face-off circle, this line could do some real damage if given advantageous start zones and match-ups. With three consecutive games at home (which will give the B's last change), the timing is right to take this line for a spin in an attempt to generate some secondary scoring.
Boston will face Cory Schneider, Carey Price, and Henrik Lundquist this week. If Boston doesn't receive more scoring from the rest of their roster……well, you know.
Anton Khudobin
Yuck.
I've been as bullish as anyone on Anton Khudobin. He was very successful in his previous stint in Boston (albeit behind a much better defense), he's a more talented goaltender than both Niklas Svedberg and Jonas Gustavsson, and he's as well-liked as anyone in the league. You can roll your eyes at that last statement, but this Boston club has sorely missed locker-room guys over the past two seasons. It's a plus.
"Dobie", pressed into service unexpectedly in game two, failed to make a positive impression in his season debut. He stopped just 20 of 24 shots on the night, and surrendered three goals on the first seven shots he faced. As I mentioned before, Boston's defense and gap control was terrible all night long. Nevertheless, Khudobin's positioning was off all night. He was much too deep into his net on goals one and three, and Marner's goal (though off a great shot), came off a wrister from the top of the circle. With Boston down a goal early, that's a save Dobie needs to make.
Here's hoping Khudobin is able to bounce back in his next start; Boston needs to be able to ease Rask's burden and keep him fresh throughout the season.
The Good!
Fresh Pasta
As someone who just a week ago predicted a breakout season for David Pastrnak, I wanted Pasta to get his own category. Four goals (including at least one in each game), six points, and a plus-seven through three games is a HELL of a way to start a season, no matter who you are. When you're a 20 year old being relied on to produce offense for a shorthanded club, it's even more impressive.
Makeshift Top Line Looks Tremendous
With Patrice Bergeron surprisingly on the shelf for the first three games, Boston started their season at a big disadvantage. David Backes was forced to immediately showcase his versatility by centering the top line, and responded by doing what David Backes does. He has provided Boston with exactly the kind of two-way play and net-front presence they'd envisioned, scoring back-to-back goals against Columbus. Both were scored from right in front of the net, and the second tally tied the game heading into the third period. He has been on the ice for eight goals for, versus one goal against, and logged Boston's first fight of the season in an attempt to jumpstart his club (and settle an old score) with Toronto's Olympic Diving Champion Nazem Kadri.
What can be said about Brad Marchand at this point that isn't already being said in every corner of the hockey world? The year to year progression of Marchand's game continues, as he has carried over his tremendous play in the World Cup into the start of Boston's season. He's a possession MAWNSTAH, has seven points through three games, and has become a player that every team needs to account for each time he steps onto the ice.
He has shown how effective he can be even without Patrice Bergeron centering his line, making his $6.125 million cap hit over the next eight seasons look like Thomas Crown-level thievery.
With Bergie set to return, this line will be broken up as early as Thursday night. But it's comforting to know that should Bergeron or Krejci succumb to injury (knock on wood), the trio has what it takes to succeed without them.
Brandon Carlo
Carlo continues to impress. Despite being just 19 years old, he has shown the poise, positioning, and skating ability required to play with the big kids. Less than 18 months ago, Carlo was selected in the second round of the 2015 draft. Today, he's playing on the team's top pairing with Zdeno Chara, and is hardly riding shotgun. He has been the team's best defenseman through three games, notching his first career goal, two points, and a plus-7,  while averaging over 21 minutes per game. Brandon Carlo won't be able to fix this blue line by himself, and there will certainly be mistakes as he transitions from Juniors to the top pairing on an NHL team. To this point, however, he has handled himself incredibly well. Boston may have the steal of the 2015 Draft on their blue line.
Tuukka Rask Vs Winnipeg
Following a middling effort against Columbus wherein Tuukka allowed 3 goals on 31 shots, he was surprisingly glued to the pine in Saturday's game in Toronto. After Khudobin remained in the game despite allowing three goals on the first seven shots he faced, it was obvious that something was wrong with Rask. Fortunately for Boston, the Finn was able to make his next start in Winnipeg, and he responded in a big way.
Boston was was THOROUGHLY outplayed through 40 minutes, and somehow managed to take a 2-1 lead into the third almost exclusively because of Rask's stellar play. On one particular sequence late in the first period, he stopped a Matthieu Perrault attempt from the slot, and then absolutely STONED Adam Lowry's rebound bid from point blank range. In addition to the quality of the two saves, Rask flashed out his previously injured leg on both saves, robbing both players and keeping the game tied at one goal apiece. It was as reassuring to see that he was healthy as it was to witness him at the top of his game.
In all, Rask stopped 34 of 35 shots he faced, and even finished the game as the only member of the Bruins with multiple points on the night (two assists). Despite playing behind a dumpster fire of a defense last season, Rask seldomly stole games for the Bruins, causing many to question his $7 million cap hit over the next five seasons. More performances like Monday night's will go a long way toward assuaging those concerns, helping a defense in transition, and getting Boston back into the playoffs.
Boston has a challenging slate ahead of them. Though three of the next four will be played on Causeway Street, they face three of the best goaltenders in the game in Schneider, Price, and Lundquist. The Rangers and Wild were playoff teams a year ago, Montreal (in addition to ALWAYS playing Boston tough) appears destined to get back into the playoffs with a healthy Carey Price, and New Jersey figures to be one of the most improved teams in the Eastern Conference.
If the Bruins have any designs of maintaining a winning record throughout the week, they're going to need their best players to continue to play like it. They will need the rest of the roster to make more appearances on the score sheet. The entire team needs to do a better job of tightening the gaps, closing down lanes, and clearing the danger areas in front of their net. And at some point they should stop conceding the first goal of the game; this is not a team that's built to consistently play from behind.
With a couple games already in the bag for Boston's youngsters, three straight games at home, and the return of Patrice Bergeron, Boston's response this week will tell us a lot about this year's team. Hopefully they have some good news for us.
Go Bruins.
This article originally appeared on